Location May Actually Benefit Cubs as Shohei Ohtani Prioritizes Winning, Other Accomplishments
The Cubs lost out on Shohei Ohtani the first time around because they aren't located on the West Coast and couldn't offer him the ability to DH between starts on the mound. Now, however, the calculus has changed. Or maybe it's just simple math. Whatever the case, Ohtani's priorities have shifted after toiling for six years without so much as a single postseason appearance.
"The difference between this free agency and the first time that he came to North America is that he is probably less concerned with geography and more concerned about the quality of the team that he's going to," Jon Morosi said Monday on MLB Network. "Yes, money is going to matter. We know that. Yes, the Dodgers probably remain the favorites to sign him and they are a West Coast team and they've got the capacity to spend.
"That's the really key thing with the Dodgers, is that not only is it a quality team that wins the division nearly every year in the last decade, but they've got a lot of room to spend and build a roster out around him…But when you look east of the Mississippi or in that general area, you've got a team like the Cubs who have just hired Craig Counsell."
The manager probably won't have quite as much pull as the organizational standing as a whole, but the idea here is that the Cubs have shown they're committed to winning and can pitch Ohtani on that. Too bad Ohtani himself can't pitch next season. That might actually work out to be an advantage for the Cubs in a weird way, which we'll get to in just a moment.
Jed Hoyer has remained very tight-lipped on what is expected to be a legitimate pursuit of the superstar, though he did speak about their previous courtship during the GM Meetings.
"I look back on that," Hoyer said. "We had a great meeting. It felt like we prepared a ton. It was a really good dialogue, good conversation. Obviously, he was going to only choose one out of seven. But we had been to three NLCSs in a row and won a World Series. We had things rolling pretty well…
"It doesn't surprise me in the end that he picked an AL team. But I wish we could roll back the clock and take a shot at it again."
The Cubs now have the ability to take that shot again and they may be positioned to take advantage of Ohtani's more singular nature for next season.
"Because this is the only year where he's going to be entirely focused on hitting, this is probably his one and only chance to win a triple crown…offensively," Morosi explained. "And we know that Shohei is all about doing things that have never been done before. That would be the one thing he could do that he's never done before.
"Because without pitching, he'll be able to be a DH in every game, so he can get those counting stats that would be harder to get in the other circumstance."
If Ohtani is truly interested in maxing out his offensive performance, he'd to well to play all of his home games in a ballpark best suited to his all-fields power. Tommy Meyers had a viral tweet that included Baseball Savant's overlay of Ohtani's spray chart at Wrigley Field. Folks, the results are impressive. The caveat here is that he doesn't get to play all 162 at Wrigley, but Cincinnati (49) and Milwaukee (47) top Savant's list of his expected home runs by park.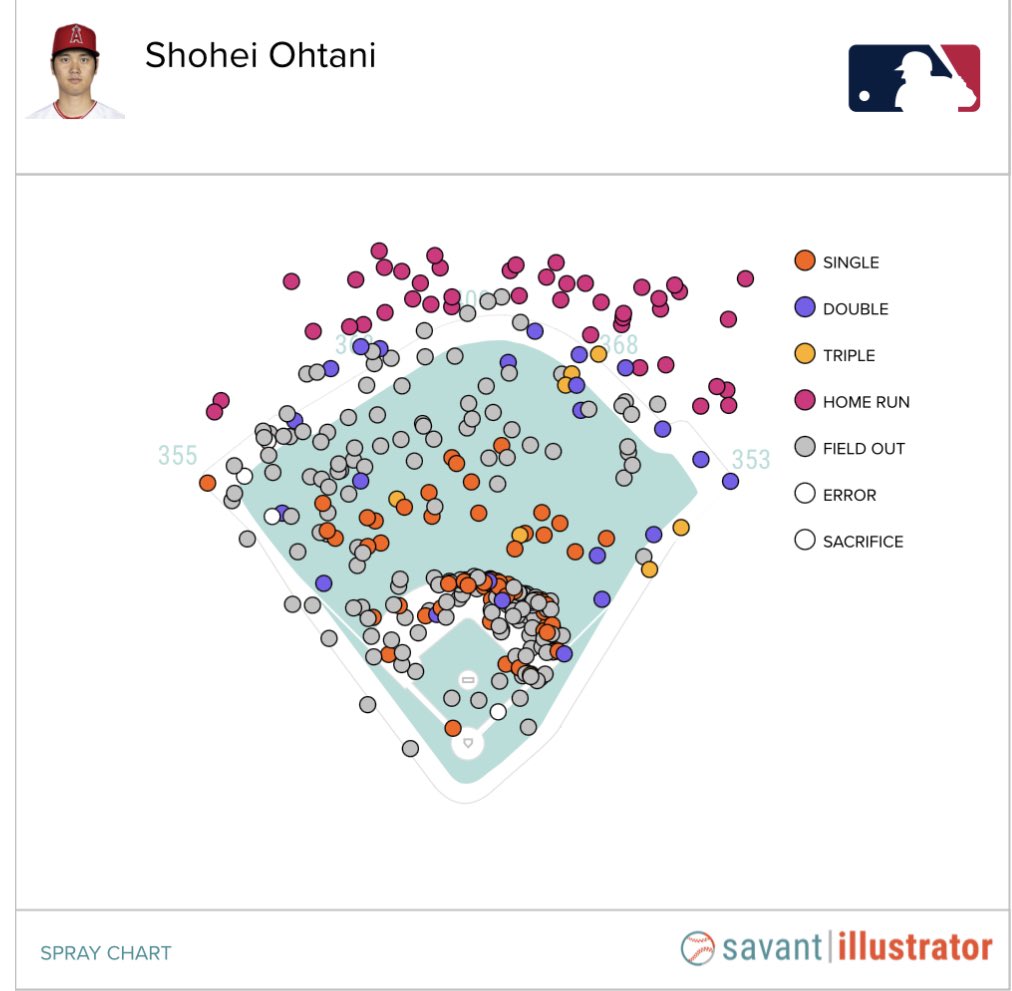 The NL Central as a whole sets up best for Ohtani's swing, boasting a combined 217 home runs across all five parks. Coming in second is the NL East with 213 homers, narrowly edging out Ohtani's old division by two. But that isn't the only advantage the Cubs could offer in terms of location. Even if the geography of his new team doesn't matter as much, how much he has to travel could be a factor.
As The Score's Travis Sawchik pointed out — with an assist from that aforementioned FullCountTommy tweet, no less — the Cubs' 2024 travel schedule sees them logging fewer miles (27,180) than anyone but the Pirates (25,389) and Cardinals (26,647). That's due to Midwest teams' close proximity to one another, which is why eight of the top nine least-traveled squads will come from the two Central divisions.
Even with the balanced schedule ensuring every team plays every other team, the Cubs will probably never find themselves outside the bottom third of the league in that regard. The Dodgers, on the other hand, will be at the other end of the spectrum due to their location. Their 2024 travel will top 49,000 miles, nearly one full lap around the globe more than the Cubs will fly next year.
I'm not sure that's something Ohtani is proactively thinking about, but it would behoove Hoyer to use it as leverage should things get to that point. As I've noted here before, the willingness to offer a monster contract is simply the buy-in. If ownership is willing to take that step, which many understandably doubt is the case, I believe the Cubs have the cards to present a winning hand.
I want to make clear that I'm not saying it's likely they'll land Ohtani, just that there's reason to believe they can go toe-to-toe with the Dodgers if they choose to.