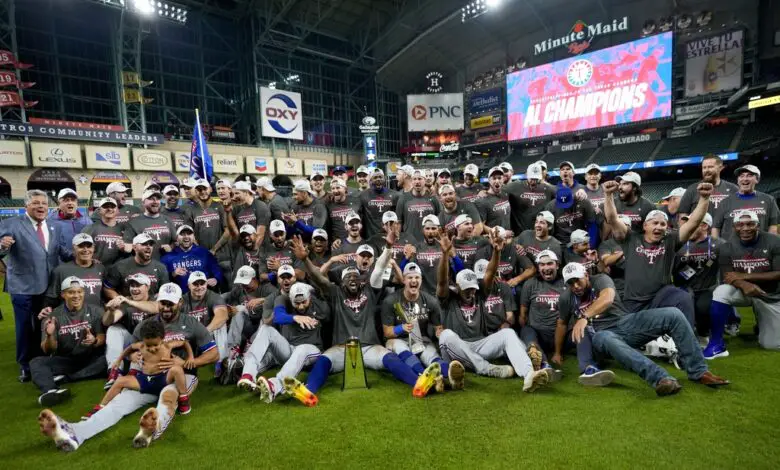 Rangers Set Example for Cubs by Reaching World Series After Nearly $1B in Additions Since 2022
Remember when I wrote that the Phillies are who the Cubs were supposed to be? That was based largely on the fact that they've got Kyle Schwarber, Nick Castellanos, and Bryce Harper, all of whom were or should have been Cubs. It's also about how ownership has been willing to spend big in free agency to acquire high-priced stars winter after winter in free agency.
As we await the fate of those stars, let's turn our attention for a moment to the team that will represent the American League in the World Series. After going 2-0 to 2-3 against the Astros, who were in their seventh consecutive ALCS, the Rangers bullied their way back and buried Houston beneath an offensive avalanche in the last two games. The star of the proceedings was Adolis García, a man the Cardinals DFA'd and traded for cash in December 2019.
Cards fans will probably point out that the Rangers likewise designated García in February of 2021, though Texas was wise enough to keep him around. That would prove to be a very valuable decision, as he earned a little less than $750,000 in his second All-Star season and is one of several key Rangers contributors who haven't yet reached arbitration eligibility. Even with significant raises for some of them next season and beyond, however, the team's payroll appears to have plenty of flexibility.
After adding nearly $1 billion in new contracts since the start of the 2022 season, the Rangers are estimated to be just over $237 million in CBT payroll for this year. That's less than $5 million over the first penalty threshold, which is more than acceptable when you consider their success. Spending is a big part of what enabled them to withstand the loss of Jacob deGrom, who they inked for $185 million over five years last winter.
As splashy as that signing was, it takes a backseat to the $500 million the Rangers spent on the middle infield combo of Corey Seager and Marcus Semien the previous offseason. They also brought in righty Jon Gray for $56 million over four years, then added Nathan Eovaldi and Andrew Heaney for a combined $59 million this offseason. We're not just talking about taking a risk with money alone, as pretty much all of those pitchers have very checkered health histories.
But as Joel Goodson learned from his buddy Miles Dalby, sometimes you just gotta say "What the f—" and make your move.
Baseball is a risky business that takes a lot of good fortune and better planning, all of which can be made a lot easier with money. Intelligent spending is all well and good, but it won't purchase the margin for error required to overcome the loss of your would-be ace. Nor will it buy you two of the top shortstops on the market, something the Cubs were reportedly exploring before making Dansby Swanson their star.
Carter Hawkins: What would you do if you had $350M?

Jed Hoyer: I'll tell you what I'd do, man: Two shortstops at the same time, man.

CH: That's it? If you had $350M, you'd do two shortstops at the same time?

— Evan Altman (@DEvanAltman) December 6, 2022
Even with all those free-agent acquisitions, the Rangers still needed help at the deadline. Enter Max Scherzer, who is technically their highest-paid player at over $43 million AAV with one more year remaining on his deal. Except that the trade included the Mets eating nearly $31 million of that salary to put the aging ace at a much more palatable level for '24.
As things currently sit, the Rangers are at an estimated $213 million in CBT salary for next season with projected arb raises included. Even if they pick up José Leclerc's $6.25 million option, they'll have a little over $17 million in space beneath the penalty threshold. The following year sees something like $43 million fall off between Scherzer, Eovaldi, and Heaney, which will help as those aforementioned arb-eligible players continue to earn raises.
Much like the Phillies, this is a very similar blueprint to what the Cubs should be following. Should have been following, really, since their competitive window closed largely because they stopped developing impact prospects who could come up and offset spending on free agents and late-arb stars. Then they stopped spending nearly as much for a few seasons. An arid pitching pipeline bears most of the blame, though there were plenty of other shortcomings we don't need to relitigate for now.
Lots of folks will point to the Mets, Yankees, and Padres as reasons not to spend freely, especially when the Rays and Orioles found success with sub-$80 million payrolls. The Twins ($156M), Brewers ($125M), Diamondbacks ($119M), and Marlins ($105M) all reached the playoffs despite spending below the league average of around $167 million. But which group do you trust more to replicate success regularly: Those who spend or those who are beholden to the bottom line?
The Rays have done an incredible job of producing good teams year after year in spite of their thriftiness, but that's not the norm. The Brewers somehow keep winning almost in spite of themselves and the Orioles have an incredible young core after losing 100+ games every year for a while, though the latter group is going to have to get paid soon enough.
The problem with the whole conversation about spending is that it too often becomes this binary choice between either disregarding all luxury tax penalties or operating like a small-market organization. Arguing for either option is intellectually dishonest because you have to ignore context once you distill things down too far. The truth is that it's about how well you spend, not just how much you spend. That said, spending more means being able to patch over mistakes and injuries.
So as Jed Hoyer looks to make good on a youth movement from the system, he needs to be willing and able — he's not setting his own budget, after all — to make bold moves in free agency for star players. There's no reason for the Chicago Goshdarn Cubs to be outside the top 10 in MLB payrolls, nor is there merit to spending just for the sake of spending. Thing is, putting really big money into the roster also means there's nowhere to hide if success doesn't follow immediately.
---
Ed. note: I used Roster Resource on FanGraphs for specific Rangers numbers, then went to Spotrac for overall rankings. The former is typically more accurate on those things, so take some of the team totals with a grain of salt.