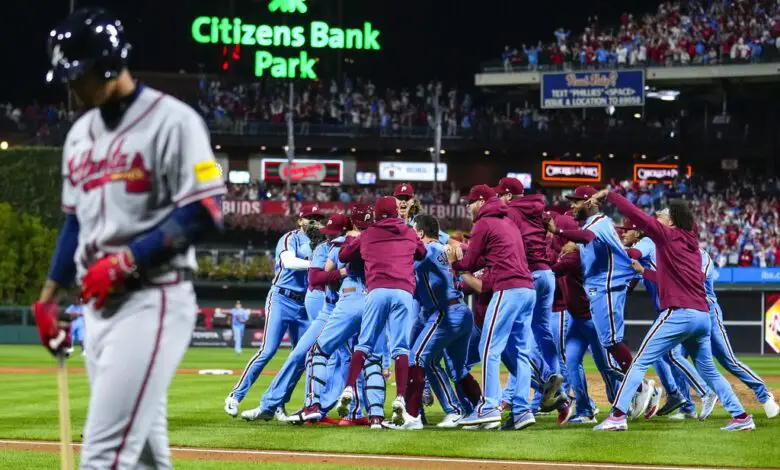 The Rundown: Playoff Series Offer Plenty of Cubs Intrigue, Ricketts Wants Championships, Triantos Scorching AFL Start
Baseball is down to its final four with two intriguing matchups. The Phillies knocked off the Braves and will now play the Diamondbacks, who steamrolled the Cubs on their way to a Wild Card berth. It's the Astros and Rangers over in the American League, with Justin Verlander getting the Game 1 start for Houston. Anyone who loves baseball should be rooting for Max Scherzer to start opposite Verlander since the pair started the season as teammates with the Mets.
Scherzer has been dealing with a low-grade muscle strain, but has been pitching simulated games and sounds ready to go.
"Give me a chance," Scherzer said this week. "Let me get back into this thing. So I've been grinding away, doing everything I can to just be in a position to have a chance. The guys have gone out there and provided that chance…When my number does get called, I'll be ready."
Nobody thought Verlander would return to the Astros this season. The 40-year-old veteran is synonymous with Houston playoff baseball and has been nothing short of spectacular in his Astros career. Verlander has two World Series titles, was the Most Valuable Player of the 2017 ALCS, earned two AL Cy Young Awards (and finished second once), reached 200 wins and 3,000 strikeouts, and also threw his third no-hitter since joining the Astros in 2017.
Cubs fans will get to enjoy Kyle Schwarber, Craig Kimbrel, and Nick Castellanos of the Phillies, plus the guy who should have been a Cub — Bryce Harper. Imagine if those four were playing for Chicago's North Side baseballers this year. Oh wait, the Cubs could have had Verlander, too. O Death, where is thy sting?
I'd be remiss if I didn't mention Brandon Pfaadt of the Diamondbacks. Pfaadt is a middling rookie pitcher who held the Cubs at bay in a crucial mid-September game. As you are painfully aware, Chicago was eliminated from postseason contention with one game left in the season. Had the Cubs won that contest, they would have made the playoffs and might be playing the Phillies this weekend instead.
One last thing. Perhaps we should stop worrying about the Cubs being just good enough to make the postseason. The top five seeds have been eliminated, leaving Houston as the lone division-winning team left in this year's bracket. The Diamondbacks are a No. 6 seed playing in the NLCS and the Rangers were the fifth seed.
Cubs News & Notes
Odds & Sods
That's what I call passing the baton!
The Brewers are the second team in MLB history to have a multi-run lead at home in each of the final 2 games of a postseason series but lose both by 3+ runs.

The other was the Cubs in Games 6 & 7 of the 2003 NLCS against the Marlins.

— OptaSTATS (@OptaSTATS) October 5, 2023
Central Intelligence
How About That!
Castellanos became the first player in MLB history to record consecutive multi-homer postseason games, powering the Phillies to an NLDS-clinching 3-1 victory on Thursday night in Game 4 against the Braves.
Philadelphia knocked Atlanta out of the playoffs for the second consecutive year.
Clayton Kershaw was non-committal about his future after the Dodgers bowed out of the playoffs.
Many fans are upset about the MLB playoff format, but Rob Manfred defended it.
I don't believe a five-day layoff hurts a team as much as poor preparation does, personally speaking.
Baseball is inherently less predictable than other major sports. Even though the superior teams had better odds in each series matchup, they weren't prohibitive favorites. All 30 MLB ballclubs are capable of winning three straight games against any other. The 50-112 A's won seven in a row from June 6-13, including five against the Brewers and Rays.
Extra Innings
I don't know if James Triantos will play a single game with the big-league Cubs, but it is fun rooting for him. The infielder is slashing .417/.564/.833/1.397 with a homer, three triples, two doubles, seven RBI, and six walks in AFL action.
"It made me appreciate the game more, take more pride in it."

Six months ago, #Cubs' No. 9 prospect James Triantos was recovering from knee surgery. Tonight he hit his first Fall League homer: https://t.co/IqSmhGUc7W pic.twitter.com/g0ZKC7kKqK

— MLB Pipeline (@MLBPipeline) October 13, 2023
They Said It
"There are a lot of guys waiting to get up here. They're chomping at the bit, which is promising. Guys want to be up here, and that's a great place to start for an organization." – Crow-Armstrong
"I've always believed in myself. I've also always believed I was capable of doing really good things. I just kind of feel like the dominos have fallen where they have. It's a blessing." – Steele
"[Suzuki's] season, in some ways, it mirrored a lot of our season. He was hurt early in the season, then he played OK. He didn't really play to his potential, I would say, until July. Then he had that horrible stretch where he looked completely lost. To Rossy's credit, he said let's sit for a bit, let's take some time off and clear your head. Which is hard to do in the middle of a season. From that point forward, he's one of the best hitters in baseball." – Hoyer
Apropos of Nothing
You'll still have Michael Canter to kick around.
I was going to retire from writing at the end of this year, but I just renewed all of my annual subscriptions to the great baseball and football content sites I lean on to find topics, so I'll be around for at least one more year.

— Michael Canter of Cubs Insider ✨ (@MEdwardCanter) October 13, 2023
Sliding Into Home
Because of the band's latest promotion, I believe that The Rolling Stones will play at Wrigley Field next summer, among other baseball stadiums.
Friday Walk-Up Song
Today is Paul Simon's birthday. He's a fantastic singer-songwriter but doesn't have the storied life you might expect.