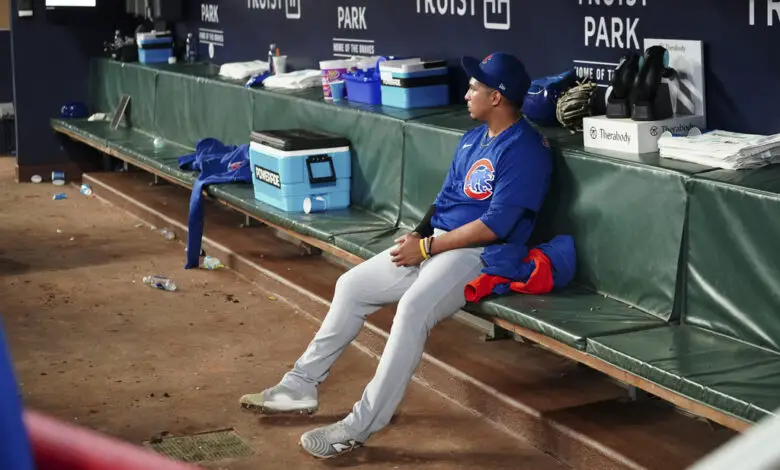 Tuesday's Loss Filled with Questionable Decisions, Could Decide More Than Just Cubs' Postseason Shot
Tuesday's game was a gut punch of epic proportions as a toxic combination of physical, mental, and tactical errors poisoned the Cubs' 6-0 lead and saw them fall unceremoniously to the Braves. No single decision or play determined the game, though Seiya Suzuki's dropped fly ball in the 8th inning has a gaudy neon sign posted above it that obscures a multitude of issues leading to that point.
Drew Smyly walked two batters and threw two wild pitches to put runners on second and third ahead of the error. The lefty threw at least five pitches Yan Gomes had to block, and it looked more than once like one of them could have squirted through for a run. Smyly ended up eeking out enough strikes to end the inning with no real damage, thus earning himself an extra $1.5 million by reaching 140 innings on the season, but again, the drop.
Those are all matters of execution, so let's turn to a questionable decision from the top of that inning. Following a leadoff single by Gomes, Miles Mastrobuoni laid down a bunt that resulted in Gomes being thrown out at second. After Mastrobuoni stole second, Patrick Wisdom struck out and Nico Hoerner grounded out to end the inning.
Mastrobuoni had collected three hits in the game to give him 11 knocks in his last five starts as he continues to surge in the second half, so the mere notion of bunting with him seemed odd. It looks even more so when you consider who was on base ahead of him and the situation, which at the time saw the Cubs up a run with no outs and the top of the order coming up. Getting his fourth hit would have been a lot to ask, but taking the bat out of Mastrobuoni's hands was questionable at best.
It was not nearly as mind-numbingly vexing, however, as the move I'm singling out as the worst I've seen in a long time. There were actually two moves, the first of which involved Pete Crow-Armstrong entering the game as a pinch-runner for Mike Tauchman in the top of the 4th inning. Tauchman had walked following a Mastrobuoni leadoff single, the first of two he hit in the game, giving the Cubs men on first and second with no outs.
Unless Tauchman was hurt, in which case it's weird that he was taking the plate appearance at all, there is absolutely zero rationale behind this swap. Not only is the Palatine Pounder one of the Cubs' best baserunners (his 2.0 BsR ranks fifth on the team) but PCA has been one of their worst (-0.7 BsR ranks 17th). Fast as he is, the young outfielder is hyper-aggressive to the point of recklessness and has so far displayed a lack of solid fundamentals when it comes to reading pitchers and getting jumps.
What's more, we're talking about running for a guy on first base in the 4th inning with a four-run lead. It smacked of the kind of desperation you see in slasher films, or, and this is an even stronger analogy, like the satirical Geico commercial in which the victims choose to hide from the baddie behind a wall of chainsaws. Two outs later, Cody Bellinger singled to score Mastrobuoni and advance Crow-Armstrong to third with Suzuki coming up.
Braves pitcher Jackson Stephens got up 0-2 on Suzuki and then fired a sinker wide with Bellinger heading for second, so catcher Austin Reilly pump-faked hard like he was throwing through. PCA had already broken for home and was caught dead to rights, ending the inning with the sound of a wet fart. The Cubs would score another run two innings later and at least they had an elite glove out in center to help them preserve the lead, so it seemed like a minor annoyance at the time.
But like a pesky mosquito bite you absently scratch until it bleeds, at which point its annoyance only increases, even the defensive upgrade didn't last. Remember the Wisdom strikeout? Yeah, that came because he was pinch-hitting for PCA. Before we get to that, we may as well acknowledge that the center fielder was called upon to bunt in his only plate appearance.
That sacrifice pushed — who else? — Mastrobuoni over to second, then singles by Hoerner and Ian Happ resulted in that final tally that put the Cubs ahead 6-0 with their ace cruising.
Anyway, Wisdom came in to bat because the Braves brought in a southpaw and the slugger's role has more or less been distilled to part-time lefty masher. But the thing is, that potential increase in win probability resulted in defensive downgrades at two positions. As good as Bellinger is in center, PCA is better. Bellinger is also much better than Wisdom at first base.
The decision to have Crow-Armstrong run for Tauchman put the Cubs at a strategic disadvantage, as did the decision to lift PCA at a point in the game when superior defense was most important. Both moves smacked of panicked over-managing, which conjures for me yet another analogy. Remember in Christmas Vacation when Mr. Shirley, Clark Griswold's boss, is looking for a way to get out of any further conversation.
Get me somebody, anybody. And get me somebody while I'm waiting!
It's eyewash, except with a deleterious impact on the team. I have never campaigned for Ross to lose his job and I'm not going to start now, but it's reached the point where I won't mind at all if the Cubs move in a different direction. While I believe Ross is good in the clubhouse when it comes to communicating with players and balancing personalities, I have my doubts about his ability to lead a competitive ballclub from a tactical standpoint.
If Jed Hoyer has similar doubts, a loss like Tuesday's might be the kind of thing that forces him to make a difficult decision with team leadership.
We may only be talking about a win or three over the course of a season, but that could end up being the difference between making the playoffs or watching from home. And hey, maybe there's absolutely nothing Ross could have done differently that would have prevented Tuesday's loss. The back end of the bullpen has been decimated by injuries and it's entirely possible the Braves would have ended up walking the Cubs off even if Suzuki had made that play.
Hell, that would have been easier to swallow. Instead, I'm out here rambling on about player usage. Welp, just five games to go.