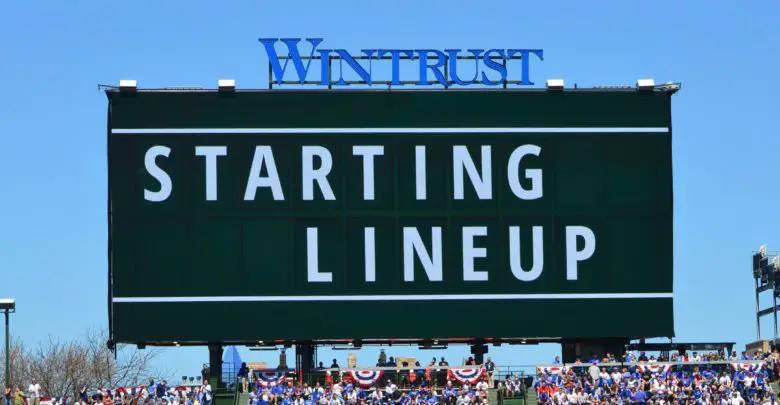 Chicago Cubs Lineup (9/10/23): Morel Leads Off, Happ Sixth, Hendricks Lecturing
Just four days after sweeping the Giants, the Cubs are in danger of being brushed aside unceremoniously by the Diamondbacks. Following a two-run output Thursday and a shutout Friday, their only run in regulation Saturday came when Nico Hoerner scored from first on a Cody Bellinger infield pop-up that got lost in the sun and fell for a very generous single.
Kyle Hendricks has been pitching well, but he's going to have to be near perfect if the offense doesn't get its collective head out of its ass. Only Seiya Suzuki (181 wRC+) and Cody Bellinger (122) have put together dynamic performances over the last month, though a lot of you might be surprised to learn that Ian Happ's 113 wRC+ ranks third on the team in that span. As Bellinger has fallen off a bit from his scoring second-half pace, only Suzuki has stepped up.
Those three players and Nico Hoerner (110) are the only Cubs who've produced runs at an above-average level in the last month. Mike Tauchman has gotten a bulk of leadoff appearances despite a 42 wRC+, Jeimer Candelario has a 60, Nick Madrigal is at 63, and Dansby Swanson is at 66. Folks, that's bad. Not as bad as Christopher Morel's 17, but still not great.
Candelario, Tauchman, and Morel have combined for -1.4 fWAR over the last month as well. David Ross can't sit all of them and it's not like there are many options to shake things up, so it just comes down to these guys working through their struggles and figuring things out over the next few weeks. This looks like a good day to get that started.
Ross is opting for the Joe Maddon strategy by batting Morel in the leadoff spot today, where he should get some pitches to hit. Hoerner bats and plays second, Suzuki moves up to the three-hole as the right fielder, and Bellinger cleans up in center. Swanson is at short, Happ is in left, Yan Gomes is behind the plate, Candelario is at first, and Madrigal is at third.
They're up against a 24-year-old righty whose name sounds like someone with a heavy Boston accent talking about flatulence, which is fitting given Jim Deshaies' description of Arizona's rotation. Back in 1948, the Boston Braves relied so heavily on Warren Spahn and Johnny Sain that Boston Post sports editor Gerald V. Hern wrote a poem that was quickly distilled to "Spahn and Sain and pray for rain." JD, who immediately apologized for casting aspersions, edited it to "Gallen and Kelly and everyone else is smelly" or something along those lines.
One of those odiferous offenders is Brandon Pfaadt, owner of a 1-8 record and 6.27 ERA through 15 MLB starts. He has allowed 85 hits with 24 walks through 74.2 innings, so we should expect a lot of traffic on the bases in this one. Of course, we thought the same thing about Thursday starter Ryne Nelson and that didn't end up working out well for the Cubs.
Pfaadt is among the worst pitchers in the league when it comes to giving up hard contact in the air, hence the whopping 17 home runs allowed so far. Amazingly, his 2.05 HR/9 is better than 12 of the 171 pitchers with at least 70 innings this season. Hayden Wesneski is actually just ahead of Pfaadt with 2.03 HR/9 this year. Most of that damage has come against Pfaadt's pfaastball, which sits around 94 mph and generates less vertical and horizontal movement than other four-seamers.
With a run value of -11.3 on his heater, Pfaadt is again among the lowest in the league. Making matters worse is a very firm change that sits 87 and stays up in the zone far too frequently, earning a -8.5 run value that has it as one of the four worst in baseball right now. When you're talking about nearly 20 runs lost on 60% of what he throws, that's not great. After facing Merrill Kelly and his MLB-best changeup yesterday, the Cubs should pfeast on Pfaadt's offspeed offerings.
The curve and sinker have been less than good for Pfaadt this year as well, though they only make up around 14% of his pitches. His saving grace is the sweeper that makes up the remaining 27% of his repertoire. He has really filled up the lower glove-side corner of the zone, carrying the ball well off the plate without pulling it too low. When he's able to get into plus counts, that pitch is a real weapon.
Part of his problem is that he hasn't gotten to enough of those counts, mainly because he throws too many strikes. Using the same sample from above, Pfaadt's 46.6% in-zone rate is 10th in MLB. Justin Steele is tied for eighth with 46.7%, though his stuff allows him to get away with it. Nelson is actually tied with Steele and he had been paying for it prior to his tilt with the Cubs.
That game saw the Cubs hit several balls right on the screws with nothing to show for it, and that's been one of the themes of this series as a whole. This matchup affords them the opportunity to get right, so they absolutely must take advantage right out of the gate and bury the D-backs early in order to salvage what they can.
First pitch is at 1:20pm CT on Marquee and 670 The Score.
Here is today's #Cubs starting lineup for the series finale against Arizona.

Tune in: https://t.co/Gs2hZXyTjH pic.twitter.com/YCfZiVId3h

— Chicago Cubs (@Cubs) September 10, 2023