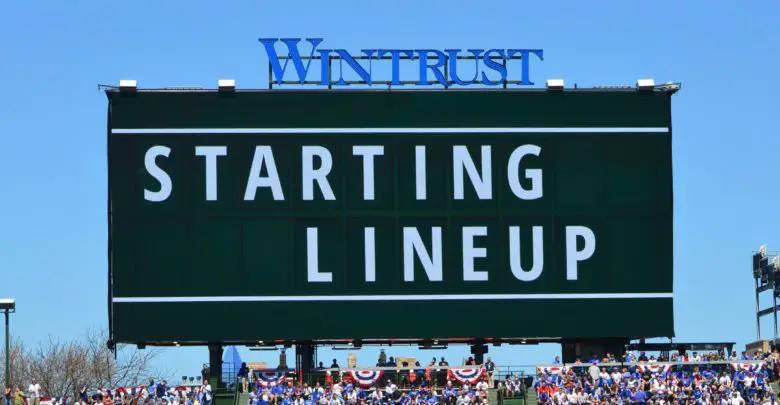 Chicago Cubs Lineup (9/9/23): Tauchman Leads Off, Candelario DH, Steele Starting
Cubs starters have allowed three earned runs over 11.1 innings through the first two games of this four-game series, yet the team is 0-2 because the offense has only managed two total tallies. Justin Steele may need to have another great start to give his teammates enough slack should they fail to wake up, plus it would be good to bolster his Cy Young case after Zac Gallen blanked the Cubs yesterday.
This is another good matchup for Steele because, like the Giants, the D-backs aren't very good against lefty pitching. Their 93 wRC+ ranks 22nd in MLB and their .310 wOBA is 20th, but their 40 homers show they're not exactly de-fanged. For the sake of context, both their homer mark and their 1,473 PAs against southpaws rank 14th in MLB.
Arizona's hitters have only faced Steele 29 times combined and they've got a .148 average with no homers. I expect that futility to continue this afternoon, now it's just a matter of scoring enough to make it matter.
Mike Tauchman is back in center as the leadoff hitter, then it's Nico Hoerner at second, Ian Happ in left, and Cody Bellinger at first. Dansby Swanson is the shortstop, Seiya Suzuki is in right, and Jeimer Candelario is the DH. Yan Gomes is the catcher and Nick Madrigal is at third.
They get no reprieve after facing Gallen on Friday, as the Snakes are sending Merrill Kelly to the mound this afternoon. The 34-year-old righty is putting together the best season of a relatively short MLB career that got off to a late start following four years in the KBO and was hampered in 2020-21 by thoracic outlet syndrome surgery. Kelly's excelling with a 26.5% strikeout rate that is several points higher than ever and he's doing it with a 92 mph fastball.
Okay, that's not really accurate. While he does have a pedestrian heater, the reason he's been so good this season is that he's throwing the best changeup in the game. Logan Webb has generated more run value with his offspeed pitch, but he's thrown it more than twice as often as Kelly. When you break it down on a per-pitch basis, Kelly's change is well above everyone else in baseball.
That might not be a bad thing for the Cubs, who just faced Webb and wore him down over the better part of seven innings in an eventual shutout. And who started that game for the home team? You guessed it…Frank Stallone. It was actually Steele, and sorry if you didn't get the joke.
The Cubs didn't actually get to Webb's changeup, but instead pounded his fastball and slider. Kelly has likewise had trouble with those two pitches and may be vulnerable if the fastball isn't working well. Trouble is, the slider makes up less than 6% of his pitches and the cutter, which he throws at a 17% clip, is pretty good.
Let's get back to the changeup, which is probably what's going to determine this game as far as Kelly is concerned. I haven't found much on the grip itself and images are scant, with the only clear shot I could find showing what looks like a relatively traditional circle setup. The location, however, isn't all that traditional, as Kelly often keeps the ball over to the arm side of the plate.
"Leading up to 2019, I threw a certain grip," Kelly recently explained to reporters. "And then in '19, that grip kind of just decided to go away and not work anymore. So I kind of went on an exploration the next couple years to find the grip that was consistent and got the action that I'm used to seeing out of what the changeup in my mind should be.
"I found that grip last year, I think, and I think maybe over the last couple of years, the more consistency of throwing it has made it better and better and probably led to have more confidence in throwing it in big counts. And that could be probably one of the reasons why you might see some more swing and miss on it."
Playing at home may give the Cubs an edge because Kelly is much better when pitching in the desert. Like, MUCH better. He's held opposing hitters to a .186 average and .583 OPS at Chase Field as opposed to .266 and .768 everywhere else. Left-handed hitters in particular have found more success in those splits, and Kelly's numbers jump in a big way the third time through the order.
As a final note, it's interesting to me that Kelly has had some very serious up-and-down starts lately. Look at these strikeout numbers from his last five outings: 11, 3, 12, 1, 12. The first and last of those came against a dreadful Rockies unit and the other big K game was against a free-swinging Red team, so grains of salt and all that. But if the trends hold pitching on the road after an excellent performance could portend a stinker in this one.
First pitch is at 1:20pm CT on Marquee and 670 The Score.
Here is today's #Cubs starting lineup at Wrigley Field!

Tune in: https://t.co/Gs2hZXyTjH pic.twitter.com/9JhkBuE7rk

— Chicago Cubs (@Cubs) September 9, 2023