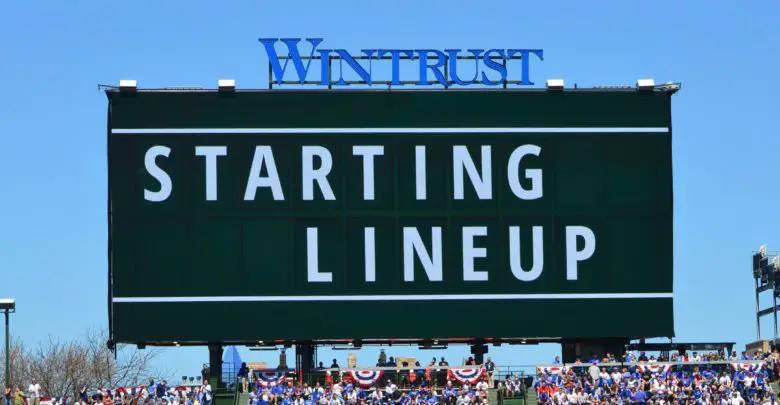 Chicago Cubs Lineup (8/20/23): Tauchman Leads Off, Amaya Catching, Hendricks Starting for Series W
The Cubs bounced back with a win Saturday afternoon and are now even on this homestand with one game remaining against the Royals. It's all about the offense for the Cubs, who moved to 8-0 in August when they score at least five runs. They're 2-6 when they score four or fewer, which makes perfect sense when you see they've got a team ERA of 5.11 on the month.
Kyle Hendricks has been a big part of that problem with 12 earned runs allowed over three August starts, though seven of those came in one inning against the Braves. Hendricks hasn't recorded a win in nearly a month, so Sunday offers a chance to change that trend. He really doesn't even need to be all that sharp if the bats are alive.
David Ross has gotten a lot more consistent with his lineups lately, so Mike Tauchman is once again leading off in center. Nico Hoerner is at second, Ian Happ is in left, Cody Bellinger is at first, and Dansby Swanson is at short. Christopher Morel is the DH, Jeimer Candelario is at third, Seiya Suzuki is in right, and Miguel Amaya is the catcher.
Other than Amaya swapping with Yan Gomes, this is the lineup we're going to see against righties. It should be the same against lefties, though guys will need a break now and again. And just in case you're wondering why Nick Madrigal isn't getting any time, take a look at his season splits. He was great after coming back from his demotion, but he was awful prior to that and has struggled again since his recent hamstring injury.
Who is this Cub?

First 98 PAs: .247/.286/.301, 61 wRC+
Next 69 PAs: .328/.409/.466, 144 wRC+
Last 47 PA: .238/.304/.357, 83 wRC+

— Evan Altman (@DEvanAltman) August 19, 2023
Madrigal has suffered from several lower-body issues over the past three seasons and he's got too little margin for error as a hitter to be anything less than 100% healthy. In the meantime, he can serve as a pinch-bunter for Amaya late in the game.
They're going up against big righty Jordan Lyles, who is somehow only 32 years old despite this being his 13th season in the bigs. A career 5.21 ERA pitcher, Lyles is struggling through one of the tougher years of his career for a bad Royals team. His fastball velocity is down to barely over 91 mph, though that's not the problem because his four-seam is the only pitch in his repertoire that's been good this year.
At 4.1 runs saved, it is 6.5 runs better than his next-best offering. Between the curve (-2.4) cutter (-2.7), sinker (-2.8), change (-3.4), and slider (-5.8), Lyles' secondaries have cost the Royals over 17 runs so far. He gets fewer swinging and swinging strikes than his peers, and the abject lack of put-away pitches means he gets tagged for a lot more hard contact than most.
Lyles has given up 28 homers this season, second in the majors to Lance Lynn (32), who has been money since being dealt from the White Sox to the Dodgers. The moral of the story here is that the Cubs should be able to hang some runs on the Royals in this one and there's really no excuse for an anemic offensive output.
First pitch is at 1:20pm CT on Marquee and 670 The Score.
Here is today's #Cubs starting lineup for the series finale against Kansas City!

Tune in: https://t.co/Gs2hZXyTjH pic.twitter.com/MUCk84ALAz

— Chicago Cubs (@Cubs) August 20, 2023