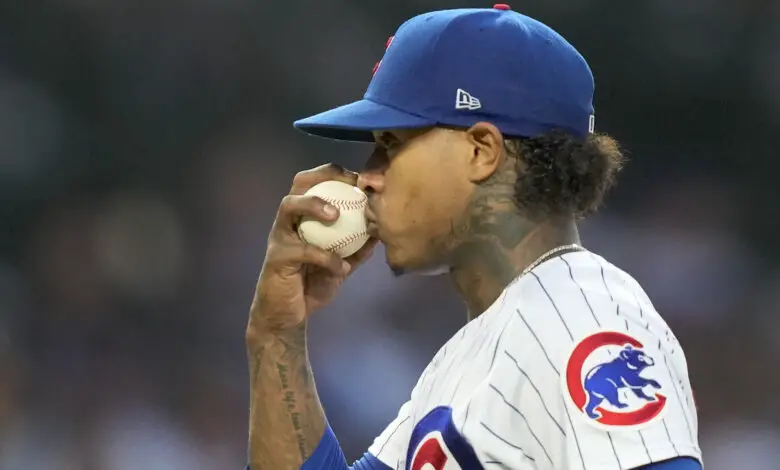 Cubs Pitching Updates: Stroman Back Wednesday, Steele Keeps Resetting Career Marks, Taillon Regresses, Injured Relievers Getting Closer
The Cubs have been carried by their offense so far in the second half, but any real playoff run will require much better pitching down the stretch. That means getting starters healthy and keeping them that way, and then it's a matter of getting more consistent performance. Easier said than done when you look at the rotation in particular.
Getting Marcus Stroman back, assuming he's completely past the hip inflammation that sent him to the IL at the beginning of the month, is a big step in the right direction. The righty is carrying a 9.00 ERA over his last seven starts, four of which lasted less than four innings. He's tentatively scheduled to take the mound when the White Sox visit Wrigley this week.
"All signs point to he'll be ready Wednesday," David Ross said on Saturday. "I'm pretty optimistic. Things pop up. Things [could] happen in between now and then, but the bullpen went good."
The manager was referring to a 50-pitch session Stroman threw in his old stomping grounds when the Cubs were in Toronto. Getting both a physical and mental reset should do Stroman well, allowing him to return with a great deal of confidence after apparently trying to pitch through the issue for a while. He admitted recently that he'd been struggling to make adjustments while dealing with the hip, which is similar to the problem he expressed early in the season prior to making a dramatic turnaround.
Justin Steele took over the mantle of staff ace at some point after the London Series and he's now in uncharted territory when it comes to his total innings pitching. Steele set a new high-water mark of 119 last season after having never hit triple digits in seven previous professional seasons. He actually eclipsed 120 innings two starts ago and pushed it to 126 with his no-decision in Saturday's win, so each outing puts him in deeper water.
That could be a concern, but Ross and the Cubs are being very vigilant as they track Steele's workload. While hardly the definitive measure of a pitcher's stamina, it was nice to see the lefty averaging 92.6 mph on his fastball against the Jays. Not only is that eight-tenths of a mile per hour above his season average, it's the hardest he's averaged since touching that same mark on May 26 against the Reds.
"I definitely learned a lot from last season and even the season before," Steele said Saturday. "And I put a lot of work into this offseason and preparing my body to go 162 and hopefully more. I feel like I'm in a good spot right now."
Getting Stroman back and keeping Steele right will be paramount if the Cubs can't trust Jameson Taillon to maintain something close to what he'd been over the previous month or so. His Sunday start in Toronto was reminiscent of his first-half performance and it was pretty clear right out of the gate that he didn't have it.
After allowing just nine total earned runs over 37.1 innings in his previous six starts, the big righty gave up eight earned in three innings north of the border. He only surrendered one homer, but his two strikeouts marked his lowest total since he sat one Oriole down on strikes back on June 18. Taillon just didn't seem to know where many of his pitches were going and he left way too many of them right in the nitro zone.
It's been a rough start for Taillon. About half his pitches have been center-cut, and it looks like he has minimal feel for his breaking pitches today.

He's throwing +30% sinkers so far, which is 3x more than what he threw between June-August pic.twitter.com/baxAzor8p2

— Brendan Miller (@brendan_cubs) August 13, 2023
I won't be too worried about him unless he implodes in his next start, but this is definitely something to keep an eye on. Taillon has been working on several items and may have backslid for a day. Or maybe it's just one of those games where nothing feels right and all you can do is hang on and wait for your day to end. If this was just an aberration, the Cubs are going to look great as they get back to full strength with the easiest part of their schedule looming.
Speaking of full strength, the bullpen could be getting several reinforcements soon. Righty Brad Boxberger was actually in line to pick up saves when the season started, but he's been on the IL since mid-May with a forearm strain and had been shut down for a while after initially starting a throwing program. His latest bullpens have reportedly gone well and he's slated to throw in the Arizona Complex League soon.
Ethan Roberts has been out for over a year after undergoing elbow reconstruction last July, but he's also been ramping up in hopes of returning by the end of the season. When he's not busy collecting his own baseball cards, the righty has been throwing live BP and is itching to get back to competitive action.
Nick Burdi has been out since the end of May following an appendectomy and has been on the 60-day IL since June 13. He will be at Triple-A Iowa shortly after a stint in the ACL.
Lefty Brandon Hughes probably shouldn't be expected back by the end of the season since he just started a throwing program following a debridement procedure on his left knee toward the end of June. He'd been dealing with inflammation in the joint all season and it cost him a lot in terms of being able to stay on the field and then pitch well on the rare occasions he was healthy enough to do so.
Having all these guys waiting in the wings isn't the sole reason Jed Hoyer remained very conservative on the pitching front at the deadline, but it certainly was a factor. Not only will the Cubs need 40-man spots to activate any of these relievers, but getting them back after such long absences is almost like making a series of free trades.