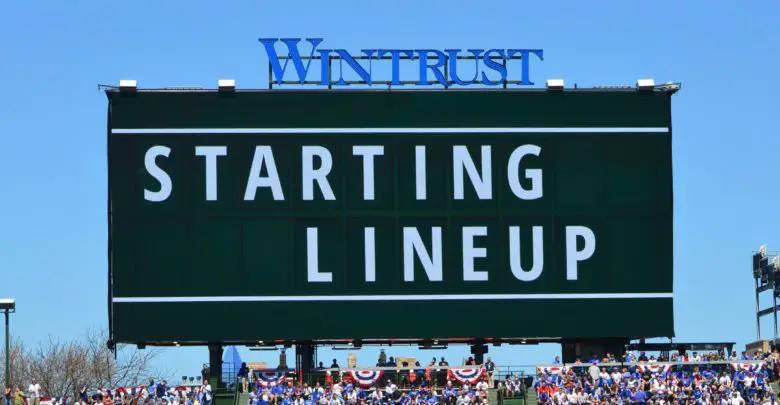 Chicago Cubs Lineup (8/9/23): Morel Leads Off, Suzuki in RF, Hendricks Going for Series W
The Cubs evened the series in Gotham last night and now have a chance to win it with Kyle Hendricks on the bump. David Ross has shuffled the lineup around a bit, however, and this is definitely a funky batting order going up against a lefty they've had trouble against in the past. I have a pretty good feeling about this one just the same.
Hendricks looked great the last time out against the Braves…until he didn't. After retiring the first nine batters he faced, he fell apart in the 4th inning and allowed seven runs on eight hits. That onslaught included three doubles, two homers, and a triple as Atlanta made adjustments the second (and part of the third) time through the order.
The Professor has done well against these Mets hitters, holding them to a .217 average with a .582 OPS across 60 aggregate at-bats. He hasn't faced Pete Alonso that often and might want to go ahead and pitch around the man who has already homered thrice in this series. Discretion is the better part of valor and Hendricks has had trouble with the longball in the past.
Assuming he's not going to be perfect tonight, the Cubs might want to wake up and start scoring runs in bunches again. That starts with Christopher Morel leading off as the DH, followed by Nico Hoerner at second base and Ian Happ in left. Cody Bellinger cleans up in center, Dansby Swanson is at short, and Seiya Suzuki returns to right field for his first start in five days. Jeimer Candelario is at third, Patrick Wisdom is at first, and Miguel Amaya is behind the plate.
Suzuki has been working on some mechanical and approach tweaks, so I wonder if we'll see him try to jump on something early tonight. He's been in his own head way too much, which could explain some of the timing variations that have plagued him throughout the season. If he can get right, this lineup becomes even more potent than it's been already in the second half.
They're going up against 27-year-old southpaw David Peterson, who had been moved to the bullpen but is now back after the Mets traded away their aging headliners. Peterson managed just three innings in his most recent start and probably won't be good for more than five even if he's doing well, which has been the case since he shifted to a relief role.
Over his first 11 appearances, all starts, Peterson had a 6.46 ERA with 67 hits allowed over 54.1 innings. He had struck out 60 batters with 22 walks and had a 55.3% grounder rate, though, so the expected stats looked quite a bit better. His last seven appearances, the most recent of which was a start, have seen him pitch to a 1.64 ERA with 10 hits in 11 innings. He's struck out nine with six walks and his expected stats say he should have been much worse.
What it all comes down to is that he's probably a little better than what his overall 5.65 ERA says, especially with that .374 BABIP against due to drop. But maybe not tonight, huh? Peterson's fastball and sinker sit 92-93 mph, which is less than you'd expect from his 6-foot-6 frame. He gets a lot of extension, though, so his stuff can really jump on hitters with more perceived velocity.
The sinker gets a lot of grounders and the four-seam can get whiffs when he's hitting his spots up in the zone, where he's likely to live with it most of the time. He can land his slider for strikes but gets a lot of depth and sweep to back door righties. That breaking ball is really hit-or-miss and often winds up outside the zone, so spitting on it is a good idea.
Peterson's changeup is decent and tends to stay arm-side without a great deal of tumble, plus it's a pretty firm offering at 85-86 mph. The curveball has pretty traditional 12-6 depth and has been really good for him, but he only throws it about 8% of the time. That will change with the situation, so the Cubs could see more benders in this one if he's feeling it.
Left-handed batters have really done a number on Peterson this season, though the numbers are inflated by some poor performances on the road. He's been much better at Citi Field, with a 2.67 ERA and just one home run allowed to 110 total batters. The Cubs would do well to pump those numbers up a little bit and get out of town with a mini win streak.
First pitch is at 6:10pm CT on Marquee and 670 The Score.
Here is tonight's #Cubs starting lineup for the series finale in New York!

Tune in: https://t.co/Gs2hZXyTjH pic.twitter.com/plWQcm94Xd

— Chicago Cubs (@Cubs) August 9, 2023