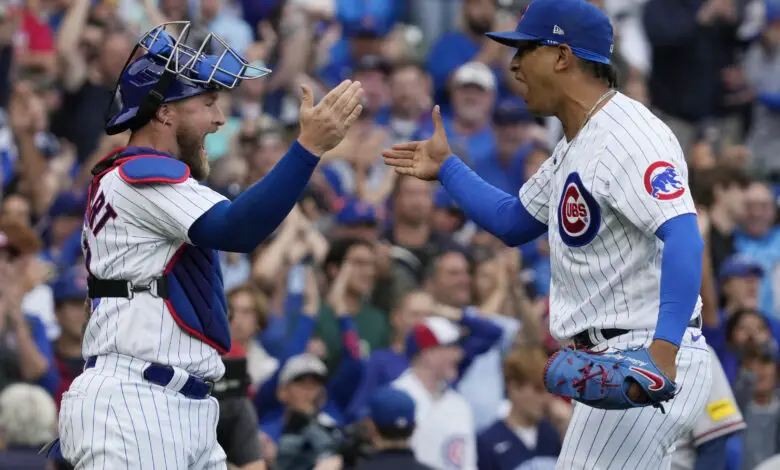 The Rundown: Cubs Take Braves Series, Nearing Division Lead, White Sox Blasted for 'Lack of Culture'
"This must be just like livin' in paradise, and I don't want to go home." – David Lee Roth, Just Like Paradise
If the season ended today, the Cubs would have earned the final Wild Card berth. Chicago is off to Gotham to play the Mets, and they have to be mindful of keeping the pedal to the metal. Nobody wants the New York Metropolitans to derail what is now 13 wins in 16 games by Chicago's North Side Baseballers.
The Cubs took two of three from the Braves and have now won six straight series. Chicago passed the Reds, who have lost six straight games, by percentage points for second place in the NL Central. In 23 games since the All-Star break, the surging Cubs have scored an MLB-best 164 runs and they're 16-7 (.696) in those contests. The only team hotter in that span is Atlanta, so it was nice to see Chicago win the set.
All-Star Justin Steele scuffled at times through 5.1 innings but won his fourth straight start on a misty day at Wrigley Field. Mike Tauchman had two hits, scored two runs, and threw out Ronald Acuña Jr. at the plate from right field in the 5th to limit a Braves rally.
The North Siders can't let up now because they're about to start one of the easier portions of their schedule. Their next five series are against the Mets (50-61), Blue Jays (63-50), White Sox (40-68), Royals (36-77), Tigers (49-62), Pirates, and Brewers. Chicago closes out the month with a four-game set against the Pirates in Pittsburgh before returning home to face the Brewers for three. This stretch gives them the best chance to overtake Milwaukee for the division lead.
Cubs News & Notes
Odds & Sods
Anytime I can take a shot at Ángel Hernández…
The Yankees game was delayed as Ángel Hernández inexplicably broke out his new TikTok dance out of nowhere. He was escorted off the field. pic.twitter.com/KEhdl99e7t

— Rob Friedman (@PitchingNinja) August 6, 2023
Central Intelligence
Climbing the Ladder
"I just bought me this new pair of big shoes and I'm only going if I can walk there with you." – Widespread Panic, Walkin' for Your Love
Dansby Swanson is swinging a hot bat, but his plate appearance against Charlie Morton in the bottom of the 3rd inning was one of his best. The bags were loaded, Morton refused to throw anything but breaking stuff to Swanson, and the shortstop coaxed an RBI walk. Swanson was an extra-base machine on the 5-2 homestand, finishing with five home runs, two doubles, and 11 RBI.
Nobody is hotter than Jeimer Candelario. He's 12-for-23 (.522) with eight runs scored, a home run, three RBI, and a stolen base since joining the Cubs. His OPS+ since the trade deadline is 309. Cody Bellinger also had a good series, and now has three consecutive multi-hit games.
Things weren't so fortunate for Patrick Wisdom. He entered the game as a pinch-runner but was promptly caught stealing. Maybe he was hoping to catch the Braves napping.
Games Played: 112
Record: 568-54 (.518)
Total Plate Appearances: 4,318
Total Strikeouts: 1,008
Strikeout Rate: 23.34%
Team Batting Average: .257
Runs Scored: 574
Runs Allowed: 499
Chances of Making the Playoffs: 77.6%, 4.4% to win the World Series
How About That!
White Sox shortstop Tim Anderson has been brooding for most of the season, but now he's completely gone off the rails.
Here's the video of Anderson's fight with Jose Ramirez in case you haven't seen it. Ramirez knocked the ChiSox infielder out cold.
The league has yet to decide how either player will be disciplined.
Ex-White Sox reliever Keynan Middleton ripped the team's clubhouse for a lack of rules and culture, but nothing so far indicates Chicago is going to clean house this winter.
Reds rookie Lyon Richardson allowed home runs on the first two pitches of his MLB career.
Mark Canha, now with the Brewers, said the Mets failed this year "because they didn't have the magic."
In addition to Pete Alonso, the Mets almost traded star reliever Edwin Diaz at the deadline.
Juan Soto, Logan Gilbert, Dylan Cease, and Tyler Glasnow head this list of players who are most likely to be traded this winter.
Sunday's Three Stars
Jake Meyers – The Houston outfielder hit a pair of three-run homers to lead the Astros to a 9-7 win over the Yankees.
Davis Schneider – The 24-year-old rookie was 4-for-5 with a home run and four RBI in the Blue Jays' 13-1 rout of the Red Sox.
Yandy Diaz – The Rays' DH was 3-for-5 with three runs scored, a home run, and two RBI in Tampa Bay's 10-6 win over the Tigers.
Extra Innings
Tauchman will go down as the best under-the-radar minor league signing ever.
We haven't Tauched about this, but… yeah, don't run on Mike Tauchman.@MTauchman pic.twitter.com/TxfghSzovy

— Chicago Cubs (@Cubs) August 6, 2023
Monday Morning Six-Pack
They Said It
"I don't think there are any excuses, but we just didn't play [well]. We ran up against a hot team. Better play pretty good like we did the first day here, because [the Cubs are] swinging the bats, their bullpen's been really good, they're also a good club." – Braves manager Brian Snitker
"Belli's good. If [you're] just tuning in, Bellinger is back to being a really good player, believing in himself, and doing everything well. It does feel like he's getting two, three hits a night, a big walk here and there. He's been a game-changer for us in the middle of the lineup." – David Ross
"[Candelario] just deepens our lineup so much. He's such a good hitter. He's a good player. That's why we went out and got him and identified him as a really important piece. The value he brings to deepen our lineup from both sides of the plate makes really tough matchups for the other manager." – Ross
Monday Walk-Up Song
I can't get enough of this song by Creedence Clearwater Revival.