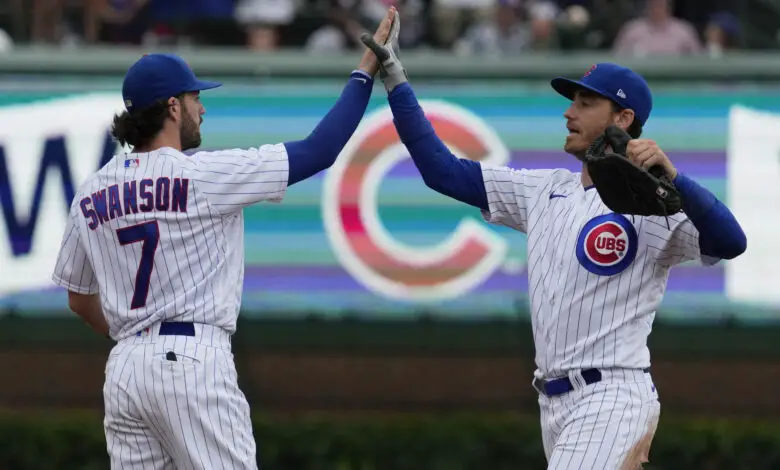 Cubs Building Case as MLB's Best Team in Second Half
They've still got 50 games left to play, but the Cubs have shown through the first 23 games of MLB's official second half that they're among the best teams in the game. Based on their performance since the All-Star break, which includes taking two of three from the team with the best overall record, the case can be made that the Cubs are currently the best team in baseball.
Their 16-7 second-half record is tied with the Orioles for tops in MLB and they haven't just stacked wins against bad teams. Sure, the White Sox and Cardinals are bottom-feeders who sold at the deadline, but the Reds and Braves were in first place when they visited Wrigley Field this past week. Fraudulent though Cincy's position may have been with that pitching staff, they're still better than St. Louis.
The Cubs have hit 39 homers in the second half, putting them behind only the Braves (43) in that category, and their 164 runs scored puts them 34 ahead of the second-place Dodgers (130). The Cubs also lead the majors in stolen bases since the break, with their 31 swipes fueling a more aggressive offensive approach. And for those who enjoy more advanced catch-all metrics, the Cubs sit atop MLB in both second-half wRC+ (139) and fWAR (7.9).
That latter mark is more than two full wins above the Braves, for what it's worth.
The only real blemish is that the Cubs' pitching is only middle-of-the-pack over the last 23 games, which is either trouble or cause for hope depending on how you look at it. When many were lamenting the club's desire to buy at the deadline because they couldn't possibly compete in the postseason, others pointed out that having Marcus Stroman, Justin Steele, and Kyle Hendricks atop the rotation made the Cubs a very dangerous opponent.
Well, Stroman has been a disaster since London and is currently on the IL with hip inflammation after posting a 9.00 ERA over his last seven starts. Hendricks allowed seven runs in one inning during Friday's loss to the Braves and has likewise experienced regression over his last half-dozen starts. And while ol' Mississippi Fastball hasn't fallen off quite as badly, he too is showing mild signs of meeting a wall now that he's set a new career-high for innings pitched.
Steele had never thrown as many as 99 professional innings prior to last year, when he tallied 119 over 24 starts. He just got up to 121 on Sunday, his 21st start of the season, and he also set a new career high with 110 pitches. If your glass is half-empty, you're looking at this like a three-legged stool that's got cracks in all three legs.
A more optimistic outlook sees all these things and says all three pitchers could well be due for positive regression. Stroman may have been pushing through the hip issue, something he said he's experienced before, out of pride and/or a bigger contract. Setting aside the foolishness of that hypothetical strategy, getting proper rest and rehab should see him coming back sharper for the stretch run.
Hendricks is a veteran who's been known to show up in big moments, and that one bad inning masks the fact that he looked great for the first third of the game. The Braves clearly made adjustments in their second turn through the order and Hendricks was simply overwhelmed. Again, you could see that as either a harbinger of doom or a learning experience for a guy who was calling his own pitches against an unfamiliar lineup.
As for Steele, well, that's why the Cubs have Javier Assad, Hayden Wesneski, and maybe even Caleb Killian. There could be more help coming from the system as well. It might be a good idea to have piggybacks ready to ensure the lefty doesn't run headlong into that wall, and David Ross could even consider skipping a start or two for his ace over the next several weeks.
I would also argue against repeating the decision to let him labor deep into a game or inning when it's clear he's lost it, but I'm built different.
The pitching will need to come around because the offense probably isn't going to continue to outpace the rest of the league through September. Or hell, maybe we'll see the combo of Cody Bellinger and Jeimer Candelario continue to stay hot. Who wouldn't love some more Belli Candy? And how about Dansby Swanson, who has hit seven homers since coming off the IL 15 games ago?
Each member of that trio has been worth at least 1.1 fWAR with a 189 wRC+ or greater since the break, making them one of only three teams in baseball (Padres, Braves) with three players in the top 20 for WAR. And the Cubs are the only team with five top-25 WAR players when you add in Nico Hoerner (1.1) and Mike Tauchman (1.0). Hoerner is technically tied with Swanson, but he's had 44 more plate appearances to get there.
Even though Jed Hoyer didn't make a huge splash at the deadline, the addition of Candelario lengthens the lineup and kind of foolproofs Ross's decision-making. A switch-hitter who can play either corner infield spot, Candelario has brought a new energy to his old team. Whether it's his familiarity with his surroundings and some of his teammates or getting out of Washington and into a playoff race, Candelario needed no time to get acclimated.
By winning two of three from Atlanta while the Brewers split four with the Pirates and the Reds were swept by the Nats, the Cubs climbed into a virtual tie for the third Wild Card spot and they're just 1.5 games out of the division lead. They don't even need to maintain this breakneck pace to overtake Milwaukee in the next few days, but the upcoming schedule features just one winning team (Blue Jays) in the next six series(eses).
The Mets, White Sox, Royals, Tigers, and Pirates are a combined 58 games under .500 as of this writing, so taking care of business over the next 18 games will set the Cubs up nicely. Then they finish August with three against Brewers at Wrigley before heading to Cincy for four to open up September. Fasten those seatbelts, you feel like this could be a turning point.