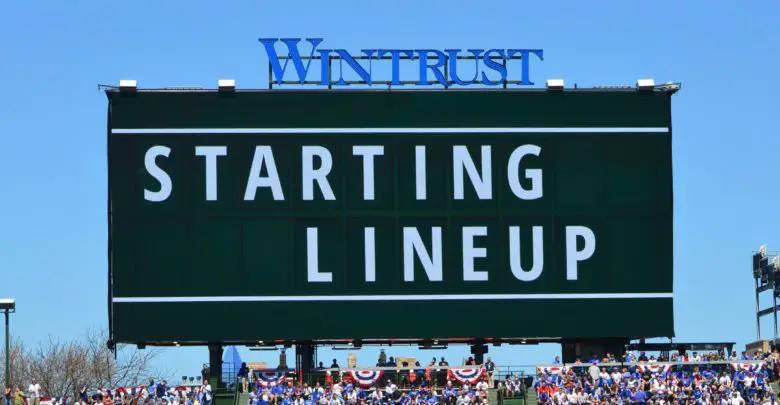 Chicago Cubs Lineup (7/21/23): Tauchman Leads Off, Mastrobuoni at 3B, Steele Trying to Slow Ticking of Death Watch
After two rousing victories over the Nationals in which they scored 25 combined runs, the Cubs came out completely flat in Thursday's loss to the Cardinals. Marcus Stroman pitched one of his worst games of the season, the defense was terrible, and the bats could do nothing against a then-winless Steven Matz. Other than Yan Gomes hitting two triples in the same game, thus doubling his full-season total for any campaign since 2014, you'd have been better off watching the new Justified revival.
The Cubs are far closer to last place than they are the Wild Card even winning out through the weekend won't improve their outlook much as the deadline draws ever closer. They can, however, slow the ticking of a death watch that is now more audible than the ubiquitous cackles from the background on the radio broadcasts. I guess it has to be louder now that Zach Zaidman has taken over for Pat Hughes while the legend assumes his rightful place in Cooperstown.
Justin Steele probably needs to pitch well in order for the Cubs to stop the Cards' six-game win streak, a task that's easier said than done given the lefty's recent performance. Steele has allowed nine runs over his last two starts, but the more alarming stat is that he's given up 19 hits and three of the six homers he's allowed on the season over 12 innings.
It may be an issue of throwing too many strikes, even though Steele's zone percentage has been right in line with his average. His slider has been staying over the plate just a little too much, which isn't ideal when it makes up nearly a third of his offerings. A get-right game might not turn the Cubs' fortunes around but it would sure make fans feel better.
The offense scoring runs in bunches would help a little. Mike Tauchman leads off in center and I'll give you a nickel if he doesn't see a full count. Nico Hoerner is at short, Ian Happ is in left, Cody Bellinger is at first, and Seiya Suzuki is in right. Christopher Morel handles second, Yan Gomes is the catcher, Miles Mastrobuoni is at third, and Miguel Amaya is the catcher.
They'll be facing would-be ace Jack Flaherty, whose performance has been only slightly less frustrating for Cardinals fans than his perceived wokeness. Injuries severely limited him over the previous three seasons and he's never been able to make good on the promise he showed in 2019, though he's still got the stuff to show flashes of that unrealized potential.
His fastball sits around 92 mph and gets him in trouble when he leaves it out over the heart of the plate, which he does pretty frequently. When he's locating it properly, it sets up an excellent slider that might be as good at getting called strikes as whiffs. The curve is similar in that regard, as it often lands for strikes at the bottom of the zone rather than tumbling to the dirt.
Flaherty's cutter has much sharper movement than the slider and he loves to throw it just off the glove-side edge of the zone. That repertoire has always led to mild platoon splits, but he's gotten markedly worse results against left-handed hitters so far. There's basically a 60-point different between average, OBP, and wOBA, with an 84-point gap in slugging. Interestingly enough, however, Flaherty's numbers even out and even skew toward right-handed hitters when he's on the road.
I'd like to say this is a good matchup for the Cubs, but they're so mercurial that it's impossible to say. It feels like they will bounce back this afternoon in a game a lot of fans won't be able to watch. First pitch is at 1:20pm CT on Apple TV+ and 670 The Score.
Here is today's #Cubs starting lineup at Wrigley Field!

Tune in: https://t.co/si1AUw7ZwY pic.twitter.com/WpI5lEzRSl

— Chicago Cubs (@Cubs) July 21, 2023