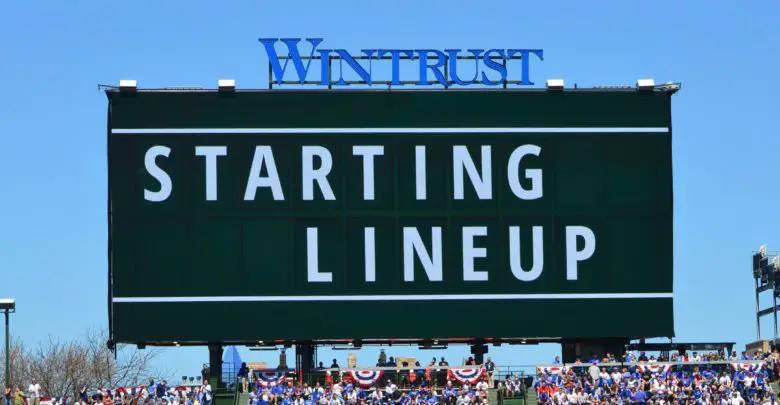 Chicago Cubs Lineup (7/20/23): Hoerner Leads Off, Mancini at 1B, Stroman Starting
The Cubs have exploded offensively since the 6th inning of Monday night's loss and they managed to take two of three from the Nationals despite looking dead in the water for most of the first half of the series. Now they welcome a Cardinals team that has been playing much better of late with five straight wins to climb out of the NL Central cellar.
If there's anyone who can put a stop to that streak, it's Marcus Stroman. While he wasn't able to beat the Cards in London the last time they squared off, the defense let him down in a big way. In addition to the Redbirds, Stroman may also be battling the trade rumors that may not let up until August 1. He's one of the bigger names that could be on the move, and that kind of external pressure can weigh on even the most chill players.
Stro actually had three subpar starts in a row beginning with that letdown across the pond, but he bounced back the last time out against the Red Sox. That was the only game the Cubs won in their first series of the second half and they did it with an offensive outburst. How about more of the same tonight?
Nico Hoerner, fresh off his first career grand slam, leads things off at short with Seiya Suzuki in right and Ian Happ in left. That top three has really come alive lately to help spark the high scoring. Cody Bellinger is in center, Yan Gomes is behind the plate, Christopher Morel is at second, and Patrick Wisdom is at third. Trey Mancini will handle first again and Miguel Amaya is the DH.
It may help that they're facing 32-year-old Steven Matz, who is 0-7 with a 4.86 ERA. Even though a pitcher's record is hardly a great indicator of performance, being this lopsided is a sign that something may not be going very well. This will be Matz's 21st appearance and 13th start of the season as he has bounced between the rotation and bullpen due to his terrible April and May.
The lefty started out 0-6 with a 5.72 ERA in 10 starts and had allowed 68 hits over 50.1 innings. Eight of those hits went for homers and he was inefficient to boot, failing to complete six innings in any start. He was much better in a relief role, posting a 2.81 ERA with 13 hits allowed in 16 innings, and now he's back in the rotation as Adam Wainwright winds down his career.
Matz faced the Cubs in London, relieving Wainwright for 3.1 scoreless innings with two hits allowed. He struck out two and walked one with his sinker/change combo. He throws the mid-90s sinker about 55% of the time and tends to work middle-up with it in an attempt to keep hitters from scooping it for power.  His change makes up another 27% of his pitches and he likes to work the lower arm-side corner.
The offspeed has been catching a little too much of the plate, so what has typically been his best pitch is actually one of his worst so far. He has had it working from time to time, though, and he'll be tough to hit if that's the case. Matz's curve isn't a weapon but he'll throw it for most of the remainder of his pitches. He doesn't really seem to know exactly where it's going and the red of its heatmap practically fills the zone, with the deepest crimson right in in the heart of the zone and maybe offset a little to the glove side.
We won't even bother with the slider, which is not good on the rare occasions he finds a desire to throw it. Though he's been split-neutral with the exception of allowing much more slug to right-handed batters, losing the feel for his changeup has Matz pitching to marked platoon splits so far. Righties are batting .309 with an .846 OPS while lefties are at .200 and .601 in a much more limited sample.
When he's pitching on the road, righties have a .348 average and .879 OPS, so this has all the makings of another big day for the Cubs' bats. First pitch is at 7:05pm CT on Marquee and 670 The Score.
Here is tonight's #Cubs starting lineup at Wrigley Field!

Tune in: https://t.co/Gs2hZXyTjH pic.twitter.com/yeYYoTI20M

— Chicago Cubs (@Cubs) July 20, 2023