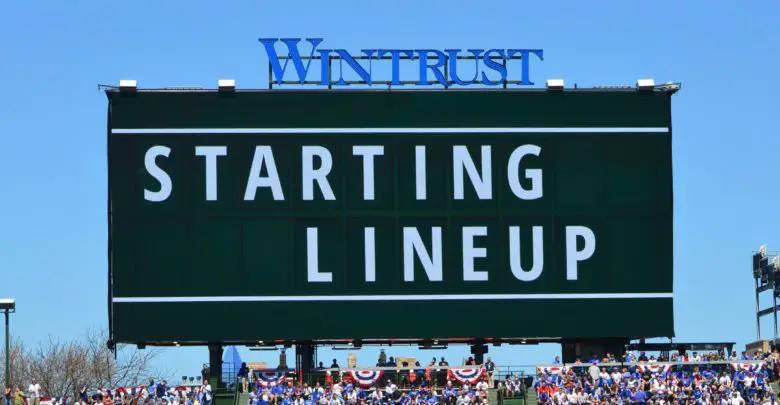 Chicago Cubs Lineup (7/17/23): Hoerner Leads Off, Mancini at 1B, Smyly Starting
The Cubs opened the second half by dropping two of three to the Red Sox and looking pretty blah doing it. They now get two of the three worst teams in the NL for the next seven games, starting with this set against the Nationals. Yes, the same terrible team that beat the Cubs three times in a row at the start of May.
The opener is a rematch of the first game in that earlier series, the only one the Cubs managed to win, as Drew Smyly takes the hill against lefty MacKenzie Gore. Smyly was pitching much better at the time and continued to do so for a few more starts, but he's pitched poorly since the end of May. Much of that stems from the inability to throw his curveball well despite still using it for nearly half of his pitches.
Smyly is 2-5 with a 6.75 ERA over his last eight starts and he's struck out just 28 batters with an alarming 22 walks over 38.2 innings. What's more, nine of the 52 hits he's allowed in that time have left the yard. One of those two wins came in a game that saw him give up five runs on three homers, so that was much more about run support. He desperately needs to get the hook working again in order to give his team a chance to win.
Nico Hoerner is leading off at short, followed by Seiya Suzuki in right and Ian Happ in left. Cody Bellinger is in center, Yan Gomes is catching, Christopher Morel is at second, and Trey Mancini is at first. Miguel Amaya is the DH and Patrick Wisdom is at third. That's just one left-handed batter in the lineup, which seems a little odd given what we're about to discuss.
As noted earlier, Gore is on the mound for the Nats. He had been pitching really well through his first handful of starts, but his performance has been pretty erratic for the most part because he's got a tendency to give up hits in bunches. This is his first start in 11 days and he's only thrown four total innings in July as one start was cut short by rain and the other by a whole bunch of runs.
The Cubs were able to jump on Gore for two early runs in that last matchup, then they tacked on two more with a Dansby Swanson homer. A lot of the damage came from right-handed hitters, which is a big departure from what Gore has done the rest of the time. He's got some of the worst reverse splits you're going to find, allowing lefties to bat .346 with a .965 OPS. It's a wonder managers aren't doing a better job of stacking the lineup to lean into that.
There are several factors at play, not the least of which is that hitters can sit dead red on a mid-90s fastball Gore throws about 60% of the time. It'd be one thing if the pitch had a ton of movement or was better located, but he leaves it right over the heart of the plate to get clobbered. Out of 152 pitchers who've thrown at least 50 innings, only 12 have higher than Gore's 11.3% barrel rate. One of them is Hayden Wesneski at 12.8%, if you cared to know.
Gore's curveball makes up about 20% of his pitches and it too remains up in the nitro zone far too often, though he can be much more effective when he's getting it below the zone with a little more horizontal break. His slider has been his best pitch by far and he's been able to bust righties in on the hands with it, he just can't go to it as often as he'd like because of those issues with the heater.
The key for the Cubs in this one will be jumping on those fastballs early and forcing Gore away from the slider. He's very well-rested coming into this one, so it could be a matter of how he reacts to the long layoff. We'll find out at 7:05pm CT on Marquee and 670 The Score.
Here is tonight's #Cubs starting lineup at Wrigley Field!

Tune in: https://t.co/Gs2hZXyTjH pic.twitter.com/E8j2SuWBbE

— Chicago Cubs (@Cubs) July 17, 2023