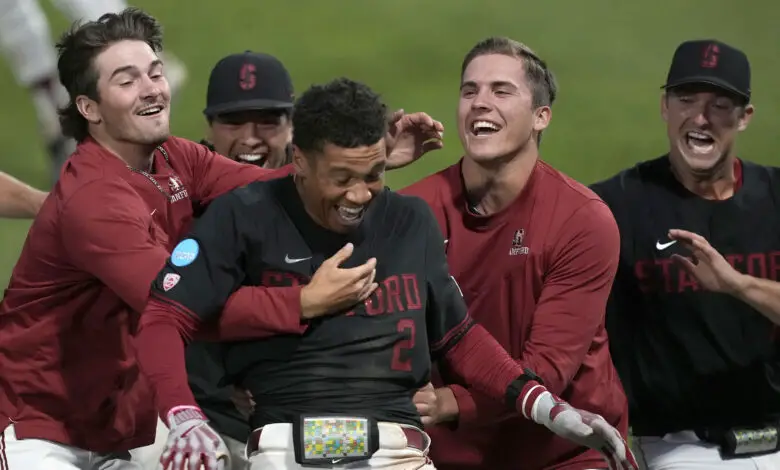 Cubs Go Pitcher-Heavy on Day 3 with Focus on College Players, High Upside
Day 3 of the MLB Draft might look different from Day 2 on paper, but the Cubs maintained their theme of targeting toolsy players whose projection outweighs their performance. That is probably more the case for Tuesday's picks, which makes sense because the risk gets lower with each round, but it's been a hallmark of Dan Kantrovitz-led drafts on the whole.
The differences in specific strategy from one day to the next are more interesting, especially how the Cubs targeted pitching after going with several college hitters on Monday. They selected six pitchers from rounds 13-19, two lefties and four righties, after taking just three through the first 10 rounds. One other big takeaway from Tuesday's selections is that the Cubs took nine college players.
After taking a prep outfielder in the 11th round, the remainder of their picks spent several years in college (4 seniors, 4 juniors, 1 sophomore). That could help to mitigate risk a little bit, although a lot of these players battled injury issues in college and aren't necessarily as polished as you might expect given their age. Again, it's about finding loud tools and trusting in the development infrastructure to hone them in the system.
---
Check out our looks at the first two picks and rounds 3-10.
---
Rd 11: Zyhir Hope, OF, Colonial Forge HS (VA)
The Cubs have been scouting this fast-rising prep prospect for a while and they may have saved up enough on subsequent picks of college players to buy him out of his UNC commitment. Hope had a .530 average and .663 OPB with nine homers, and 29 steals in 29 games in his senior season. At 6 feet even and a robust 193 pounds, he's well-developed for a high schooler and already has excellent bat speed from the left side.
Rd 12: Carter Trice, 2B, NC State
Trice was the fourth middle infielder chosen by the Cubs and the first actually listed at second base. He also played short, third, and both corner outfield spots during his collegiate career, so he could very well see time at multiple positions as a pro as well. His power profiles at a 60-grade and his strong arm is well suited to right field. He can do damage when he barrels it up, as evidenced by 37 home runs in 152 games across three seasons with Old Dominion University (2021-22) and NC State.
Rd 13: Sam Armstrong, RHP, Old Dominion
It's interesting to see another ODU guy after Trice, even if the latter finished at another school. Armstrong actually began his collegiate career at the County College of Morris in New Jersey, where he was named All-Conference and All-Region in 2021. In two years with ODU, the 22-year-old righty went 12-6 with a 4.36 ERA over 30 appearances. He has also pitched well in the Cape Cod League, striking out 13 with just one hit and three walks in 10 innings.
Rd 14: Grayson Moore, RHP, Vanderbilt
There's prestige in the school alone, and righty reliever Moore was up to the task of pitching at the highest level of college baseball. He appeared in 33 games (three starts) and struck out 81 batters over 59 innings with most of that coming this past season. Cubs GM Carter Hawkins is a Vandy alum and a pitching guru, so that obviously played a role here. Known as a gym rat, Moore is going to bust his butt to continue improving as a pro.
Rd 15: Ty Johnson, RHP, Ball State
Indiana is starting to produce more and more high-end baseball talent, and that includes this 6-foot-6 righty from Lawrence North HS and BSU. Johnson had a 4.53 ERA and struck out 68 over 53.2 innings, but he also walked 31 and will need to dial in the command moving forward. He improved over each of his three collegiate seasons and the Cubs see him as someone who is nowhere near his potential ceiling if he continues on that track.
Rd 16: Daniel Brown, LHP, Campbell
Easily the biggest project of the bunch, Brown was drafted almost solely on the promise of his huge left arm. His fastball has gotten up to 102 mph, but there's a reason he was considered a reach even this late in the draft. Brown appeared in just six games over his sophomore and junior seasons and combined for one inning pitched over that span. He retired only three of the 18 batters he faced allowing 10 earned runs on 13 walks and two hit batters. Brown struck out three and didn't allow a hit, however, so the Cubs believe finding out a way to harness that elite velo is worth the risk.
Rd 17: Ethan Flanagan, LHP, UCLA
Stop me if you've heard this one before, but Flanagan had injury setbacks that limited him to just nine appearances in 2023. He also had control issues and walked 16 batters over 31.2 innings, though he struck out 31 in that time. He had 76 strikeouts to 28 walks in 60.1 innings the previous season, after which he was named a Freshman All-American, so there's reason to believe he can be very good when fully healthy. Flanagan throws his low-90s fastball from a high arm slot and throws a loopy curve that shows a lot of promise. The Cubs surely want to develop his changeup as well.
Rd 18: Brian Kalmer, 3B, Gonzaga
Age may have had to do with Kalmer dropping this far after a big senior season, as he's about to turn 23. Kalmer began his collegiate career at Wabash Valley College and went on to earn NJCAA D1 National Player of the Year Honors by batting .421 with 20 homers and 109 RBI in 68 games. That power profile continued with the Zags this past season, as he slashed .358/.454/.682 with 15 homers and 51 RBI in 52 games. He doesn't sacrifice contact for power and can really barrel the ball up, so he could be a fast mover given his advanced age and skillset.
Rd 19: Nick Dean, RHP, Maryland
This pick is a bit of a change from what we see with the other pitchers, as Dean is a 22-year-old soft-tosser whose main tool is pitchability. He operates in around 90 with the sinker and likes to work it up in the zone, something Tommy Hottovy and the Cubs have preached for a while, plus he's got a slider, curve, and change to work low and help the hard stuff play up. This is almost like a handcuff to the Brown selection, offering safety to balance the risk.
Rd 20: Drew Bowser, 3B, Stanford
A high school teammate of Pete Crow-Armstrong's at Harvard-Westlake High School in SoCal, this dude should be in the lineup any time there's a pitcher named Mario on the mound. In all seriousness, this pick is largely based on physical potential that hasn't fully come to fruition. Bowser hit .271 with 14 homers and 11 doubles over 61 games for the Cardinal and he could flash much more power from that 6-foot-4, 225-pound frame. If the name sounds familiar beyond the video game reference, Bowser hit the infamous pop fly that got lost by Texas outfielders and led to Stanford winning a wild super regional matchup.
---
Based on a report from Carlos Rosa of GFR Media, the organization has already signed seventh-rounder Yahil Meléndez for $400,000 ($145,500 above slot). Zyhir Hope, their 11th-round pick, is expected to forego his commitment to UNC to go pro, and the Cubs have reportedly reached an agreement with undrafted righty Kenten Egbert out of Miami University (OH). The Cubs now have until July 25 to sign their players, plus they're going to continue combing through the undrafted ranks to find bargains.
It's impossible to say whether this was a successful draft because none of these players have so much as donned a Cubs uniform, but it does appear as though the team has added a lot of high-upside projects with a few high-floor guys. Now it's a matter of developing them properly, which is the real hard part. For more in-depth draft breakdowns, I'd recommend checking out our friends over at North Side Bound.