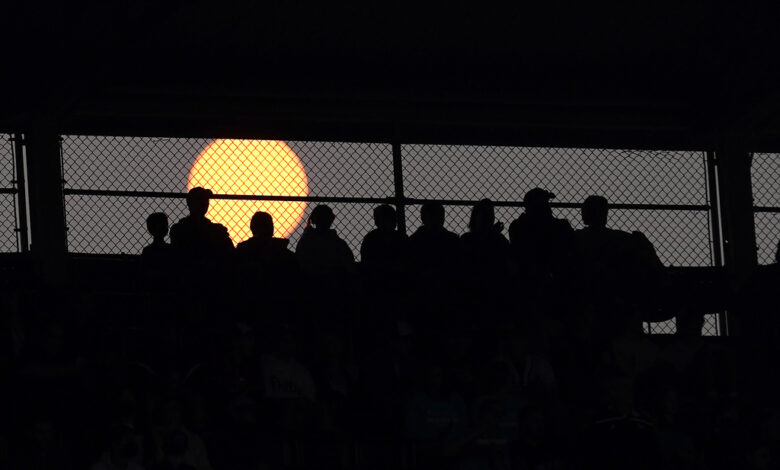 The Rundown: Phillies Smoke Cubs in Return, Wicks Promoted to Iowa, Mets Could Trade Top Two Hurlers
"When a lovely flame dies, smoke gets in your eyes." – The Platters, Smoke Gets in Your Eyes
The International Cubs returned to the Friendly Confines Tuesday and laid an egg against the Phillies. You can blame it on jet lag, but I think the smoke from the Canadian wildfires is the culprit. Yes, both teams played in the same elements, but Philadelphia spent last week on the East Coast. Hopefully, our boys in blue will find the Visine because there will be another air quality alert tonight.
Cubs News & Notes
Odds & Sods
I mean, they closed many outdoor bars in Milwaukee last night because of the poor AQI and most of those establishments were open all through the COVID-19 pandemic
Wrigley Smokies. #CanadaFires #Cubs pic.twitter.com/KgTp9cyZCR

— MBDChicago (@MBDChicago) June 28, 2023
Central Intelligence
Climbing the Ladder
"World pollution, there's no solution. Institution, electrocution. Just black and white, rich or poor, them and us, stop the war." – Ten Years After, I'd Love to Change the World
Jameson Taillon continues to disappoint and though I believe he's going to turn it around, the gap between his FIP and his ERA continues to move in the wrong direction. Bellinger and Nick Madrigal had decent games yesterday, but let's face it, last night's loss is one you have to quickly put behind you.
Games Played: 77
Record: 37-40 (.481)
Total Plate Appearances: 2,942
Total Strikeouts: 708
Strikeout Rate: 24.07%
Team Batting Average: .247
Runs Scored: 353
Runs Allowed: 325
Chances of Making the Playoffs: 54.9%,  2.7% to win the World Series
How About That!
Mets' ace Max Scherzer could be persuaded to waive his no-trade clause "for the right situation."
The Flushing franchise would find a very robust market for Justin Verlander if they wanted to trade him, too.
Nationals first baseman Dominic Smith made the greatest error of the year on Monday.
The story of pitching phenom David Clyde is still a cautionary tale 50 years after the fact.
Rob Manfred said he and the league owners have discussed reducing the regular season schedule to 154 games.
Here are some outrageous trade proposals to add a little hot sauce to this year's deadline.
Monday's Three Stars
Shohei Ohtani – The two-way superstar from Japan became the first player in nearly 60 years two hit two home runs and strike out at least 10 batters in the same game.
Ronald Acuña Jr. – The Braves outfielder also went deep twice on a 2-for-4 afternoon.
Brandon Marsh – The Phillies slugger joined the two-tater club against the Cubs last night.
Extra Innings
Henry Rowengartner and his floater pitch (it's not iconic) make The Breakdown!
Tuesday Morning Six-Pack
Chicago took the title of "worst air quality in the world" yesterday after smoke from Canada's wildfires drifted to the Great Lakes region and other parts of the US.
The NHL holds its annual draft tonight and the Blackhawks, who have the first overall pick, are expected to select Connor Bedard. The last time Cold Steel on Ice owned the top pick, they chose Patrick Kane.
Two weeks after longtime host Pat Sajak said he was retiring from Triple Toss-Ups, the iconic game show Wheel of Fortune has found its new vowel seller: Ryan Seacrest. The ubiquitous host will also serve as executive producer. Vanna White is staying on, at least in the short term, in case you were wondering.
More than 20 years of potentially "groundbreaking" scientific research worth an estimated $1 million was destroyed when a janitor mistakenly turned off a lab freezer at New York's Rensselaer Polytechnic Institute, the university claimed in a lawsuit.
Kim Kardashian is launching a new line of women's undergarments, and please, celebrate accordingly.
If you plan on venturing up to Milwaukee for Summerfest or State Fair, may I recommend Eddie Martini's as a preferred dinner spot? Go with the grilled brie appetizer and try one of their dry-aged steaks.
They Said It
"It's just trying to figure out what the [air quality] protocol is, what's safe, what's not safe. None of us have had to deal with this or play in this before, so it's just trying to figure out what makes sense. "I don't know if there are numbers. I guess that's a conversation we can start having. I don't know how often Canadian wildfires are going to affect baseball games. But I think until somebody goes out and sets a standard of what that is, it's just an arbitrary line. We're all trying to figure it out together." – Happ
"I'm just speeding myself up in those situations. It's not really anything I've dealt with at first base. All you can do is move forward. We got out there early today and took a lot of balls to my right. Practicing which ones to go after and which ones not to. Maybe before this year, if I knew the second baseman was way back in the hole with lefties up, it was nothing you ever had to worry about. Now I think I'm overthinking it a little bit. Just trying to ingrain it back in my brain and move on." – Mancini
Tuesday Walk-Up Song
I was thinking about the current state of affairs in this country and decided maybe Lou Reed was a prophet.