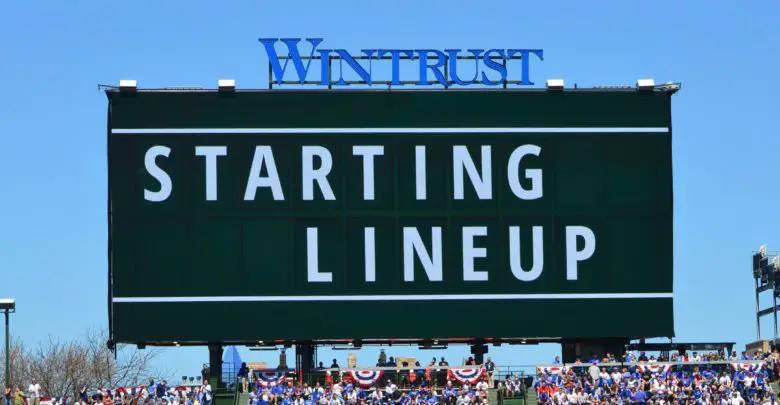 Chicago Cubs Lineup (6/6/23): Amaya DH, Mervis at 1B, Wesneski Gets Start
The Cubs just split four games in San Diego and are now just up the road in Anaheim to face an Angels squad that is actually above .500 for the time being. They haven't finished with a winning record since 2015 and haven't been to the postseason since '14, which is actually quite an accomplishment when you have the most talented player in history and Mike Trout.
I just noticed that they've never finished above .500 as the Los Angeles Angels, so maybe they should go back to being the Los Angeles Angels of Anaheim. As stupid and cumbersome as that name was, they made the playoffs five times and had winning records in nine of the 11 seasons it was in use. Their lone World Series title came as the Anaheim Angels, which is really what they still should be.
Alas, you're not here to read about a poorly-run organization that changes its name all the time. You want to know how Hayden Wesneski and the Cubs are going to match up with them on Tuesday night. The young righty was supposed to be operating out of the bullpen since being recalled to bolster that unit, but Justin Steele's forearm issue changed the plan.
Weneski made just one relief appearance after Steele departed in the finale against the Rays, pitching 3.2 innings with one run on one hit and two walks. He struck out four and has been right at one K per inning in his last three outings, a nice bump from having 17 in his previous 28.1 innings. Missing bats is a must, as is avoiding the home run.
With 10 allowed on the season, four of which came in his last start in Minnesota, Wesneski simply hasn't been as sharp as what we saw during spring training. That's more than just facing big league hitters all the time, his stuff isn't playing up as well and it looks to the coach in me like he's trying to force his pitches to work rather than letting them work. He just needs to find that flow state and he'll be fine.
It'll help if the offense can provide some early support, so Nico Hoerner needs to get things going as the leadoff hitter. Dansby Swanson bats second, then it's Ian Happ and Seiya Suzuki in their regular spots. Yan Gomes is catching, Miguel Amaya is the DH, and Mike Tauchman is in center. Patrick Wisdom handles third base and Matt Mervis is back in the lineup at first.
They'll be facing yet another lefty, the third in a row, as 33-year-old Tyler Anderson toes the rubber for the home team. This is Anderson's first year in Anaheim after a year spent in the real Los Angeles, which followed time in Pittsburgh, Seattle, San Francisco, and Denver. He's not gotten off on the right foot through 10 starts and is posting career lows for strikeouts while also walking more batters than usual.
Anderson has a 5.47 ERA that his 4.99 xERA and 5.35 FIP tell us isn't really a product of bad luck, though he has mixed in some good with the bad. For instance, he's had three starts with one or no runs allowed and he struck out seven batters in just under seven innings in one of them. The lefty has given up 59 hits and has walked 25 batters in 52.2 innings, however, so the Cubs should have every opportunity to score runs.
Unlike Ryan Weathers and Blake Snell, Anderson does not possess a mid-90s fastball. His Hendricksian heater comes in around 90 mph and his changeup is 10 ticks slower, then he's got a cutter at around 85 and a sinker at roughly 89. The cutter has actually been pretty good, but the four-seam, changeup, and sinker all have decidedly negative value.
Not great when you're talking about 75% of your total pitches and facing mainly right-handed batters with a .306 average and .383 wOBA against you. Lefty hitters are at just .229 and .321, though their .351 OBP is indicative of Anderson's control issues. He has typically pitched to nearly even splits, so it's entirely possible these early results will come out in the wash by the end of the season.
As long as Phil Cuzzi isn't behind the plate, this game should provide a very good opportunity for the Cubs to get back in the win column. First pitch is at 8:38pm CT on Marquee and 670 The Score.
Here is tonight's #Cubs starting lineup in Anaheim!

Tune in: https://t.co/Gs2hZXyTjH pic.twitter.com/mrd2vWybtG

— Chicago Cubs (@Cubs) June 6, 2023