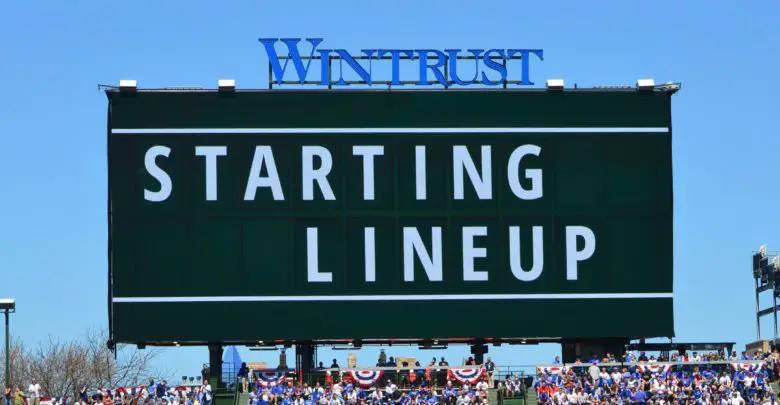 Chicago Cubs Lineup (5/30/23): Hoerner Back at Leadoff, Hendricks Makes Second Start
The Cubs got a career-best performance out of Marcus Stroman yesterday, and they needed it since they only scored one run on three hits. Now they'll face a Cy Young contender who has yet to lose this season, which would be a tough matchup even if another ace-type was on the mound. Kyle Hendricks used to be exactly that, but he's fallen off quite a bit over the last few years and is making just his second start since last July.
His season debut got off to a pretty rough start as he gave up a leadoff single and then walked two batters before a sac fly plated a run. After that came a 1-2-3 frame, then Hendricks retired the first two batters in the 3rd inning before surrendering four straight singles to push two more runs across.
He was pretty good all things considered, striking out five with the two walks and six hits allowed, but this Rays team isn't going to lie down. They're particularly scary after having been shut out on one hit because you know there's some correction coming. Maybe Hendricks can channel his old self and postpone any bounce-back for another day.
We've got a more familiar lineup this evening, with Nico Hoerner, Dansby Swanson, Ian Happ, and Seiya Suzuki all in their regular spots. Trey Mancini is at first, Mike Tauchman is in center, and Patrick Wisdom is at third, then it's Yan Gomes behind the dish and Christopher Morel as the DH.
That aforementioned ace is Shane McClanahan, owner of an 8-0 record in 11 starts with a 1.97 ERA that includes just one game with more than two runs allowed. He had a no-decision against the Yankees a little over two weeks ago in which he gave up four earned over as many innings. In his two subsequent starts, he's given up one total run on 10 hits over 14 innings.
The 26-year-old lefty isn't an imposing figure at 6-foot-1 and 200 pounds, but he's got a big fastball that explodes on hitters and looks faster than its 97 mph average. McClanahan is among the best pitchers in the league when it comes to getting extension, so he squeezes the most out of his frame to increase his perceived velocity.
That big heater sets up a split-change that comes in 10 mph slower to get tons of whiffs, then he's got an excellent curve that he's comfortable locating anywhere from up and away to down and in on righties. He'll throw a slider as well, but it's caught a little too much of the plate this season and grades out as his worst pitch. That wasn't the case in 2021, however, so the possibility exists that he'll get it working again.
McClanahan pitches to mild reverse splits, with left-handed batters carrying a higher average and righties slugging more. Lefties have the wOBA advantage at .292 to .270 this season, numbers that are nearly identical to his overall career marks. He's faced about five times as many right-handed hitters, though, so maybe opposing managers should consider using more lefties.
If there's one weakness in McClanahan's game, it's that his control can get a little wonky from time to time. He's walked four batters in four separate starts this season, including that Yankees game, plus he's given up at least four hits in all but two starts. He avoids trouble by staying away from barrels and limiting hard contact, so the way to beat him is to take advantage of his rare mistakes and put one or two over the fence.
Two of McClanahan's three no-decisions have come when he's given up two dingers, then the other came when he threw seven shutout innings and got no run support. Barring a repeat of yesterday afternoon, the Cubs will need to scratch out more than one tally. They don't necessarily need to beat the starter because McClanahan has gone more than six innings only twice this season, but it'd be nice to get early runs and make him labor.
I have a really bad feeling about this, which probably means it'll actually turn out okay. We'll find out at 7:05pm CT on Marquee Sports Network and 670 The Score.
Here is tonight's #Cubs starting lineup at Wrigley Field!

Tune in: https://t.co/Gs2hZXyTjH pic.twitter.com/gQwI1vyxPp

— Chicago Cubs (@Cubs) May 30, 2023