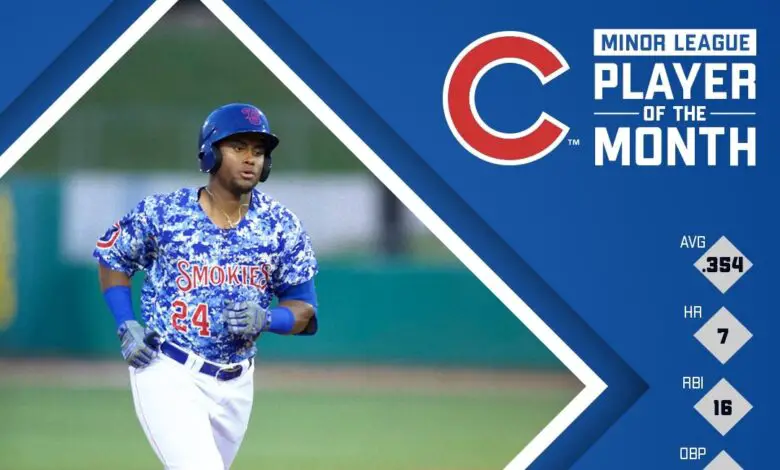 Alexander Canario Back on Field 4 Months After Suffering Serious Injuries in DWL Game (Updated: Womp-Womp)
Update: The confusion over Canario's inclusion in the gameday feed extends to his own IG post, which may have been misworded. It could also be just what I surmised below, which is that he is literally on the field but not actually doing anything strenuous yet. Also, it was Jordan Nwogu batting in that D-backs game; his minor league number is the same as what was assigned to Canario for big league camp.
Folks, Canario just messaged me to say that message was a mistake on IG. He is not on the field. Obviously this would have been such a quick turn around, but here's hoping he's back soon. https://t.co/QQgkXbJIkJ

— Greg Zumach (@IvyFutures) February 28, 2023
There was a fair bit of confusion when Alexander Canario showed up on the MLB.com feed of the Cubs-Diamondbacks game Monday, but you can rest assured the young outfielder is not ready for game action yet. Canario has been sidelined since corrective procedures for a broken ankle and dislocated shoulder during an awkward landing and subsequent tumble at first base in a Dominican Winter League game in late October, though his recovery appears to have been going very well.
Feels like we would have heard about this before pic.twitter.com/aksq8JA8Va

— Sean Holland (@sth85) February 27, 2023
So well, in fact, that he is apparently back on the field. That comes via his Instagram, as you can see below, though we don't really know to what extent he's able to ramp up his activity. This could just mean that he's literally just at the Cubs' Sloan Park facility walking around, or perhaps he's actually back to performing light baseball activity.
Per @alex_canario07's IG he says he's back on the field!! Let's go! pic.twitter.com/U1puKKGGZ6

— Greg Zumach (@IvyFutures) February 28, 2023
It makes sense that he'd be cleared to resume workouts since he's nearly four months out from surgery and his throwing shoulder was not affected. Bimalleolar ankle fractures can take a bit longer to heal fully, with a normal timeline of 6 months before being able to conduct full weight-bearing exercise. Canario is much younger than typical sufferers of such injuries, however, so he might be able to return in a shorter timeframe.
I'm sure we'll learn more about the specifics in the coming days, but this is great news regardless.