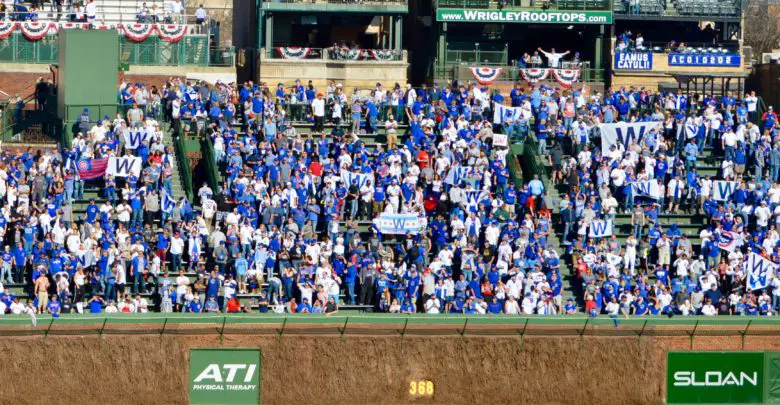 Wrigley Field Going BYOB! No, Not THAT Way
The Cubs have announced that Wrigley Field is going BYOB for 2023, but that doesn't mean you'll be able to avoid paying $15 for a cold one by toting your own sixer into the ballpark. No, the acronym in this case stands for the new "Build Your Own Baseball" Packs that are now available through the Cubs website.
The BYOB Pack starts at 12 games and allows fans to add additional games to create a custom set that best fits their schedule. Fans can select from all 81 home games, including Opening Day, rivalry matchups against the Brewers, Cardinals, and White Sox, plus interleague games against the Red Sox, Guardians, and others.
Different series are broken up into tiers, with the most coveted contests limited to one selection and subsequent tiers offering 2-4 picks. Once you've picked your 12 games, you have the opportunity to upgrade by adding more, with service fees waived for purchasing 15 or more games. The functionality of the process is actually really smooth and user-friendly, which I must admit I wasn't really expecting even if such things should be a given.
For those still clinging to the belief that the Cubs sell out every game no matter what (they most definitely don't) or that season ticket sales are as robust as ever (they most definitely aren't), this BYOB thing should be another wake-up call. Since single-game tickets have traditionally gone on sale the last Friday in February, this is a way for the club to close the gap on the loss in season tickets. I'm not knocking them because it's actually a very good idea, especially for those folks who gave up their 81-game packages due to either time or cost.
Apathy is a stronger beast to slay, however, and it probably can't be done with mere promotions.
The Cubs are also offering preset eight-game ticket packs set around various themes including Fridays, Sundays, coveted rival matchups, and summer games. The Friday and Sunday packs are pretty self-explanatory; the "Rival Pack" features matchups against the Dodgers, Cardinals, White Sox, and other N.L. Central Division rivals; and the "Summer Pack" features games in May, June, July, and August.
"Through the BYOB Pack, fans can customize their own selection of games and secure their favorite matchups before single game tickets go on sale in February," said Marquee 360 Senior Vice President Cale Vennum. "Whether fans choose the preset 8-game ticket pack or want to create something more customizable to fit their schedule, these two options provide fans with more flexibility and choice when deciding how to spend their time at the Friendly Confines."
For the BYOB and eight-game ticket packs, fans must select the same number of tickets for all games in their package and tickets will be delivered exclusively through the MLB Ballpark app. Click the link above if you're interested in seeing the options for yourself.