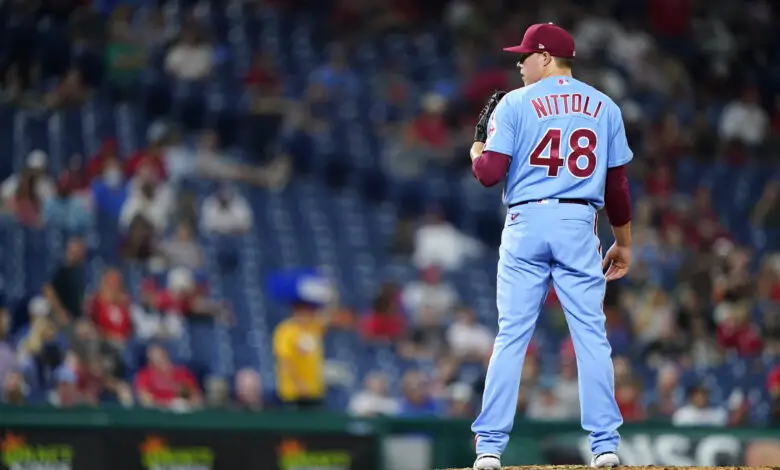 Cubs Sign RHP Vinny Nittoli to Minors Deal with Spring Training Invite
As first reported by Bob Nightengale, the Cubs have signed 32-year-old righty reliever Vinny Nittoli to a minor league deal with a spring training invite. Drafted in the 25th round out of Xavier by the Mariners in 2014, Nittoli spent three seasons in the Seattle organization without reaching Double-A and was released in 2017. He then played two seasons of independent ball before joining the Diamondbacks at the Triple-A level in 2019.
The #Cubs signed veteran right-handed pitcher Vinny Nittoli with an invite to spring training. He'll earn $775,000 in the big leagues or $162,000 in the minors. Nittoli, 32,pitched two games for the #Phillies last year and also in the minors for the #Yankees and #BlueJays in 2022

— Bob Nightengale (@BNightengale) January 12, 2023
Nittoli didn't pitch well in Reno and was picked up by the Blue Jays in May of that year, finishing the season at Double-A. He didn't pitch in 2020 due to the pandemic, after which he re-joined the Mariners org and made his MLB debut on June 23, 2021. He made just one appearance, striking out one and walking two while allowing two runs on a homer, and was released two months later.
Stints with the Twins, Yankees, Jays (again), and Phillies followed, with Nittoli again seeing the bigs last year for two September appearances. He was designated for assignment earlier this month to make room for righty Erich Uelmen, who the Cubs traded to Philly after he himself was DFA'd to accommodate Drew Smyly. And the snake eats its tail.
I can't come up with a lot here to get all that excited about just based on what I see on paper, but that almost leads me to believe the Cubs' pitching folks think they can leverage something. Nittoli's fastball is only around 93 mph and his limited pitch mix features a slider and curve, the first of which actually accounted for 60% of his pitches in limited action this past season. He's put up big strikeout numbers at Triple-A, so maybe that breaking ball is legit.
If the pitch lab can uncover better ways to sequence his pitches and perhaps separate the curve and slider a little more, it's possible Nittoli could be a nice depth option for the bullpen. Whatever happens, this is a zero-risk move by an organization that has consistently proven it can build a relief corps out of no-names, retreads, and has-beens. I don't hate it.
While I'm not going out on a limb and saying Nittoli will be a dude, it wouldn't shock me to see him break out a little bit in '23. Nor would it shock me if he's not with the organization in May.