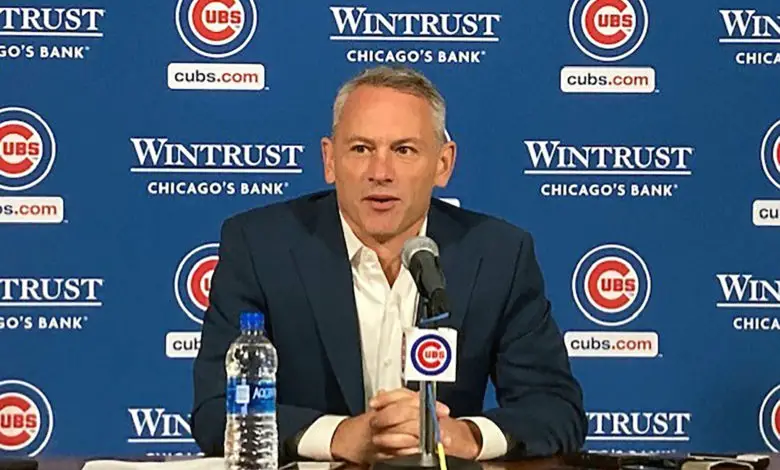 The Rundown: Correa Signs Elsewhere, 2023 Feels Like Another Tank Year, How 'Bout Those Wilburys?
Major League Baseball blessed the Cubs when it realigned for expansion in 1994. Chicago previously played in the NL East with big-spending clubs like the Mets and Phillies. By creating a third division in each league, the Cubs became the only major market team in the new NL Central. Their rivals included the Cardinals, Pirates, Astros, and Reds. The Brewers shifted into the Cubs' division in 1998 and the Astros were realigned to the AL West after the 2012 season.
Being the big dog in a division of pint-sized juniors should theoretically give Chicago a competitive advantage. Their profit margins are much higher and access to larger audiences on both a national and global scale means the Cubs should realistically compete for a division championship every season.
But that's not the case, is it? Chicago's North Side baseballers are content to level the playing field for their divisional opponents by spending like the rest of them. It's even worse this year because Jed Hoyer seems to have no real plan when it comes to constructing his roster. Carlos Correa signed a 13-year, $350 million contract to play for the Giants last night while Chicago's president of baseball operations stood on the sidelines once again with his hands in his pockets. The Cubs just have no interest in competing for stars.
The organization promised to be in the market for premium free agents, but despite notions to the contrary, we've now learned that "intelligent spending" means walking away from the best players. I get it, Hoyer prefers higher AAVs to longer terms. Okay, so why couldn't he close on Justin Verlander, Christian Vázquez, Koudai Senga, Jacob deGrom, or Andrew Heaney?
Of course, Dansby Swanson and Carlos Rodón are still available, but why get your hopes up? As Jon and Evan said in yesterday's episode of The Rant Live, there might be a riot at Cubs Convention next month. And for once, it will be directed at the front office instead of the Ricketts family. Crane Kenney certainly earned his year-end bonus by throwing Hoyer under the bus last week. Maybe it was all part of an elaborate plot just to put the screws to Hoyer.
That said, Hoyer should be blamed. He's approached free agency like a deer in headlights, refusing to participate in baseball's new economy. The Cardinals challenged Hoyer when they signed Willson Contreras, creating an 8-WAR swing. How did the Cubs' top executive respond? He folded up his tent, satisfied that Cody Bellinger and Jameson Taillon plus a cast of leftovers and misfits will close that gap. It will not.
If Tom Ricketts truly mandated that the front office spend, then Hoyer should be fired for insubordination. If Ricketts would have signed off on any of those deals and Hoyer objected, they need to get on the same page at the very least. The executive may know how to tear down a ball club, but he has no clue as to how to build a competitive roster. Hoyer has become baseball's equivalent to Ringo Starr's solo career. He has name recognition, but little in the way of real success.
Cubs News and Notes
I am on strike from this section this morning. Unless the Cubs sign both Swanson and Rodón, it may be a while before I care about any moves this team makes. How do you not feel lied to when the Cubs refuse to back up their promises to win with the blatant refusal to compete for star players?
I am going to spend the weekend reading the blogs of mid-level teams to see how those writers handle disappointment.
Odds and Sods
I wonder if the Cubs will be sporting Re/Max patches on their jerseys next summer? The organization seems a lot more interested in purchasing property than fielding a competitive team.
Apropos of Nothing
I drove back and forth to Oak Brook, IL from Milwaukee yesterday listening to Traveling Wilburys Volume 1 the entire time. I noticed some amazing things during repeat listens that I wanted to share.
"Rattled" is an incredible tribute to Jerry Lee Lewis (lyrically) and Sun Records (production). The rockabilly guitar provided by George Harrison and Tom Petty is pristine.
Jeff Lynne wrote and played tribute to Roy Orbison with "You're Not Alone Anymore" which Orbison sang. It's a haunting reminder of "Running Scared," "Crying," and "It's Over," three of Orbison's most heartbreaking songs.
Bob Dylan resurrected his career by participating in the supergroup, and Lynne proved he's every bit the producer that George Martin was.
"Heading for the Light" is a great followup to the Beatles' "I Want to Tell You," though the songs were written 22 years apart. Harrison wrote both, and they bookend his fantastic career nicely.
The harmonies on "Margarita" are goosebump-inducing.
"End of the Line" was the perfect farewell to Orbison, who died five weeks after the album's release.
If you haven't seen it, I highly recommend "The True History of The Traveling Wilburys."
Wednesday Stove
I'd rather talk about music this morning. Tomorrow is a new day, but today still stings.
Extra Innings
2023 is starting to look like another tank year and I don't know how you can argue against that. Bellinger and Taillon are cheap enough to flip at the deadline and Ian Happ, Yan Gomes, and Kyle Hendricks are entering their walk years. Marcus Stroman has an opt-out and Nick Madrigal is automatically part and parcel of any tanking team.
They Said It
"Even the losers get lucky sometimes." – Petty
"As you stopped to say hello, oh, you wished me well, you couldn't tell that I'd been crying over you." – Orbison
"If I wasn't Bob Dylan, I'd probably think that Bob Dylan has a lot of answers." – Dylan
"It was a great thrill just to know Roy Orbison, so to play, sing, and write hit songs with him and have him in The Traveling Wilburys was beyond my wildest dreams! " – Lynne
"It's being here now that's important. There's no past and there's no future. Time is a very misleading thing. All there is ever is, is the now. We can gain experience from the past, but we can't relive it, and we can hope for the future, but we don't know if there is one." – Harrison
Wednesday Walk-Up Song
I love that this is Dylan's homage to Bruce Springsteen, whose entire career is an homage to Dylan. There are cheesy Springsteen references in almost every lyric.