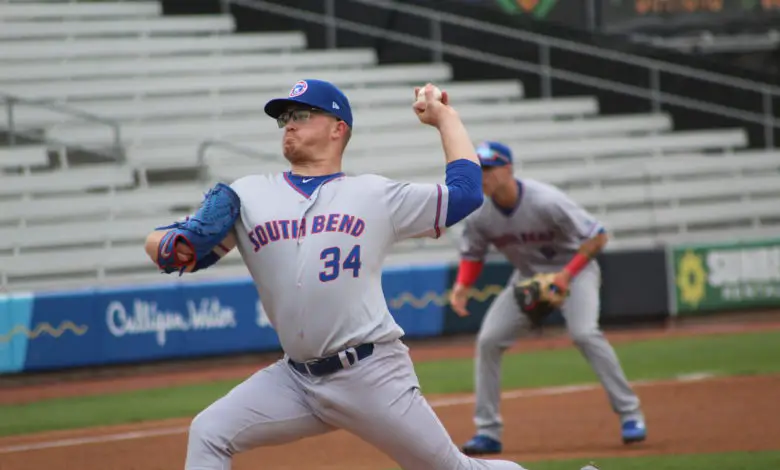 Lefties DJ Herz, Jordan Wicks Promoted to AA Tennessee
The Cubs' mission to change the idea that they can't develop pitchers gained a little steam Friday as it was announced that lefty starters DJ Herz and Jordan Wicks have been promoted to Double-A Tennessee. Herz has dominated at each level thus far and is the organization's reigning Pitcher of the Year while Wicks is gaining momentum after an inconsistent start.
⚾️FRIDAY TRANSACTIONS⚾️

Congratulations to #SBCubs left-handers DJ Herz (@DavidjohnHerz) and Jordan Wicks (@jordan_wicks99), who have each been promoted to @smokiesbaseball!

RHP Luis Devers will make the start against the @peoriachiefs on Sunday afternoon in place of Wicks. pic.twitter.com/ESxn8GmffV

— South Bend Cubs (@SBCubs) July 15, 2022
Herz has struck out 99 batters over 63.2 innings in 17 starts at South Bend, good for a 13.99 K/9 mark that is actually lower than he put up between Myrtle Beach and SB last season. Walks are still a bit of an issue but you can live with a few free passes when he's giving up so few hits. That extreme crossfire delivery is murder on hitters from both sides, though righties benefit just a bit more from a better vantage point.
Any concern over Wicks' early performance has faded as he's settled in over 16 starts, though it was misplaced to begin with. The 2021 first-round pick is just in his first full professional season and had been working on his breaking balls rather than trying to go out and dominate. The devastating changeup that had been his calling card was put on the back burner for a while and is only now being used to its full potential, as Greg Huss of CI and North Side Bound noted during the lefty's last start.
Went on the @SBCubs radio broadcast with @BKingSports tonight and we talked about Jordan Wicks' patented changeup. Didn't use it as much early this year as he worked on his CV/SL, but now he's got the whole repertoire going and the change looks even more devastating than before.

— Greg Huss (@OutOfTheVines) July 13, 2022
Once you get past the humblebrag — just kidding, Greg, I love you — this is a very telling tidbit when it comes to judging what Wicks has done. It's essentially like Mickey forcing Rocky Balboa into a conventional stance for his rematch with Apollo Creed and then having him switch back to southpaw later in the fight to get the win. The organization intentionally made Wicks pitch at less than full strength in order to fine-tune his tertiary pitches, but it now appears as though the restrictions are off.
And just in case anyone reading this is perplexed or perhaps even angered by this strategy, just take a deep breath and remember that it's not about winning games in the minors. I mean, yeah, these are competitors who all want to win every single night. Development is far more important, so any team would rather lose every game while better preparing prospects for the next step.
That next step in this case is Double-A, where the Cubs have some very interesting names. Herz and Wicks now headline the pitching staff, then you've got Alexander Canario, Jake Slaughter, and Matt Mervis on the other side of the ball. The latter two of those are names you're probably all too familiar with if you're a frequent CI reader and I have a strong sense that their popularity is going to soar by the end of the season.
If you have the chance to get down to Kodak this summer, I can't express strongly enough how much you need to do it. Make a long weekend of it and go enjoy some time in the Smoky Mountains between games. Ride a mountain coaster or indulge in some super cheesy Gatlinburg/Pigeon Forge tourist traps, whatever happens to be your jam. It's a terrific ballpark with great food and you owe it to yourself to have a little unadulterated fun in the midst of this Cubs season.