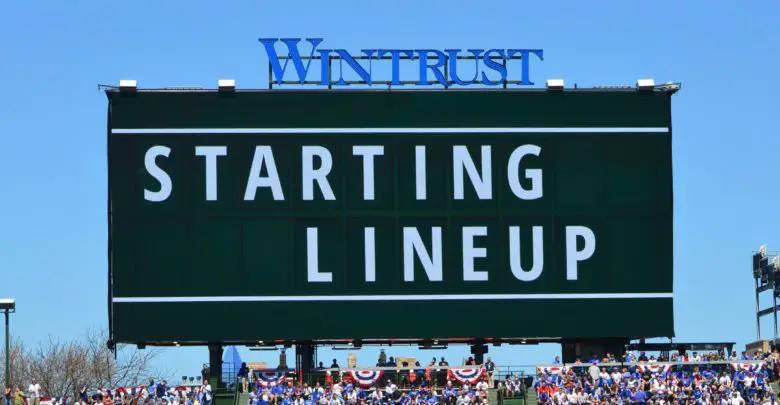 Chicago Cubs Lineup (4/15/22): Stroman Starting
The Cubs got their series against the Rockies off to a great start by combining contact with power to capture a win. It was great to see them come out swinging en route to a three-run opening frame that supplied all the offense they would need. Starting pitching was again on point as Justin Steele held the Rockies off the board for the most part to make that crooked number stand up.
MLB is honoring Jackie Robinson's memory on the 75th anniversary of his debut, so every player on the field will be wearing 42. That isn't going to make it any easier to tell who's who, especially when a lot of these Cubs aren't yet household names among their own fans.
That isn't the case for Marcus Stroman, who immediately ingratiated himself and became one of the best-known players on the roster from the moment he signed just before the lockout. It would be pretty cool if his first win in a Cubs uniform came in something other than his chosen number. He's only made three previous starts at Coors Field, but he's pitched really well there and carries a 1.64 ERA over 22 innings. That includes 14 strikeouts to just two walks and none of the 14 hits he's allowed have left the yard.
The current Rockies roster has only 63 combined at-bats against Stroman, in which time they've posted a .440 OPS with no homers. If those trends hold, it's going to be a long night for the home team. Maybe Stroman's teammates can just make sure he doesn't have to be great, even if he will be.
Rafael Ortega will get things started for the Cubs in right, followed by Nick Madrigal at second and Willson Contreras behind the plate. Ian Happ is in left, Frank Schwindel is the DH, and Jonathan Villar bats sixth at third base. With the way he's hitting the ball, Villar would be deserving of more time even if Patrick Wisdom wasn't struggling so badly.
Jason Heyward is in center, Alfonso Rivas mans first base, and Nico Hoerner is the shortstop.
Going for the Rox is right Germán Márquez, who's probably best known to Cubs fans as the guy who beaned Kris Bryant in the face a few years back. And no, that event absolutely did not impact Bryant for more than a few games at the very most. In any case, Márquez has been pretty consistently decent over the last few years and is coming off of a dominant performance against the Dodgers in which he threw seven innings of one-run ball.
Márquez has a big fastball that sits 96 mph and sets up a slider/curve combo that can be devastating when both pitches are working. The curve has been more effective despite the fact that it's taken a backseat to the slider over the last two seasons, but both pitches are dangerous. He's also got a changeup and sinker, neither of which sees much usage.
Only two Cubs have more than four at-bats against Márquez and both have hit him well. Heyward has a .900 OPS with a double and three singles while Villar has a 1.045 OPS with two doubles and three singles. This is one of those games where having more lefty pop would really be nice, though Márquez has allowed higher slugging to right-handed batters when he's pitching at home (.446 vs. .413 for LHH).
This could be a game in which the Cubs will want to be very aggressive and go up looking to ambush first-pitch fastballs, as Márquez has traditionally been big on those. His career average of 62.2% first-pitch strikes is weighed down by last year's 57.8%, but he was at nearly 80% against the Dodgers. The result was fewer swinging and more called strikes as LA batters sat back and let him get ahead.
This has the feeling of one of those games that will be decided within the first two innings. If Stroman can maintain his career lines at Coors and against these Rockies batters and the Cubs can get to Márquez right away, the Cubs will cruise. But if the visitors get off to a slow start, I'm not sure they'll be able to get going in time to make even a strong effort from Stroman stand up.
First pitch tonight is once again at 7:40pm CT on Marquee and 670 The Score.
Here is tonight's #Cubs starting lineup. #Jackie42 pic.twitter.com/JCuDObBDMj

— Chicago Cubs (@Cubs) April 15, 2022