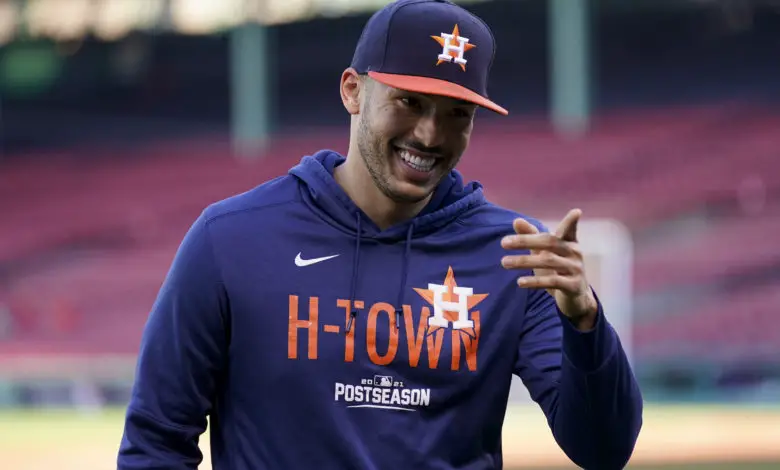 Carlos Correa Shocks Baseball by Joining Twins on 3-Year, $105.3M Deal
This will only be long enough to cover the very basics for posterity, more of a nod to the completion of a process we've been following for a while. In a shocking move that pretty much no one saw coming, shortstop Carlos Correa signed a three-year, $105.3 million deal with the Twins. The AAV is evenly split among all three years, but there are opt-outs after each of the first two.
That's particularly interesting because it could allow both Correa and his agent, Scott Boras, to make out even better in the long run. As noted previously, Correa's fielding of offers prior to changing representation in January means William Morris Endeavor would be entitled to a majority of the cut on any new deal he signed. There was talk about the superstar taking a one-year deal just to clear the way for Boras to profit, which would have been incredibly irresponsible behavior by his agent.
Now, however, Correa has a nine-figure guarantee that makes him the highest-paid infielder in baseball on an annual basis, plus he'll have three chances to re-enter the market by age 30. Even with another strong shortstop market next season —  Tim Anderson, Trea Turner, Dansby Swanson, and possibly Xander Bogaerts (if he opts out) — Correa will once again be the top target with a strong performance in 2021.
Increasing his value this coming season would allow him to elect free agency again another year removed from the "financial burden" of COVID and without the dark cloud of CBA negotiations hanging overhead. Plus, Boras gets full freight on the deal.
I'll close by addressing the Cubs' role, or lack thereof, in all of this. While I'm sure a few folks are just meh on the whole thing, there's been a schism all along between those who were adamantly in favor of paying Correa whatever it took and those who were diabolically — a friend's malapropism — opposed to adding him at any price. Well, pretty much everyone should be glad this didn't work out for the Cubs.
While they have been clear that short-term deals with higher AAV are the preference, this one has too much uncertainty for a team that wouldn't be guaranteed to win this year. Or next. The risk would have been too high for the reward, which might not have been much at all in such a short timeframe.
Having a longer deal with the potential for huge overpays in the latter years would have been more amenable because they'd have kept a core superstar in place to build around. That would also give them time to mitigate the loss of a draft pick from the qualifying offer, since possibly forfeiting that pick for just one year of service doesn't make much sense.
As such, I think it's more than fine that this particular deal didn't work out. That doesn't mean, however, that I believe the Cubs are fine as currently constructed or that they can sneak their way into competitiveness simply by getting best-case performances by the players on the roster. Something big may still be on the horizon, though time is running out when it comes to making something happen this spring.