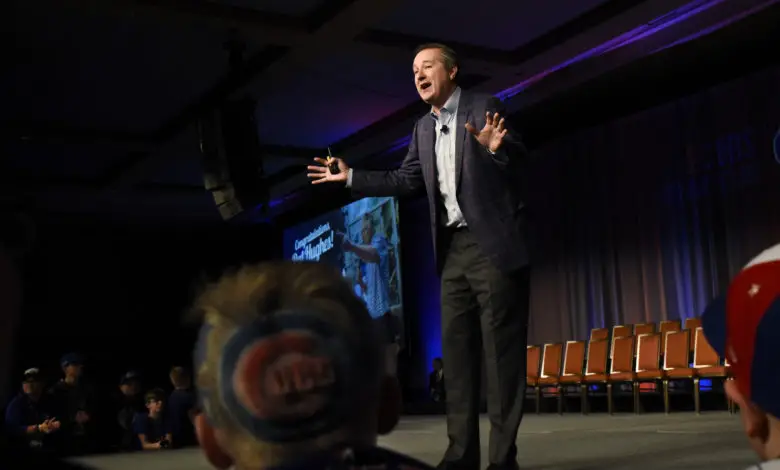 Ricketts Family Reportedly Among Interested Suitors for Chelsea Football Club (Updated)
Those biblical losses must have actually been apocryphal, because the Ricketts family appears to be eyeing a pretty big financial move. And no, I don't mean the new sportsbook that's about to be constructed at the corner of Addison and Sheffield. According to Mark Kleinman of Sky News, the Cubs owners are among the interested suitors for Chelsea Football Club.
Kleinman reported Saturday that the Rickettses "are expected to hold talks with prospective financing partners about a proposal" to purchase the club from billionaire Roman Abramovich. Other interested parties include real estate magnate Nick Candy and MMA star-cum-booze baron Conor McGregor, who has publicly announced his interest in the West London team.
I wish to explore this. @ChelseaFC pic.twitter.com/ABEjjCqhD7

— Conor McGregor (@TheNotoriousMMA) March 2, 2022
That appears to be a screenshot of a text thread in which McGregor is indicating that Chelsea's asking price is £3 billion, which would be around $3.96 billion based on current exchange rates. Not too cheap, huh? In fact, it's about $600 million more than what the Cubs were worth in Forbes' most recent valuation. Seems like a lot for one person to swing, even someone who knows how to throw a punch.
While there's probably no connection whatsoever to their mutual interest in Chelsea, it's mildly interesting that the Cubs hosted McGregor at Wrigley Field last season. He threw out a ceremonial first pitch, sang Take Me Out to the Ballgame, and hawked his new cryotherapy spray during a live interview. There is, however, another connection to the Cubs in this deal that could be much more noteworthy.
Chelsea's sale is being overseen by The Raine Group, "a global merchant bank focused exclusively on technology, media, and telecommunications." If that name is tickling at something in your hippocampus, it's probably because Raine partnered with Cubs ownership in late 2020 to create a special purpose acquisition company (SPAC) called Marquee Raine Acquisition Corp.
And what is the purpose of that SPAC? To pursue "transactions across the sports universe, including betting opportunities." The Cubs are going to need a lot more than just the $325 million Marquee Raine initially sought to raise, though the existing relationship between the two parties sure feels like a lot more than mere coincidence. Who knows, maybe it's just a matter of the Ricketts family being interested because of the tie.
Interest is something they've got plenty of elsewhere from the debt they've accrued through their purchase of the Cubs and all those developments around Wrigley. Of course, the family still has plenty of wealth that could be diversified with a big investment in exactly the kind of asset class billionaires love to get into.
What we can say for sure is that kicking the tires on a bid for Chelsea makes it that much harder to swallow lines about Major League Baseball being tough on owners.
---
Update: There's a point at which you stack up enough coincidences to realize they're not products of serendipity or dumb luck. I don't know if we're there yet, but WGN's Rick Tarsitano shared a tweet by Brian Sandalow of the Sun-Times from back in 2019 that showed Tom Ricketts at a Chelsea-Wolverhampton match. Sandalow indicated that Ricketts may have been there for more than just fun, noting his previous business interest in European soccer.
Not only was Ricketts once part of the Derby County Football Club's ownership group, but he also led the charge for his family to take over majority control of AC Milan back in 2018. There was also the failed Lincoln Yards stadium plan that fell through in 2019, costing Ricketts the chance to own a USL franchise and at least a piece of the surrounding entertainment district.
Props to @BrianSandalow for finding Tom Ricketts at a Chelsea game back in 2019 https://t.co/KPWMMyKU95

— Rick Tarsitano (@RickTarsitano) March 7, 2022
Looking back at that AC Milan play gives us a much better look into how the Ricketts family may be viewing a potential Chelsea bid. This kind of purchase is clearly something they've had in mind for a long time now, and it wouldn't necessarily be a matter of trying to roll Cubs money into a new venture.
"The Ricketts family (not only Tom) is interested in acquiring majority control of AC Milan," read a statement released by the Edelman agency. "While Tom is the reference person, the entire family and the entire family's financial resources [emphasis mine] are involved in this affair, just like the Chicago Cubs.
"The Ricketts family has brought a championship to the Chicago Cubs through long-term investment and have been a great support for the club, the stadium, the fans and the city. It could be the same approach for Milan. (There would not be any short-term changes but long-term investment to ensure lasting success)."
It's important to note that this was back in June of 2018, several months before family patriarch Joe Ricketts's bigoted emails were made public. The family was also still in very good standing with fans from a baseball perspective, as the Cubs were not even two years removed from that glorious World Series title and still had the makings of what most still believed was a championship roster.
Not that a little bad PR was enough to stop Charles Schwab from acquiring TD Ameritrade later in 2019 for $26 billion. Though Papa Ricketts retired from TD Ameritrade's board of directors in 2011, he remained the company's largest shareholder and made out nicely with a 17% premium on his assets in the all-stock deal. Schwab stock that was trading at $37.28 in October of '19 was up to $79.23 when the market closed on Friday.
That's down from a high of $95.53 in January, so the old man is doing okay.
Forbes lists the elder Ricketts's net worth at $4.5 billion, about double where he was five years ago. He's 80 years old and can't take it with him, so what better way to leave a legacy than to put some of that generational wealth into an iconic sports franchise. Again.