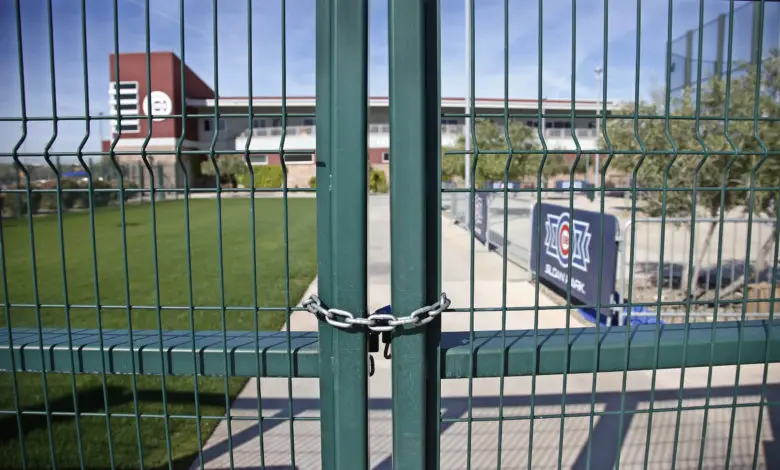 Little Hope for Labor Agreement as Lockout Looms, Owners May Use Big Spending for Leverage
Krampus appears to be coming early this year to steal joy from baseball fans around the globe who've experienced an unprecedented run of free-agent signings over the past few weeks. Even before Tuesday's action, teams had spent nearly $1.5 billion on players to more than double the previous high-water mark (it's over $1.7B now). That would be a big enough disparity on its own, but the graph below from Scott Lindholm shows the incredibly stark contrast to the relative stagnation of the previous four years.
But that's good, right, the "cheap" owners spending so freely and all? That's what the league and people whose paychecks come from Disney would have you believe because it actually helps ownership at both the negotiating table and in the court of public opinion. With a lockout looming, those two arenas are the only ones that will be seeing baseball action for the next few weeks or longer.
I mean it's more complicated than this but have you seen the last few days?!? Lol $$ out there

— Jesse Rogers (@JesseRogersESPN) December 1, 2021
Please list the nutty $ deals that Andrew Friedman, Chaim Bloom and Farhan Zaidi have executed. Good luck.

— Buster Olney (@Buster_ESPN) December 1, 2021
The league and union are actively meeting in Dallas with the slimmest of possibilities that something can be worked out before 11:59pm ET on December 1, but no one actually believes an agreement will be reached in that time. Some will refer to the situation as an impasse, which is actually incorrect because the two sides will continue to actively exchange proposals in a non-mandatory bargaining process.
If you would like to learn more about labor negotiations in general, I'd recommend checking out this Twitter thread below from union lawyer Eugene Freedman. There's a lot of clarification on terms and processes that might not necessarily come out in national coverage of the topic.
ATTENTION professional reporters covering the MLB and MLBPA negotiations, please do NOT use the word "impasse" in your story about the status of bargaining or the lockout, once implemented. Impasse has a very specific meaning in labor negotiations. It does NOT mean a lack of 1/

— eugenefreedman.bsky.social (@EugeneFreedman) December 1, 2021
Back to all the "nutty" spending, much of which has very obviously been spurred by the expiration of the CBA. While all of these players were going to receive new contracts anyway, probably for similar amounts, the deadline created a pressurized environment within which everything moved more quickly. That scenario works strictly in the owners' favor for two reasons.
The first is the optics, something I alluded to above. Owners can now boast about how much money they've already spent even without assurances as to what the new agreement will feature. That signals to me that they already know they'll have plenty of room to maneuver in the new deal, something we may have seen in particular from the big extension the Rays did with Wander Franco.
The second area of leverage for owners is that these free-agent contracts are naturally being handed out to veteran players, some of whom have a strong voice in the union. The owners may believe they can improve their negotiating position by placating some of those union members who have the biggest say in what goes on at the table with big contracts.
Perhaps the league is hoping Max Scherzer and others will be happy enough with their own paydays to forget about the younger players for whom they're actually fighting.
"Unless this CBA completely addresses the competition (issues) and younger players getting paid, that's the only way I'm going to put my name on it," Scherzer, a member of the MLBPA's executive subcommittee, told Evan Drellich of The Athletic.
That quote comes from a sprawling piece on Bruce Meyer, the union's lead negotiator, and the overall state of affairs between MLB and the MLBPA. Having Meyer on their side is a huge win for the players, who had their asses handed to them in the last round of CBA talks in which union executive director Tony Clark ham-handedly took too much control. Players sacrificed valuable financial leverage in exchange for private chefs and more room on flights, among other things, and that leverage is exceedingly difficult to win back.
The good news here is that Meyer isn't a former player who's looking back on his days in the league and wishing he could have had a healthy meal whipped up in the clubhouse before or after the game. He's not a big dude who needs a California king bed or an entire row to himself on the team charter.
"I think I'm a pussycat," Meyer quipped to Drellich. "One feature I think of my personality — it's always been there — is I don't like bullies. I don't like being bullied. I don't like being condescended to. But it's not just about me. It's about the people I represent, the players I represent. If I feel like they're being bullied or condescended to, it rubs me the wrong way. I don't react well to that."
This man is going to have a field day with the news that MLB secretly used two different baseballs last season without letting anyone know. That sounds like acting in poor faith, particularly when you consider that MLB owns Rawlings and now has a gambling partnership with MGM that requires lineups to be sent to the league office prior to being made public.
Dr. Meredith Wills, a @sabr award winning physicist analyzed over 100 MLB baseballs across 15 parks and made at 2 different weights. MLB told teams the lighter balls were deader and met new performance standards. So the heavy balls (lol) were quite the find. pic.twitter.com/779HD4z1vA

— Bradford William Davis (@BWDBWDBWD) November 30, 2021
With all that in mind, it kinda-sorta feels like this recent spending spree is just a shiny object meant to take attention away from all the shady shit the league has been doing behind the scenes. As is so often the case with billionaires who all fancy themselves the smartest people in the room, they probably thought that either no one would notice or that they could simply pay some money to make the problem go away should it be discovered.
Couple that with Rob Manfred's borderline-sociopathic tendencies as a corporate-climbing lawyer — and yes, I know you lawyers are not all like that — and you can see how MLB just keeps stepping on its own dick when it comes to marketing its product. These people simply fail to understand how "regular" folks in the real world relate to and consume baseball as a product and/or lifestyle.
It is my sincere hope that something gets resolved here in time to prevent any delays in spring training or the regular season and I've actually got a conspiracy theory as to why the owners might try to facilitate that. In the meantime, prepare to get a whole lot of nothing over the next several weeks and months as baseball transactions await a spring thaw.
---
Ed. note: If you find yourself with a few extra minutes, take some time to peruse the back-and-forth between two of the folks whose tweets are embedded above. I've made no secret about not being a big Jesse Rogers fan, so I found the dressing-down and subsequent replies hilarious. My favorite part, though, might be the person asking Rogers whether Javier Báez is worth the contract he got.
Here is a damning admission. A writer covering this issue admits on his own twitter thread that he is on the owners' side – because – wait for it – have you seen the contracts over the past few days.

He covers this for a living and has missed the last decade of revenue growth. pic.twitter.com/86tedEI2pF

— eugenefreedman.bsky.social (@EugeneFreedman) December 1, 2021