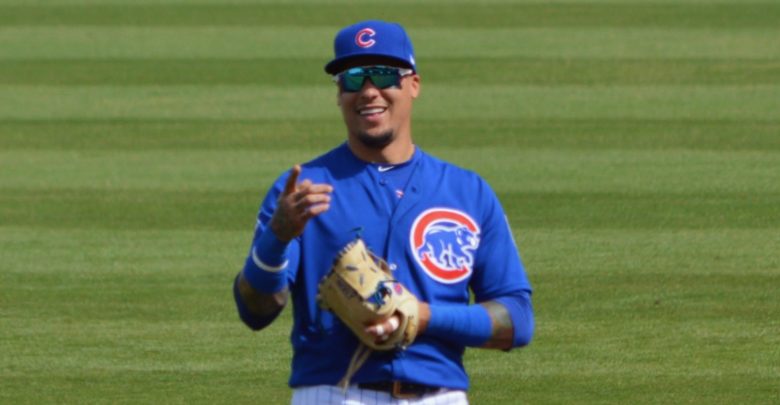 Javier Báez Close to Signing 6-Year Deal With Tigers, Carlos Correa Could Be Next
The Tigers have long been signaling a desire to go big this winter, acquiring Tucker Barnhart from the Reds and signing Eduardo Rodríguez to bolster their rotation. But their biggest splash will come soon as Jon Morosi reports they are close to a deal with Javier Báez that is expected to be for six years. This follows reports from last week that Detroit had zeroed in on Javy after previously speaking with Marcus Semien and Carlos Correa.
Javier Báez's deal with the #Tigers, if completed, is expected to be for 6 years. @MLB @MLBNetwork

— Jon Morosi (@jonmorosi) November 30, 2021
Buster Olney reported last week that Báez had turned down an eight-year, $168 million deal from the Cubs prior to the 2020 season, so a six-year deal now would take him to the same endpoint. He's clearly seeking a higher AAV, though, and the rumblings have Javy's camp asking for $200 million over those same six years. I don't know about him getting $33.3 million AAV, but I wouldn't be surprised by $30 million.
Back to that extension offer, it's important to remember that Javy was coming off of the two best seasons of his career. He had made the All-Star game in both and finished second in MVP voting in 2018, so his value was an at all-time high. Javy himself said talks were progressing, so a deal probably would have gotten done had the pandemic not shut everything down. Instead, the world stopped and Javy went on to have a disastrous performance in 2020, dramatically shifting the calculus.
Assuming this gets done today, only Correa and Trevor Story would be left from among a monster shortstop class. Correa is believed to be honing in on a deal of his own, with LA-based photographer Paul Sanchez coyly indicating the Angels were going to land the former Astro. That tweet has since been deleted, but Sanchez claims he had to do that in order to prove his account wasn't compromised.
Seems to be hinting heavily that it's the Angels. https://t.co/UD0hcO9Q7v

— Evan Altman (@DEvanAltman) November 30, 2021
As easy as it is to dismiss stuff like this from non-credentialed journalists and folks who don't even work in sports period, we should be well past the point of thinking only the big names break news. That's not saying the Correa-to-the-Angels stuff — which was only heavily implied and never stated explicitly — is totally legit, just that we can't rule it out.
Whether he joins the Angels or heads east to sign with the Yankees, Correa may want to cash in on the hot market ahead of the CBA expiration.
---
Update: MLB.com's Mark Feinsand reports that the deal is for $140 million, which is $23.3 million AAV. For what it's worth, that's almost exactly what I predicted…back in early 2020. Detroit Free Press beat writer Evan Petzold adds that the deal has been agreed to and that it has an opt-out. More to come.
Javier Baez and the Tigers are nearing a deal, per source. It is expected to be a six-year contract worth $140 million.

— Mark Feinsand (@Feinsand) November 30, 2021
There is an opt-out in Javier Baez's contract with the #Tigers, according to a source. https://t.co/21mMne1nIg

— Evan Petzold (@EvanPetzold) November 30, 2021
---
Update #2: The deal includes an opt-out after the second year and a limited no-trade clause that allows Javy to block trades to 10 teams.
Javier Báez's six-year, $140 agreement with the Tigers includes an opt-out after two years and a limited no-trade clause allowing him to block deals to 10 teams each year, sources tell @TheAthletic. First to report news of the deal: @jonmorosi and @feinsand.

— Ken Rosenthal (@Ken_Rosenthal) November 30, 2021