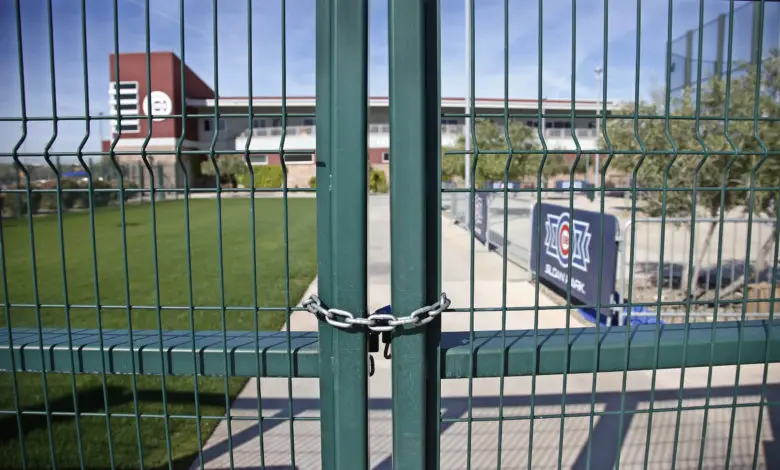 Could MLB Leverage Lockout to Mimic Other Sports' More Exciting Free Agency Periods?
Plus Clarification on Arb Replacement Proposal
Ever on the hunt for more exciting wrinkles that will bring his league more publicity, Rob Manfred must stew in jealously as Woj-bombs drop during NBA's frenzied free agency. Baseball's commissioner is surely envious of Roger Goddell when Schefty and others tweet about new deals for NFL players the very moment that league's offseason begins. MLB is different in nature, but what if there was a way to replicate that same energy found in its counterparts' offseasons?
No, I don't think they've considered letting Justin Lin take creative control.
What the league might be planning, however, is the intentional compressing of the free agency period with a lockout designed to last until mid-February. That's typically when pitchers and catchers would be reporting to their respective camps anyway and it's also when everyone around the sport believes the league and union will come to an accord. That is the "dynamic that underpinned talks all week" at the GM Meetings, per ESPN's Jeff Passan.
The owners have made at least two offers to the players, both of which contained a provision about reaching free agency at 29.5 years of age, but it doesn't really feel like they're being serious yet. The most recent proposal also included an overhaul of the arbitration system that would see pre-free agent players' salaries determined by FanGraphs' WAR calculation.
I must admit, the idea is better in its fully fleshed-out form than less specific initial reporting made it seem.
A player with more than three years would multiply his career fWAR by $580,000, and the resulting number would be his salary that season. The multiplier for a second-time eligible player would be $770,000, and a third-time player would receive $910,000 for each fWAR gathered in all his big league time. There would be slight adjustments to salaries based on how the player fared in the previous season, but generally the system would pay players based on the fWAR formula.

 

Beyond that, the minimum salaries would jump to $600,000 for first-year players, $700,000 in their second seasons and $825,000 for their third. Gone would be Super 2 players — those with the most service time in any given class who receive an extra year in the arbitration system — replaced with an "Elite 2" plan, in which players who earned All-MLB honors would get a third-year salary bump from $825,000 to $2.5 million.
The big issue here is that capitations on earning ability have always been a non-starter for the union, not to mention how this formula would remove bargaining power from players. The owners obviously know that, so they presented an offer that has all the appearances of good faith knowing full well there's no chance in hell the players will consider it for more than half a second.
Labor lawyer Eugene Freedman is a tremendous Twitter follow when it comes to topics like this and he's been all over the reporting on the latest proposal and others. Freedman tweeted Thursday that "management is playing with its food" by putting forth offers that posture far more to the media and fans than the other party to these negotiations.
But, in covering the specifics of this proposal, it only serves to obscure the fact that it is unserious. There is ZERO chance it is acceptable. There is ZERO chance it is part of a new framework for compensation of players. We don't even have to look at the fact that it 3/

— (((EugeneFreedman))) (@EugeneFreedman) November 12, 2021
As Passan wrote, teams are more or less telling players that they can either sign prior to the CBA's expiration on December 1 or wait for the potential mayhem of a compressed free agency period in February. There's an increasing sense that Corey Seager and Marcus Semien, who could earn nearly $500 million combined as two of the top shortstops in the class, will indeed sign early. That's great for baseball, which could go out on a high note just before college football and the NFL would be completely taking over the sports world anyway.
There's no point in trying to compete with the pigskin juggernaut, so maybe it'd just be easier to lay low for 10-ish weeks and control the news cycle through targeted leaks meant to curry favor with fans. As we saw with the negotiations for the 2020 seasons, the league tends to hold sway in the court of public opinion because the jury just wants baseball and sees owners as the stewards of their fandom. The players, all too many believe, are already being paid too much to play a sport most of "us" would play for free.
With no organized events during the winter, it's not as if a protracted lockout really means anything in terms of the sport's news cycle. I mean, yeah, there'd be no free agency signings, but just think about how sluggish that market has been over the last few years anyway. Now imagine if MLB had a way to both compress the offseason AND get it out from under football's shadow.
Maybe by, I don't know, waiting until after the Super Bowl…which just so happens to be set for February 13. If it's conspiratorial to connect these dots, I guess I need to find out if New Era makes tinfoil fitteds with a 7 5/8 band. Even if you don't want to come with me all the way toward believing MLB might be actively trying to dictate such a strategy, you have to agree that the owners don't see it as a bad thing.
The football vacuum could be filled by a free agent free-for-all that would lead immediately into spring training, where new players would be showing up to camp on a daily basis. It'd be like the Dexter Fowler shocker, only in a dozen or more different complexes for a period of several days. And yes, I realize the nature of that particular deal and its importance to the bulk of our readership makes it an imperfect comparison. The bigger point is that the insatiable content machine would be able to gorge itself on breaking baseball news like Joey Chestnut at Coney Island.
Jeff might end up passin' out, it'd be that overwhelming. Jon Heyman would get so thirsty from exhaustion he'd have to drink some of the water he carries for his sources. Jim Bowden, well, we'll just skim over him for now.
All we really know for sure is that's been a quarter-century since baseball had a work stoppage, so running into another with the truncated 2020 season so close in the rearview would be a terrible development. An 11th-hour agreement stopped a previous close call 20 years ago and I'm confident something similar can be done again this time around. Oddly enough, that optimism is actually rooted in my distrust of the owners and their motivations.