Trevor Williams Worked on New Slider Grip in First Spring Start
It doesn't take a data scientist to understand that more slider movement will probably lead to more problems for opposing batters. But just in case you wanted the science, machine-learning algorithms pinpointed Trevor Williams' sequencing and slider movement as the most predictive factors for generating whiffs. If Williams is able to increase his slider movement, there is a decent chance he'll induce more whiffs.
That's why the former Pirate has been working on different grips in camp with the help of pitching coach Tommy Hottovy. Although Williams confirmed to MLB.com's Jordan Bastian and other reporters that he was tinkering with new grips against the Dodgers Thursday night, he also emphasized that he is not yet super comfortable with the new grip.
Williams tested out a new slider grip today a couple times, but mostly stuck with his familiar, trusted version. He went with old reliable on the first K to Betts.

"It does nobody any good, especially on my first date with Romine, to throw a slider that backs up on him."

— Jordan Bastian (@MLBastian) March 5, 2021
Rather than simply boosting his spin rate, the reason for the altered pitch grip might be to improve spin efficiency. Williams' active spin rate — how spin actually equates to movement — fell in the lower tier of MLB last season, making his pitches easier for hitters to square up.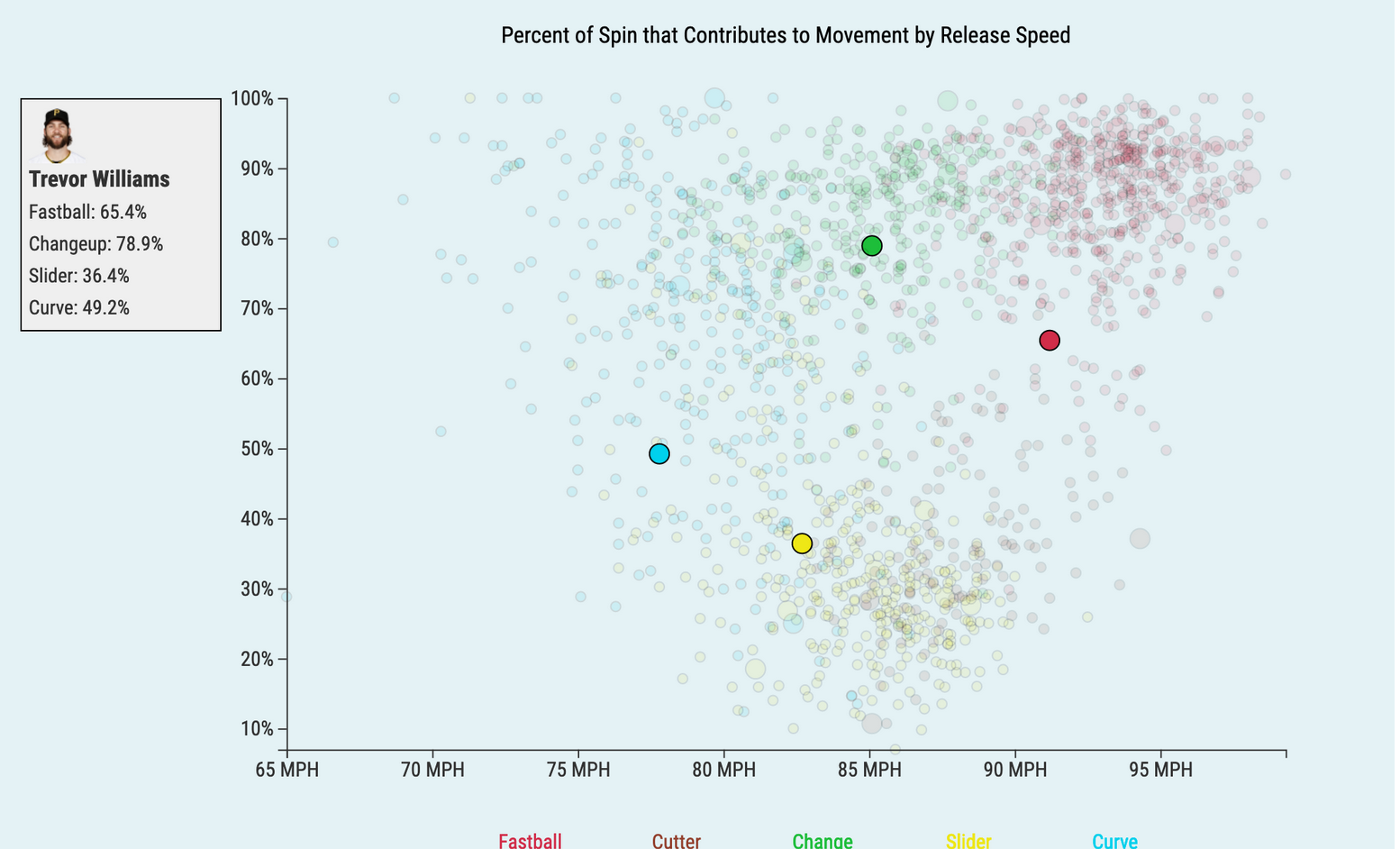 The other bonus of an additional slider grip is to provide a different look from the "diver" Williams has traditionally thrown. Hottovy was recorded during a live bullpen session earlier in spring training talking with his new charge about "creating depth with that horizontal," which means maintaining the same downward break Williams is used to while also getting a little more sweep.
The pitching coach confirmed as much to reporters, explaining that a lot of it is a matter of executing mechanically. Williams has had a hard time finding his true north in that regard after an oblique injury led to him favoring one side and pulling toward the first base side after releasing the ball. If he's able to clean that up, he could once again approach his solid 2018 performance.
"We like all the weapons," Hottovy said. "We like guys to be able to use them all. And I think it keeps guys not becoming one-dimensional and not becoming so reliant on execution all the time."
With his unorthodox release point and excellent extension, Williams has the kind of built-in deception that may only need a small tweak here or there to really pay off. He's also a fun social media follow for those of you who enjoy such things. Continue to monitor his development throughout spring and pay close attention to how he incorporates those different sliders.