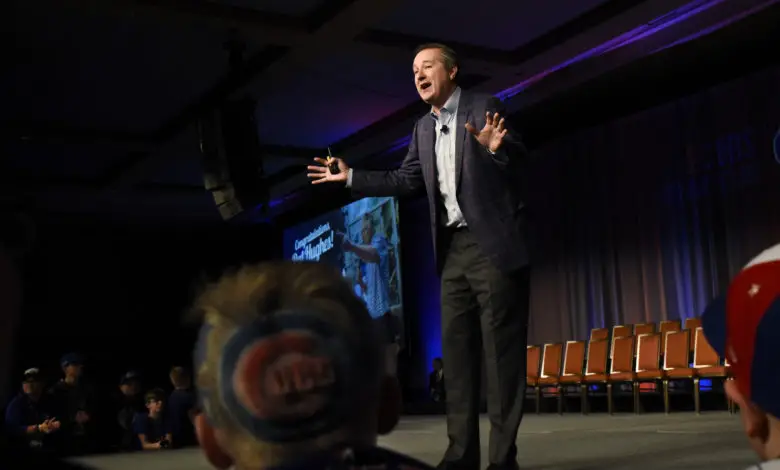 Tom Ricketts Has Reportedly Increased Player Payroll Budget for '21
The Joc Pederson deal was an indication that something may have changed in Jed Hoyer's budget and, sure enough, David Kaplan tweeted Friday morning that Tom Ricketts has indeed increased the payroll budget for 2021. We're probably not talking about giving Hoyer another $25 million or anything, but getting a little creative as he did with Pederson will allow the extra money to stretch further.
Sources have confirmed to me that Tom Ricketts has recently increased the Cubs player payroll for 2021. This has allowed Jed Hoyer some flexibility to reshape his roster in a division the Cubs view as winnable. @kapjhood @NBCSChicago @NBCSCubs

— David Kaplan (@thekapman) January 29, 2021
Though Pederson's guarantee is right around what Kyle Schwarber was expected to earn had he been tendered a contract, the $7 million salary is filled out in part by a buyout on a 2022 option. That enables the Cubs to keep actual payroll down and maintains what little additional flexibility they've got left, likely in order to pursue pitching. They will be scouting Jake Arrieta's showcase on Friday and are set to watch both Jeff Samardzija and Carlos Rodón soon as well.
The Cubs have also been linked to Mike Foltynewicz and Chris Archer, though the connections to those two have been more along the lines of keeping them on the radar.
There are likely a number of reasons for Ricketts to approve a little more spending, not the least of which is the continuing positive news on the COVID-19 front. New cases and hospitalizations are falling in all regions and, though the death rate is still climbing due to the natural lag time, all trends figure to continue improving as vaccinations increase.
The 7-day average for COVID-19 cases is the lowest since November 30 and has fallen by more than 30% from its peak on January 12. pic.twitter.com/hJrYPv8pZZ

— The COVID Tracking Project (@COVID19Tracking) January 28, 2021
There was another injection of good news on that front as Johnson & Johnson released an update Friday morning that their single-dose vaccine is 66% effective at preventing symptomatic disease and 85% effective against preventing severe illness. Even better, they say it is 100% effective against hospitalization or death. If approved by the FDA, this vaccine could available to the public by the end of February.
That will not only increase the number of daily vaccinations being administered, but only needing one dose means growing the immune population that much faster.
Please don't cancel me for sharing pretty good news but we're at eight straight days of at least 1M vaccine doses administered pic.twitter.com/5xNtGTPvme

— Jon Becker (@jonbecker_) January 28, 2021
As for what that means to Ricketts and MLB in general, well, squashing the pandemic and reaching herd immunity would allow fans to attend games on a bigger scale once again. Even if that won't happen for a while, Ricketts may feel confident in its certainty to free up money through any number of means.
It's possible the relentless grumbling from fans and crumbling PR played a role as well. After all, it's not a great idea to thoroughly upset the folks who generate all that revenue. Then there are the reports about the Cardinals talking to the Rockies about Nolan Arenado, a move that could seismically shift the balance of power in a division that has spent far less than any other in baseball.
Whatever the reason, it looks as though the Cubs could end up making a few moves here in the coming days. We'll have to wait and see whether any of those have an impact, but Friday has brought some seriously positive news for the first time in several weeks and that's something to be celebrated.