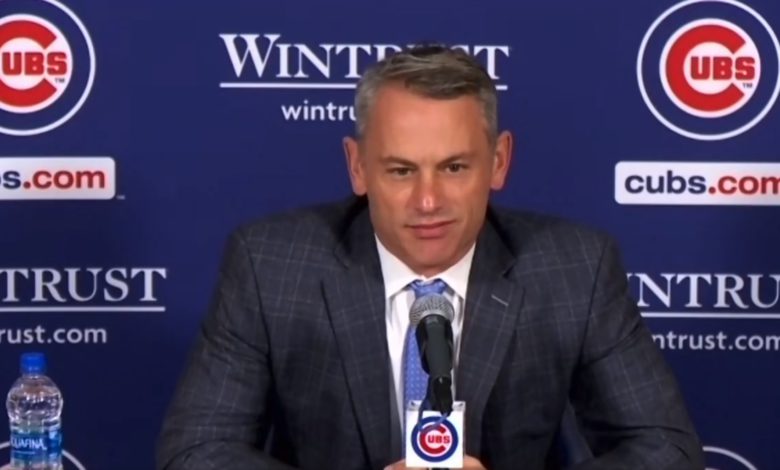 The Rundown: Free Agent Options Dwindling While Cubs Stand Pat, Growing Vitriol for Ricketts Family, Springer Signs with Blue Jays
I'm starting to wonder when Jed Hoyer is going to have the same sense of urgency to fill the holes in the roster that he has in creating those holes. I understand nobody else in the NL Central is making moves, but that shouldn't be the impetus for finding a left fielder, a backup infielder, two starting pitchers plus rotation depth, and some bullpen help. Heaven help Hoyer if the NL once gain adopts a DH.
Barring a startling surprise, the Cubs aren't going to be signing any of the remaining premium free agents, so if you still have Trevor Bauer and J.T. Realmuto at the top of your wish lists, you may as well start a redraft. Looking at which players are still available, the inflated market for starters, and the team's signings so far, you may as well forget about any of the remaining top 50 free agents, too.
One thing is certain, however, and that's that Shelby Miller is excited to be with the Cubs. Sure Chicago is a great place to make your summer home, but I'm certain his list of potential suitors was pretty small and its possible Hoyer was the only executive who actually had any interest in the 30-year-old righty.
Grateful for this opportunity with the Cubs. I am excited to show the work I've been putting in to be healthy and get back to myself. Can't wait for it all to start !

— Shelby C Miller (@ShelbyMiller19) January 18, 2021
Things are so tenuous that even catcher Willson Contreras is urging Hoyer to do something. The backstop has been the subject of a number of trade rumors this winter, so perhaps he's gingerly indicating he's ready to go somewhere else, too. With the current state of the roster, it's almost surprising that Anthony Rizzo and Kris Bryant have remained silent. In fact, the only player who has come close to rocking the boat is Ian Happ, who chose arbitration over Hoyer's offer.
David Ross has been relatively silent and Tom Ricketts, always a mainstay on the radio circuit this time of year, may actually be in hiding.
If you look at the moves the Cubs have and haven't made this winter, one thing is abundantly clear: They are looking for free agents who are willing to accept very team-friendly deals. That applies to potential contract extensions and was probably a big factor in the decision to non-tender Kyle Schwarber and sign Phillip Ervin as his potential replacement. It's a little alarming that Schwarber knew he had a market while Hoyer did not.
One would hope that starters Jake Odorizzi, Masahiro Tanaka, and Garrett Richards might still be in play for Chicago, though that's unlikely. The Miller signing is a strong indicator that the front office is more interested in reclamation projects, something pitching coach Tommy Hottovy discussed earlier this winter.
As far as bullpen upgrades, Joakim Soria, Jesse Chavez, and Sean Doolittle are among the many veterans still available. Each would seem to be just outside Hoyer's comfort level, unless any would agree to a minor league contract. Kolten Wong and César Hernández are still available to provide help at second base, and more versatile players like Kiké Hernández, Marwin González, or Jurickson Profar could go a long way toward making the Cubs better.
Tommy La Stella, Jackie Bradley Jr., Marcell Ozuna, and Michael Brantley are probably going to be too expensive, even on one-year contracts and despite the fact that payroll is currently at about $145-150 million.
There's nobody remotely intriguing beyond that and the Cubs really don't have anybody in their farm system ready for a full-time gig with the parent club. It probably wouldn't be a stretch to see Hoyer bring back Jason Kipnis and Cameron Maybin, and though it is not my intention to ruin anybody's breakfast, Steven Souza Jr. and Daniel Descalso are still available.
When it comes to starters, Carlos Rodón and Mike Foltynewicz are the types of reclamation projects that could interest the front office. Former Chicago veterans Cole Hamels, Jake Arrieta, and Rich Hill remain unsigned as well.
Cubs News & Notes
Apropos of Nothing
Knowing the financial limitations facing the front office, which free agents would you sign to replace Schwarber in left, and Lester and Quintana in the rotation? Add your choice for backup infielder, too.
Odds & Sods
The Cubs have yet to put out a hype video, probably because they still don't know which players from last year will remain with the team, so I thought I'd share one from better times that was put together by the CI staff.
There are many Cubs Opening Day hype videos. This is ours.

2016 World Series Champions
2 straight NL Central Titles
3 straight NLCS appearances

The Cubs are back and ready for more. #EverybodyIn pic.twitter.com/03xbNGNhhN

— Cubs Insider (@realcubsinsider) March 28, 2018
Wednesday Stove
The Blue Jays and Springer have agreed to a six-year deal worth $150 million.
Free agent reliever Kirby Yates also signed a deal with the Blue Jays.
Even after signing Springer, Toronto remains heavily interested in working out a deal with Brantley.
The Cardinals have made offers to re-sign both Yadier Molina and Adam Wainwright, team chairman Bill DeWitt Jr. said during a recent interview.
The White Sox are the most improved team in the AL Central, if not the entire American League.
Rick Hahn quoted Gene Hackman from the movie Hoosiers when asked if the ChiSox would be making any more roster additions.
Álex Rodríguez and Matt Vasgersian have renewed their deals with ESPN and will continue working the Sunday Night Baseball telecasts.
Red Sox second baseman Dustin Pedroia hasn't officially retired, but he's likely done playing baseball. He'd forfeit $12 million in guaranteed salary were he to make it official, so he and the Boston front office are working out a compromise.
Hall of Fame pitcher Don Sutton died in his sleep the other night, according to his son Daron. Sutton was 75.
Extra Innings
Sometimes the Cubs do get it right.
The Cubs join the City of Chicago in a moment of silence, reflecting on the impact of the pandemic and honoring those who have lost their lives to COVID-19. #BrighterTogether pic.twitter.com/IPuX7QQIhD

— Chicago Cubs (@Cubs) January 20, 2021
They Said It
"One of the best lefties in MLB history. Thank you Big Jon [Lester]. I know you're good anywhere and everywhere you go, was my pleasure to be your catcher." – Willson Contreras
"I have spoken directly with Jared Porter regarding events that took place in 2016 of which we were made aware tonight for the first time. Jared has acknowledged to me his serious error in judgment, has taken responsibility for his conduct, has expressed remorse, and has previously apologized for his actions." – Mets executive Sandy Alderson
Wednesday Walk Up Song
Time by Hootie & The Blowfish – 2016 continues to quickly fade into the distance.