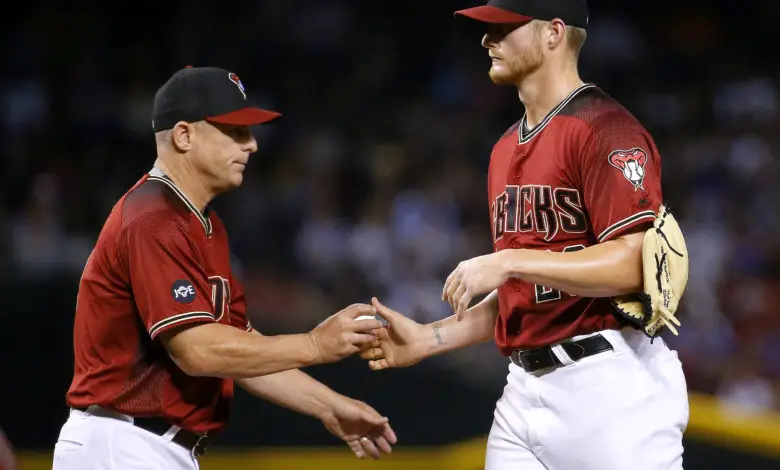 Cubs Sign RHP Shelby Miller to Non-Guaranteed Deal, Complete Circle on Dave Stewart's Logic
The Cubs finally landed a $200 million player in a winter otherwise devoid of spending. The only problem is that Shelby Miller was only ever worth that much based on Dave Stewart's transitive logic, and now the righty starter has thrown just 82 total innings since 2017. Five of those innings came against the Cubs on April 10, 2016, a game many will remember for Jake Arrieta's monster solo shot in the 2nd inning.
Tommy John surgery and subsequent elbow inflammation limited both Miller's 2017 and '18 campaigns with Stewart's Diamondbacks, then he was DFA'd by the Rangers in 2019 and opted out of last season with the Brewers. Though not a pitcher you'd expect a serious contender to sign, Miller fits the Cubs' needs perfectly. Questionable health history? Check. Disappointing performance after early success? Check. Cheap? Check-plus.
That's why they inked him to a non-guaranteed deal that will pay him $875,000 if he makes the roster. As Mark Feinsand first reported, Miller's deal also includes $600,000 in performance bonuses.
Shelby Miller has agreed to a non-roster deal with the Cubs, per source. If he makes the club, he'll earn $875,000 with $600,000 in performance bonuses. Deal is pending physical.

— Mark Feinsand (@Feinsand) January 18, 2021
The 30-year-old first broke through with the Cardinals in 2012 and had the makings of a top-flight starter over the next two seasons. Then he was traded to the Braves as the centerpiece of the trade that brought Jason Heyward to St. Louis and eventually set up Stewart's asinine explanation. Miller pitched well for Atlanta, posting a 3.02 ERA that looked much better than his 6-17 record.
That potential led Stewart to ship Dansby Swanson, Ender Inciarte, and Aaron Blair to the Braves in exchange for Miller and Gabe Speier in a deal that was roundly criticized from the start. Though the former Arizona GM was later critical of himself, he had an interesting explanation at the time.
"I would say [the idea that we gave up too much] is incorrect," Stewart told Yahoo's Tim Brown. "That's three players. And, believe me, they're very highly regarded players, but three players do not make our future.
"And right now Jason Heyward is looking for $200 million. So we got a guy, quite frankly, if you value it that way, we got great value."
Anyway, the Cubs now have yet another reclamation project who can perhaps give them the rotation depth they've been open about needing. And we're not talking about an extra swingman here or there, not even a six-man rotation. As pitching coach Tommy Hottovy told MLB.com's Jordan Bastian earlier this month, 2021 is going to be a battle of attrition.
"We can't be naive to think that we're going to get through the season only using seven or eight starters," Hottovy said.
Health is clearly the biggest question mark with Miller, and that's before considering that he hasn't thrown a competitive pitch in nearly 18 months. His command has been spotty since 2017, though some of that could be due to the small samples mentioned above. If there's a silver lining to all of this, it's that he's got less mileage than a pitcher of comparable age and his velocity numbers have remained relatively static.
The continued ability to run it up there in the mid-90's would be a nice change of pace for a Cubs team that currently has two starters who live in the 80's. Wait, does that make them the Bears? Assuming Miller can indeed throw that hard and can manage more than the 44 innings that represent his high-water mark from the last four seasons, he could be a decent addition.
As much as anything we've seen thus far, this move is an indication of what the Cubs are right now. Or really who they've been for the last few years when it comes to free agency. There's little risk to signing Miller, who would earn less than $1.5 million even if he pitches himself into Cy Young contention. More than being a productive member of the staff, Jed Hoyer is probably hoping Miller becomes a valuable trade chip come July.
That's honestly the best-case scenario for the Cubs at this point.