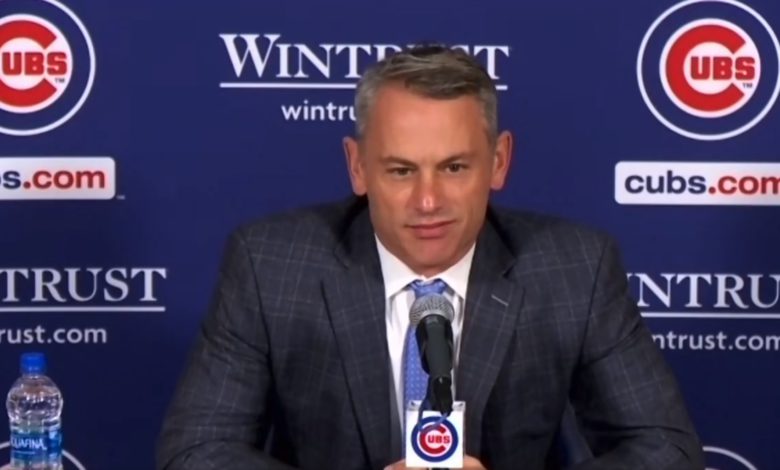 The Rundown: Small-Market Cubs May Mimic NL Central Rivals, Padres Acquire Blake Snell, Phil Niekro Passes Away
Usually at this time of the winter baseball is in peak downtime. However, that's only true for you this year if your favorite team resides inside the NL Central.
MLB rumors: Padres in contact with Cubs about Yu Darvish trade; Red Sox interested in Enrique Hernandezhttps://t.co/GXl4LNh8Vh

— CBS Sports MLB (@CBSSportsMLB) December 27, 2020
Dealing Darvish makes a lot of sense from a cash-strapped billionaire's perspective, though it's tough to justify from a fan perspective. Perhaps the reason Tom Ricketts and Jed Hoyer believe the Cubs can act like a small-market team is because they play in a small-market division.
I understand that league-wide player movement has been more scarce than any of us had anticipated, but the Cubs are now in year three of what has become a pretty stagnant model for roster building. If David Ross heads to Arizona in February with Matt Duffy and Phil Ervin as the team's most significant moves of the winter, it's fair to say that the Rickettses have lost all interest in appeasing the team's fanbase.
In a sense, a weakened division helps the team retool without any significant big league acquisitions while Chicago's farm system can establish stronger roots. Perhaps that is the new Cubs Way, though it means any hopes of successfully navigating the postseason seem remote. Not many organizations can stand pat, compete for a division championship, and lay the foundation for a brighter future all at the same time.
Those are the fruits of being the lone big-market team with direct competition that consists of the 23rd, 24th, 35th, and 37th largest sports markets. Hoyer is therefore blessed with the wiggle room to potentially trade his best pitcher rather than trying to acquire a similar-performing player and challenge for a legitimate World Series opportunity.
But there's a rub, and that's the diminishing returns for the game's elite players. Should Hoyer expect a bounty for Darvish that rivals what Theo Epstein gave up for Aroldis Chapman or José Quintana? Of course he should, but the current president of baseball operations is unlikely to extract that from a pool of general managers who would rather piecemeal 4-5 wins with insignificant moves of their own. Last night the Padres traded for Rays starter Blake Snell, netting a return of Luis Patiño, Francisco Mejía and prospects Blake Hunt and Cole Wilcox. That would seem a little light for a player like Darvish.
The model Epstein used to build the Cubs has gone the way of the dinosaurs. How Hoyer adapts will determine if his success rivals that of his predecessor.
---
---
Cubs News & Notes
Odds & Sods
If Greg Maddux hit you, you likely earned it. I'd be willing to bet that the four-time Cy Young Award winner didn't let 137 pitches get away from him. It does seem odd seeing Maddux listed with some of the more widely-known headhunters.
Much was made of Bob Gibson's intimidation in MLB Network's "Icons Lost." He is 85th alltime in Hit Batters with 102. Greg Maddux had 137, Jim Bunning 160, Nolan Ryan 158, Don Drysdale 154, Pedro Martinez 141, Roger Clemens 159…

— Peter Gammons (@pgammo) December 28, 2020
Monday Stove
Knuckleball master and Hall of Fame pitcher Phil Niekro passed away on Saturday, losing his battle with cancer. He was 81 years old.
It looks like the Rays got fair value for Snell in last night's blockbuster deal with San Diego.
The Red Sox are showing strong interest in free-agent utility player Kiké Hernández, multiple sources confirmed Saturday afternoon.
The Dodgers have yet to make a significant move this winter, but are said to be lurking on the fringes with regard to free agents Trevor Bauer and DJ Lemahieu.
Even after acquiring Josh Bell from the Pirates, the Nationals are still looking for another big bat to join their lineup.
A quiet market has kept the Indians from [so far] trading all-star shortstop Francisco Lindor.
Retired slugger Darryl Strawberry has put a life of partying and drugs behind him in exchange for his work with a suburban St. Louis ministry.
A number of records may change now that MLB has granted major league status to the games Negro Leagues. Further, numerous players who played in both the Negro Leagues from 1920-48 and the Major Leagues will have their stats padded. For example, Roy Campanella could go from 856 career RBI to 1,027. Satchel Paige might go from a 28-31 record with a career ERA of 3.29 to a 140-91 record with a  significantly lower ERA of 2.58.
Extra Innings
Wilcox could be the type of steal the Rays have been known to historically pull off. Not many people heard of postseason hero Randy Arozarena when he was acquired from the Cardinals in the Matthew Liberatore trade.
Luis Patino (https://t.co/L4oFLul58l's No. 22 prospect) is the headliner in return for Snell. But Cole Wilcox also greatly excites #Rays. Just received 3d-round record $3.3M in '20 draft. Big, physical RHP. 1st-round talent. Questions about signability led to his draft drop.

— Joel Sherman (@Joelsherman1) December 28, 2020
Sliding Into Home
"A single sunbeam is enough to drive away many shadows." – St. Francis of Assisi
Miracles are a wonderful and complicated thing. To a starving man, a miracle may be a meal; to a homeless man, a coat and blanket. But the miracles you are not expecting are the greatest of all blessings, and the ones you provide to others the endowment of a greater glory.
Thanks to Cubs Insider, I have had the most wonderful Christmas. I have a new big brother in my friend Scott. My last column led a dear friend, Craig Pinley, to reach out to me over the weekend. I count all of you who read and comment daily as friends and family. Life is truly wonderful and its intricacies the blessings we rarely recognize.
Someone described me on Christmas Eve as "the hero you didn't know you have." I'm not that and I'm far too humble to accept that. To those of you reading this, though, you are all my heroes, and I wouldn't have any of you without this wonderful forum.
They Said It
"I hated the thought of the DH coming in. I was like, 'Man, I don't care about pitcher hitting, I wish more guys like David Ortiz were hitting.'" – David Ross
"I think a big part of [Nico Hoerner's] development plan moving forward will be his, I don't want to say his plate discipline, but making better decisions and having the ability and comfort to grind out at-bats with two strikes. I think that's what we'll evaluate in spring training and make Nico hyper aware of that." – Matt Dorey
Monday Walk Up Song
I Still Haven't Found What I'm Looking For by U2 – Apparently Hoyer has yet to find a deal of his liking for any of his potential trade candidates.