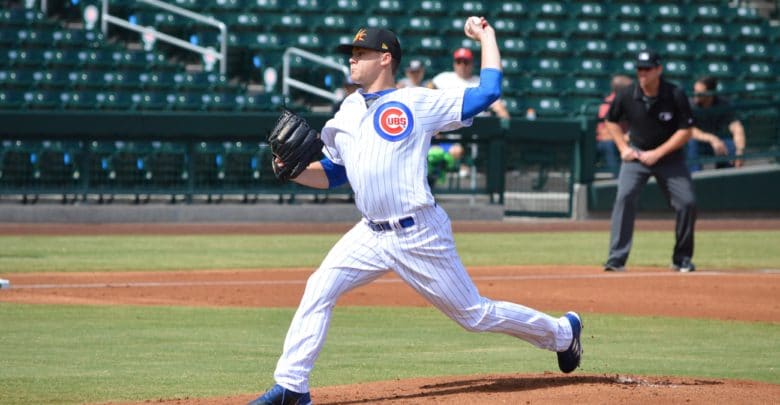 Chicago Cubs Organizational Breakdown, Pt 5: Several Lefty Relievers Almost Ready
While the Cubs have a lot of depth when it comes to right-handed relief pitchers, the same is not true for left-handed relievers. However, the lefties' impact could be much greater on the big league club as four of them are close to being ready for Chicago. The financial constraints of the pandemic will change how the Cubs go about filling their bullpen needs, especially from the left side, this winter.
Kyle Ryan is the only returning lefty reliever who was active at the end of the season, but Rex Brothers, and Jerry Vasto were brought back on minors deals. The Cubs have also signed DJ Snelten, who can reach 99 mph but has just 4.1 innings in the majors. On the other hand, Brad Weick should return in 2021 after spending most of 2020 on the IL. That collection of arms doesn't inspire a lot of confidence or hope.  
Top prospect Brailyn Marquez is an option, but the Cubs are going to keep him stretched out as a starter in 2021 and he'll probably begin the year at Double-A Tennessee. I would not be surprised to see Marquez in a bullpen role if the Cubs are in the hunt for a playoff spot in late August and September because 102 out of the pen would energize the faithful just a bit.
---
---
Getting back to the roster for the beginning of the year, however, the Cubs do have a couple of lefties that are just about ready and they could be game-changers.
Justin Steele was called up last summer, though he never saw any game action due to a hamstring injury. He may get a chance in '21 after being transitioning to a bullpen role in part because of his previous troubles staying healthy. He can throw in the mid-90's with a killer curve and the Cubs added a slider to his repertoire last year.
Injuries aside, Steele's main issue early on was the tendency to nibble a little bit. Once he got back to being aggressive at Myrtle Beach in 2017 and his career took off from there. He just needs to stay healthy in order to make good on the high praise from within the organization. Matt Dorey, the Cubs' VP of player development, thinks Steele could earn himself an opening day bullpen spot this coming season.
Love this 5-pitch K from Justin Steele. Really get a feel for how tough he can be just with his preferred 2 pitches. A curve he can manipulate for strike or as chase pitch. A fastball with late life. Don't be fooled by bad 2019 numbers, still a big league caliber arm developing. pic.twitter.com/Eol15qQthY

— Cubs Prospects – Bryan Smith (@cubprospects) December 2, 2019
Most people were a little surprised when the Cubs took a reliever with their second pick in the 2020 draft, but former Dallas Baptist closer Burl Carraway has what they believe to be "once in a decade" stuff. Carraway's special talents include an upper-90's fastball and a hard biting curve. The Cubs were said to be working with him on developing other pitches, including a slider, and trying to improve his command last summer at the alternate site.
"That kid could close in the big leagues right now."

Hitting against @DBU_Baseball's Burl Carraway looks NOT FUN.

See why he's getting some buzz in our latest MLB Draft Stock Watch: https://t.co/LZa1M5xjmF pic.twitter.com/ze5CzMsfjQ

— Baseball America (@BaseballAmerica) February 25, 2020
Carraway will not break camp with the big league club, but he's going to be in Chicago fairly quickly and I would not be surprised to see him running in from the bleachers at some point in July. Double-A probably awaits once the season starts.
The relatively unheralded Ryan Lawlor is a longshot for the Cubs' 40-man roster this winter. After being dumped by the Braves, Lawlor played independent ball in Normal, Illinois, where the Cubs picked him up. In his year and a half in the organization, Lawlor transitioned starter to reliever and put up a 15+ K/9 rate between South Bend and Myrtle Beach in 2019. With two plus offspeed pitches (curve and change), Lawlor is an interesting watch and should start the year at Tennessee.
Lawlor curve pic.twitter.com/2vwSTJbtdH

— Atreides🐾 (@RealCubsAnalyst) December 19, 2020
While Wyatt Short is the closest reliever prospect to Chicago, it was interesting that he did not get a call to the alternate site. He throws in the mid-90's with a nice curveball and he has struggled a bit at each level before he adapts, which is his strength. The 26-year-old only got in 8.1 IP at Iowa in 2019 and should be there again to start 2021.
Bryan King was one of my favorites to watch out of the bullpen at Eugene during the last MiLB season. Armed with a dominant curve, the 2019 draft pick out of McNeese State is all arms and legs flying at the hitter. Opponents hit under .200 against him and he struck out 22 in 24.0 innings during his only professional campaign so far. King will probably get the call to South Bend to start 2021. 
Bryan King slo mo pic.twitter.com/rlxXAAFsSX

— Atreides🐾 (@RealCubsAnalyst) August 10, 2019
Brandon Hughes went through three levels in 2019 as a reliever even though he wasn't moved into that role until the end of spring training. But he didn't move from a rotation spot, he was an outfielder. His at-bats were going to be few and far between due to other outfielders coming up, so he converted at the behest of hitting coach Paul McAnulty.
It wasn't entirely surprising because he pitched in high school and at Michigan State. Now that he's had the chance to focus on his development as just a pitcher, we'll get a chance to see how good he's going to be. He was throwing 93-95 at South Bend and that was just four months after making the conversion. There could still be a lot of room to grow there.
Brandon Hughes – Fastball up in the zone pic.twitter.com/P1UgYzZ1m8

— Atreides🐾 (@RealCubsAnalyst) August 17, 2019
The Cubs have several other young lefty pitchers including Chris Allen and Luke Little, though it's unclear what their roles will be at this point. Adam Laskey, who the Cubs took out of Duke in 2019, has not pitched at all since being drafted. All three will be fun to watch if healthy to start 2021.
A 76 mph breaking ball from Duke lefty Adam Laskey. 89-92 mph with arm-side run in a 123 first inning. pic.twitter.com/2PeDXZ3ctO

— Michael Lananna (@mlananna) March 9, 2018
The Cubs may be forced to develop pitchers at the MLB level due to financial considerations, but they've got enough arm talent waiting in the wings that doing so won't just be a desperation move.
Other Breakdown Articles
Third base  
Second base
First Base
Right-Handed Relievers