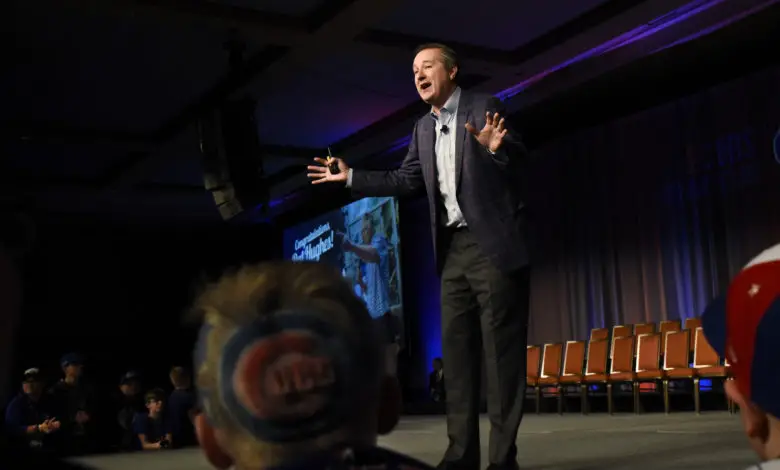 Cubs' Sports-Adjacent Ventures Make 'Biblical Losses' Claim Even Harder to Swallow
Major Leauge Baseball owners not named Steve Cohen have long waged a PR campaign that attempts to set them up as mom-and-pop operations, community pillars prioritizing stewardship of fandom and civic pride. For what it's worth, Cohen has actually succeeded in the latter portion by restoring full pay to employees and increasing local philanthropic efforts. Elsewhere, owners have claimed baseball "isn't very profitable" in general and that "the scale of losses across the league [was] biblical" due to the absence of fans in the shortened 2020 season.
Thing is, there's a difference between actually losing money and just not making as much as what was initially projected. Even if we take owners like Bill DeWitt Jr. and Tom Ricketts at their word when it comes to the annual profitability of the industry in general, the fact of the matter is that franchise values have skyrocketed over the last few decades. Just like investing in a blue-chip stock, short-term losses on paper are nothing compared to the long-term growth trends.
Those losses are much easier to sell to the public, though, because it's so simple to see the impact of the pandemic everywhere we turn. And since fans are understandably more familiar with and interested in the team itself, it's much easier to narrow the focus to baseball operations. Thus owners are more easily able to socialize the losses by cutting player payroll and laying off 100-plus employees while privatizing the gains by keeping their books closed and conveniently neglecting to mention adjacent enterprises.
---
---
For instance, Cubs ownership is getting the benefit of federal tax credits on the money spent to renovate Wrigley Field in accordance with the ballpark's historic landmark status. Those expected savings of $100-125 million — and that's before renovation costs nearly doubled initial estimates — won't impact the baseball budget since, as Ricketts explained, they were "all part of the stadium redesign financing plan." So the tax break helps ownership, not the team or fans.
Then there's Marquee Development, formerly known as Hickory Street Capital, the Ricketts-owned real estate enterprise responsible for Gallagher Way, Hotel Zachary, and much more. Though it was first explained as a wholly separate company from the team itself, Cubs president of business operations Crane Kenney admitted during Cubs Convention in 2019 that HSC/Marquee revenues could indeed have an impact on the baseball budget.
Wouldn't it figure, then, that any losses suffered due to lower occupancy rates and the forced closures or limitations of bars and restaurants might have a negative effect on the budget? That certainly seems to be the case with Marquee Sports Network, which has had a very rough maiden voyage as a result of the shutdown and protracted carriage negotiations — some of which have already ended — that hurt revenues and alienated fans.
Those are areas in which Cubs ownership has lost or made less money than expected, but what about some of their other projects and interests? We've already seen how willing the Ricketts family has been to invest in the land around Wrigley in order to capitalize on a Cubs brand they seem to view as a natural resource to be exploited rather than fostered. That willingness is now extending to Cubs-adjacent projects aimed at leveraging the exploding sports-gambling market.
They've entered into a 10-year deal with DraftKings worth a reported $100 million to build a sportsbook to be located on the Wrigley campus. Even if they're not getting all of that up-front, you'd think the annual payout would allow them to subsidize Kyle Schwarber's final year of arbitration or maybe, I don't know, a bigger free agent acquisition than Daniel Descalso.
Yes, Descalso is the most expensive offseason signing the Cubs have made since the end of the 2018 season. In fact, the $5 million they guaranteed him is greater than the four other guaranteed deals the Cubs have agreed to over the last two winters and counting.
Back to the topic of Cubs ownership spending big money in the gaming industry, let's look at their new joint venture with Raine Group that bears the highly original name Marquee Raine Acquisition Corp. The special purpose acquisition company (SPAC) just raised $325 million via IPO with the intent to strike it big in the technology, media, and telecom sector. More specifically, they're expected to target online gambling.
Raine was an early investor in DraftKings and has stakes in multiple other gaming enterprises, so there's a natural dovetail with the Cubs' existing interests. This new blank-check company will use the funds raised to acquire another company or companies and, while SPACs are not obligated to disclose the industries in which they're pursuing opportunities, the direction here appears to be relatively clear.
If you really want to talk about privatizing profits in a more collective sense, check out BAMTech, which was spun off from MLB Advanced Media in 2015. Disney purchased a 33% share of BAMTech the following year, resulting in a payout of around $33 million to each MLB owner. The House of Mouse then took over majority ownership in August of 2017 by purchasing another 42% for $1.58 billion, a transaction that gave each owner another $50 million or more in Q1 of 2018.
BAMTech was valued at $3.75 billion at the time of that last acquisition, which came more than two years before Disney+, which uses the streaming platform, launched. Other BAMTech properties or partners include the WWE Network, PGA Tour Live, all of the NHL's digital rights, Fox Sports, MLS, Riot Games' League of Legends, Hulu+Live, and more. Okay, cool, how is that germane to this conversation?
Something to remember: Disney+ is BAMTech. BAMTech was spun off MLBAM. MLB's owners have retained a 15% stake. This investment falls outside any of the numbers you hear about revenue increases or decreases. It is separate from baseball-related revenue. https://t.co/UclU109wex

— Maury Brown (@BizballMaury) December 10, 2020
Glad you asked. MLB owners have maintained a 15% stake in BAMTech, with the remaining 10% held by the NHL in accordance with their 2015 deal to turn over broadcast rights. I couldn't find any more recent valuations and BAMTech is not publicly traded, so let's just go really conservative and say it's worth $5 billion. That figure is probably much higher when you look at the monstrous slate of movies and TV series being developed by various Disney properties, all of which will eventually find their way to Disney+.
At a minimum, then, MLB owners are holding around $750 million in a company whose value is only going to increase as streaming continues its takeover of our content consumption habits. That may not seem like much when you divide it by 30 and see a paltry $25 million apiece, but remember that this is purely a passive investment that the owners did nothing to create and do nothing to maintain. It's like that savings bond your grandma gave you for your 10th birthday except way bigger and with seemingly unlimited growth potential.
If we swing back to the Cubs specifically for just a moment here, what about Charles Schwab's purchase of the Ricketts-owned TD Ameritrade for $26 billion that was just finalized in October? It was an all-stock deal so it's not as though anyone got a massive check in the mail, but TD Ameritrade stockholders were to receive 1.0837 Schwab shares for every share held, a 17% premium. Seems like the family's first business is doing quite well even if their little side hustle experienced a hiccup.
"The league itself does not make a lot of cash," Ricketts told ESPN's Jesse Rogers back in June, a statement he had previously shared with fans in the lobby of the Loews Hotel roughly 18 months earlier. "I think there is a perception that we hoard cash and we take money out and it's all sitting in a pile we've collected over the years. Well, it isn't."
Ricketts is technically correct since neither he nor any of his 29 incredibly wealthy colleagues actually keep their money in massive vaults in which they swim like Scrooge McDuck. They're not making like Walter White and counting their cash by weight because the bills are too numerous. They are, however, engaged in a slightly more legal form of laundering that sees them using their government-approved monopoly to obscure the true nature of their industry's profitability.
MLB owners are doing just fine even if baseball itself didn't generate nearly as much revenue in 2020 and may be in for another depression in '21. But the fact of the matter is that you don't have dozens of billionaires pumping tons of money both directly and indirectly into an industry they don't believe will end up making them even more money.