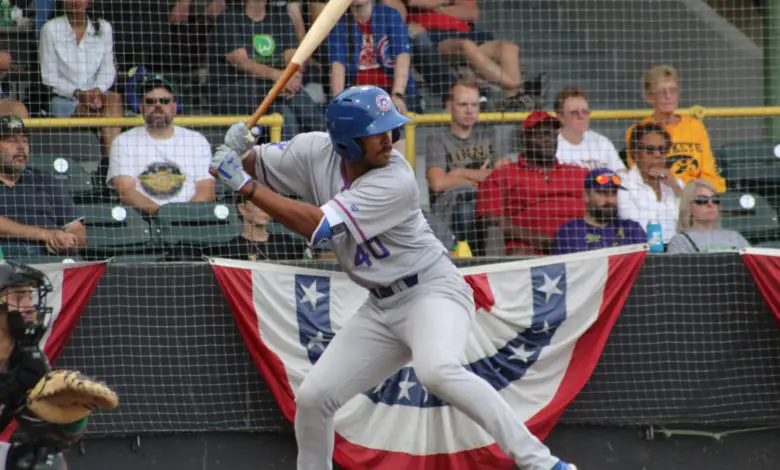 Brennen Davis Holds Top Spot in Prospects Live's Deep New Cubs List
Prospects Live dropped the first Cubs prospect list of the offseason on Tuesday and, while it's a little early, there's not really anything else going on right now. With instructs over and most of MLB still sleeping, we may see a rush of these kinds of lists over the next six weeks.
This year's list looks and feels different as PL stepped up their game to surpassed all the other prospect lists in terms of the user interface, content for each prospect, and the number of prospects covered. They have several different categories including descriptions of each pitcher's individual pitches and each position player's fielding, arm strength, power, and hit tool.
They also have a video tab for you to get good looks at prospects you may not normally see and you can even sort by position.
As for the rankings themselves, Prospects Live made the right call by rolling with Brennen Davis at the top. In a rare surprise, the second spot went to recent draftee Ed Howard. Last year's No. 1, Miguel Amaya, dropped to third, followed by Brailyn Marquez and Adbert Alzolay. My personal favorite, Chris Morel, was at No. 6.
Howard being up that high is notable considering he hasn't played one regular season game and didn't even seen much action at instructs. This says quite a lot about how highly PL values his makeup and projectability, though we'll have to wait and see whether and how he really takes off once the real games get started again in 2021.
Youngsters Richard Gallardo and Luis Verdugo come in at Nos. 7 and 8, respectively, while Chase Strumpf and Ryan Jensen round out the top 10. There are a total of 52 profiles in all, so this is a very deep look at the system when you consider all the available detail on each player.
There's enough to get lost for quite a long time if you're so inclined, but here are some suggestions if you prefer to be selective.
19. I just love how Andy Weber plays and was ecstatic when I saw him at this slot.
32. This seems a bit for low for 2020 third round pick Jordan Nwogu, but he's still a pretty raw physical specimen.
34. One of my favorite follows of 2019 was teenage outfielder Yohendrick Pinango in the DSL. The 18-year-old came north for spring training and returned again for instructs.
38. Davidjohn Herz, a 19-year-old lefty, popped up on MLB Pipeline's top 30 a month ago and he got a pretty good write-up here.
45. I also like what they had to say about Hunter Bigge, the former two-way star at Harvard who is now focused on pitching. His limited debut in 2019 was one of the highlights of the summer. Throwing 98-99 mph will do that. If you're looking for even more on Bigge, he actually joined CI's The Rant Live for an interview back in July.
46. Yes, Jose Albertos is still in the Cubs organization. Even more incredible for those who've followed him, he's only 22. He had a nice stretch in 2019 as a reliever before a broken finger ruined his season.
48. Adam Laskey has yet to pitch as a Cub, but he's an interesting option in a system needing a lefty or three.
52. First baseman Matt Mervis signed as an undrafted free agent this past summer and displayed some really good pop in instructs. A late bloomer in a big body, he might surprise some people in 2021.
Overall, this was a fun list that shows just how much youth is in the system while at the same time illustrating just how much a missed season has slowed the development process. Once most of these prospects get to play full seasons at South Bend and Myrtle Beach, the system could take off.
Baseball America looks to be next in the prospect list fray as they should release their top Cubs list in the next two weeks.