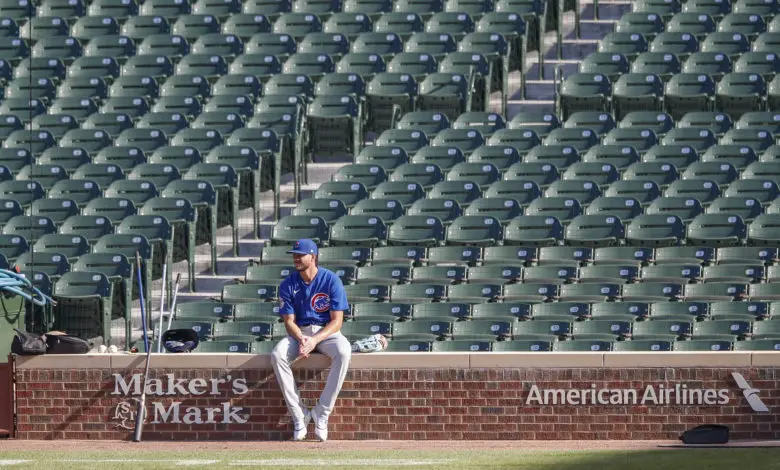 Kris Bryant, Kyle Schwarber Headline 7 Cubs on MLBTR's List of Non-Tender Candidates
Once an unthinkable possibility, there's a growing likelihood that the list of Cubs who won't be tendered contracts for 2021 will include multiple integral members of the roster. That's true across MLB, as financial circumstances are likely to bring about even more than the record 53 non-tenders from last year.
The Cubs have made it very clear in public comments that they intend to spend less next season and scuttlebutt among rival executives is that nearly every veteran is available. Theo Epstein's resignation, which was prompted in large part by the knowledge that the undertaking this winter and beyond is far more than what he can reasonably accomplish, is an indication that the cuts will be very deep and perhaps very personal as well.
Among the seven players listed by MLB Trade Rumors as potential non-tender candidates are Epstein's first three top draft picks as the Cubs' president of baseball operations. While all played roles in bringing home the team's first World Series title since 1908, their combined projected salaries of just over $28 million — a figure that might even be a little light — could be viewed by ownership as an untenable expense.
Think about that for a moment. A franchise worth north of $3 billion and just four years removed from the ultimate prize may see fit to part with core players for nothing but payroll relief. To be fair, it's still very likely that Kris Bryant and Kyle Schwarber are tendered salaries. As we pointed out last month, however, the outlook isn't as good for the rest of this list.
Kris Bryant ($18.6M)
Kyle Schwarber ($7.9M)
Albert Almora ($1.575M)
Jose Martinez ($2.1M)
Colin Rea ($1.0M)
Dan Winkler ($900K)
Kyle Ryan ($1.2M)
Those salaries are based on MLBTR's "Method 3" projection, which gives players 37% of the raise they would get in a 162-game season, except that KB made $18.6 million this past season. Though the arbitration process does allow for a decrease in salary, something the cheapskate Pirates threatened Gerrit Cole with before settling for a static rate from 2015 to '16, almost no one's salary either goes down or stays the same.
Interestingly enough, the thing that will make the Cubs think twice about whether to tender Bryant (and then how much to offer him if they do) is the same thing that makes him more likely to stick around for a little while longer. No team will trade for the former MVP prior to the December 2 tender deadline in the hopes that they'll be able to scoop him up as a free agent, but the Cubs extending him an offer means his trade value has been established.
However, that value is going to be really low at this point when it comes to what he'll bring back. Between carrying a fairly high salary for just one year of control and his uncertain health, the Cubs' only real choice would be to hold onto him and hope for a resurgence or sell him off for the least crappy offer. It's an unenviable position to say the least, one Epstein was surely not upset to pass off to Jed Hoyer.
Schwarber's situation isn't as nuanced because he'll make less than half the money Bryant figures to get and his ceiling is nowhere near as high. That reduced cost means selling low isn't quite as painful and his lack of growth as a hitter could mean the Cubs are more willing to move in another direction. Then again, it could also mean they aren't as worried about paying him.
As for the rest of the guys on this list, it would be wholly unsurprising to see all of them hit the market as free agents. None really offers something you can't find elsewhere at the same or lower cost, particularly as the market is flooded with similar casualties of baseball's budget crisis. It's a gross way to look at it, but them's the facts.
With only two weeks to go before these decisions have to be finalized, we can start debating the merits of various courses of action in earnest.