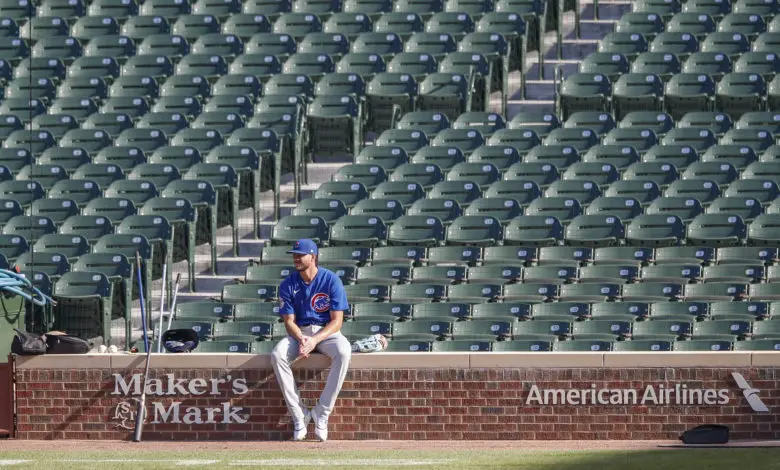 Overture, Schmoverture, Why Are We Still Talking About Kris Bryant Extension That Never Was?
To briefly answer the titular question above, it's because we've little else to do but speculate on just how the offseason will unfold in light of MLB's uncertain financial picture. And though it's a different sport, Dak Prescott's gruesome ankle injury, suffered while he played under the one-year franchise tag rather than a much bigger long-term deal, put players' pursuit of the most money possible in bold print.
So it's only natural that we should at least acknowledge the blurb in Buster Olney's recent ESPN column about the Kris Bryant extension that never was. Remember, Olney was the first to say the quiet part out loud when it came to the Cubs possibly being willing to trade Bryant ahead of the 2019 season, something that was based on the interpretation of Theo Epstein's words and a little input from Jess Rogers.
Perhaps not coincidentally, that came just about a month after the report from David Kaplan on October 10, 2018 that Bryant had turned down an extension offer worth "well north of $200 million." Cubs Insider immediately refuted that information based on information from a source who called it a "complete fabrication" and Sahadev Sharma wrote that it was "simply not true" according to his own source.
At the crux of the matter was timing, since Kaplan initially made it sound as though the offer had been made recently. He later clarified that it could have come several months earlier, even back in spring training, and he eventually admitted to CI that even the amount might not have been as big as he was first told.
Bryant has steadfastly denied the existence of any extension talks and specifically called out the above report as false when he addressed the media for the first time this spring. Okay, wait, so why are we still talking about this? Oh right, let me go ahead and get to the point. In talking about how players and teams may approach this winter, Olney used some very malleable language in citing Bryant as a possible cautionary tale.
On the other hand, the Cubs' overture to Kris Bryant – whether you want to call it an offer or a concept – for something in the range of $200 million never went anywhere. Bryant's camp aimed for free agency. How good would that deal look now, with baseball's budget rollbacks looming after the impact of the pandemic, and after Bryant's recent struggles?
This isn't 1812, so an overture doesn't really mean much. As such, I think we have to lean far more heavily on the notion of concept, especially since there was no offer in the first place. The bottom line is that Bryant never turned anything down because nothing was ever presented to him, either because the Cubs have a hard number or because what they put together was so vague that Scott Boras never even had enough to bother bringing to his client.
It's easy to use hindsight in saying that a player should have taken the money when he had the chance, something many are doing with Prescott right now, but everyone skewered Ozzie Albies and his agent for taking an incredibly team-friendly deal last year. As an aside, that piece drew the ire of Jeff Passan, with whom I ended up communicating a few times on various topics. Hey, Jeff, why'd you stop returning my texts?
My biggest issue with the Bryant extension reports isn't their veracity, it's how they've essentially poisoned the waters when it comes to how fans view the star third baseman. Between that and the drawn-out grievance over his service times, far too many people have adopted a warped view of Bryant as this prima donna who doesn't want to be in Chicago. The wild part there is that he's always said exactly the opposite.
No matter how many times Bryant professes his love for the city of Chicago, the Cubs, and his teammates, fans oddly choose to dismiss his words in order to misinterpret someone else's. I don't get it. And I guess that finally answers my titular question: We're still talking about this because too many fans still don't truly understand the situation and I'm just naive enough to think I can clear it up to some extent.