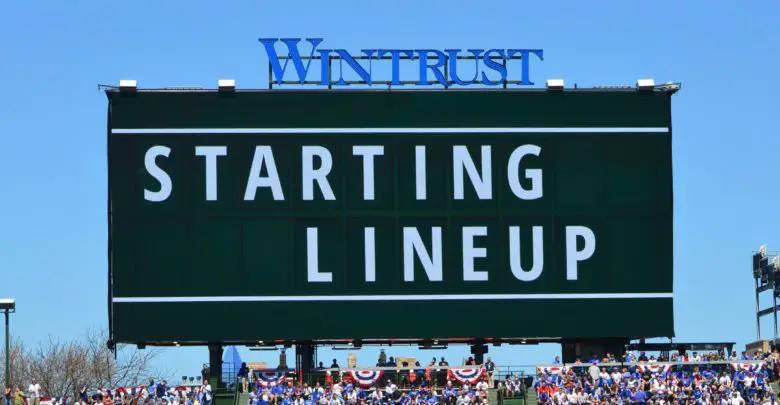 Chicago Cubs Lineup (9/18/20): Rizzo Leads Off, Maybin in CF, Hendricks Faces Twins
The Cubs have won four straight, all in highly improbably fashion, and they've only played two games in the last four days as they head into the home stretch. That means the pitching staff should be well rested to face a Twins team that can mash a little bit. Lack of familiarity could play a role here, as this is the first and only series these two teams will play against one another.
Ian Happ has the day off, which is just fine because the Cubs have the Greatest Leadoff Hitter of All Time taking his place. Anthony Rizzo will be followed by Kris Bryant at third and Willson Contreras behind the plate. Kyle Schwarber is in left, Javy Báez is at short, and Jason Heyward is in right. Cam Maybin handles center, Jason Kipnis is the DH, and Nico Hoerner is at second.
Kyle Hendricks always seems to be on his A-game at Wrigley and he'll need to be in this one to push the Cubs to five straight wins. He doesn't have much experience against Minnesota's hitters, just 24 total plate appearances from seven batters, so let's hope his coaches have done their homework.
Cubs hitters seem to struggle with pitchers they don't know well, so perhaps it's good that Minnesota is sending old friend Rich Hill to the mound. The 40-year-old former Cub is still kicking around, though he's putting up his worst numbers since 2013 when he was with the Indians. His strikeouts are down, his walks are up, and he hasn't gone deeper than five innings in any of his six starts.
Almost exclusively a curveball/fastball pitcher, Hill lives and dies by the breaking ball. His hook has been as effective as ever this year, but the problem is that his four-seam has lost some velocity and isn't setting him up nearly as well. That has led to fewer swinging strikes as Hill isn't being as aggressive early and doesn't have quite enough deception to get hitters to offer at his borderline pitches.
The Cubs have hit Hill pretty well over 55 combined plate appearances, with Bryant, Contreras, and Rizzo all boasting OPS marks of well over 1.000 in limited action. However, the team as a whole has just two total homers and two doubles over that same span and has struck 14 times to three walks. Whether it's true or just a matter of perception, it feels like the Cubs have trouble with junk-balling lefties.
It may seem a little odd that David Ross has four left-handed batters in there, but Hill has allowed a .333 average and .833 OPS to them so far. Of course, he's only faced as many lefty hitters all season as he will in his first turn through the Cubs' order, so those numbers mean nothing. Either way, I smell a big offensive output as the Cubs seek to further distance themselves from the Central.
First pitch is at 7:15pm CT on Marquee Sports Network and 670 The Score.
Our final home series of the regular season!#WhereStoriesPlay pic.twitter.com/CmzDR2S0T6

— Chicago Cubs (@Cubs) September 18, 2020