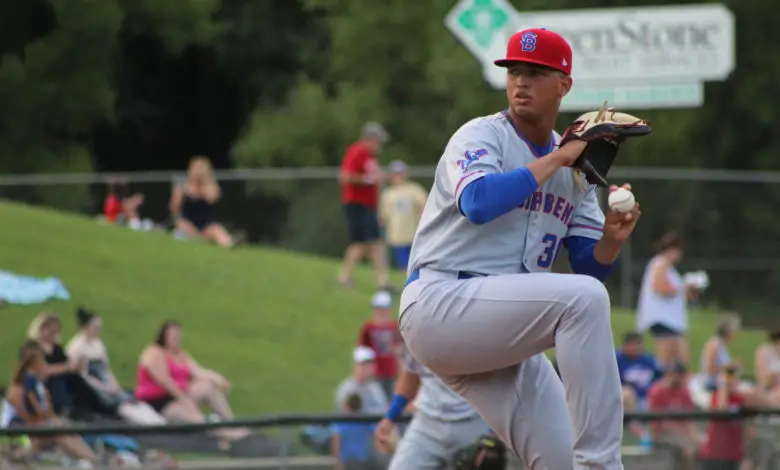 Cubs Should Stop Playing 'Wait and See Game' with Flame-Throwing Lefty Brailyn Marquez
The Cubs have been saying for two years that they're being more aggressive with the development of their pitching prospects, but Theo Epstein said they were prioritizing lefty pitching at the trade deadline. So naturally, Justin Steele was called up and optioned back to South Bend without seeing live action before the Cubs went out and traded for southpaws Josh Osich and Andrew Chafin.
They even promoted Matt Dermody for a whole inning of work before designating him for assignment the next day. That move in particular seemed to support an August 22 report from Patrick Mooney ($) that the Cubs "do not view Brailyn Marquez and Burl Carraway as realistic options to help the major-league team this season." However, a subsequent report from Sahadev Sharma said it was too early to write Marquez off yet.
David Ross added to the intrigue prior to Friday's game in Milwaukee when he indicated that his bullpen may indeed include the 21-year-old at some point in the near future.
"They talk about Brailyn continuing to get to a point where they think he might be able to impact us, or have the opportunity to come up and maybe impact us," Ross told reporters. "So, it's a wait-and-see game, really."
While I've done my best to appreciate the intricacies of running a competitive organization, I fail to see what there is to wait and see at this point. The Cubs keep acquiring guys with very limited potential, all the while watching as guys whose ceiling is the roof toil in South Bend with seemingly no shot at coming up. But if Marquez keeps pitching like he reportedly has, he'll leave the front office with no choice but to promote him.
"If Brailyn Marquez isn't in the big leagues by…I mean, it could be the end of this year," Dakota Mekkes said on the most recent episode of The Compound podcast. "The guy is disgusting. The hitters come in and they're just like…you just have to go up there and try to get like one good pitch.
"They all try to jump on the first pitch because the later you get in the count…I mean, he throws 100 and he has a disgusting changeup and a good slider to go with it. He is as good as advertised."
Pardon me if I sound too much like a delicious Italian dish, but I really don't care that Marquez hasn't pitched above high-A and that he might struggle if called up early. I'm a huge advocate for the awareness of the mental side of the game, but if a dude can't handle the fallout from getting roughed up by major league hitters or walking a couple batters in an inning, he's really not someone who's got what it takes to make it anyway.
To that end, so what if Marquez hands out a free pass or gives up a bomb? That's no worse than what Dan Winkler's been allowed to do through 14 appearances so far, in which time he's walked 10 and allowed two homers. Or what about Kyle Ryan, who's given up four dingers in 12.1 innings? Track record, schmrack record, gimme the southpaw with triple-digit gas to come in and scare the bejeesus out of a few hitters.
Even if they still intend on grooming him as a starter in the future, it wouldn't be the first time a stud lefty was called up to help his team as a reliever late in the season. Because I'm in a cherry-picking mood, I'll point out how David Price was called up by Joe Maddon's Rays in mid-September of 2008 and went on to help Tampa earn a World Series berth.
That would obviously be a best-case scenario of the highest order for Marquez and the Cubs, but what the hell do they have to lose? Seriously, there's absolutely nothing about a promotion that could damage the organization in the long run and it could potentially give them a difference-making lefty in the bullpen. Or, you know, they could just keep scrapping for castoffs and hope it works out.