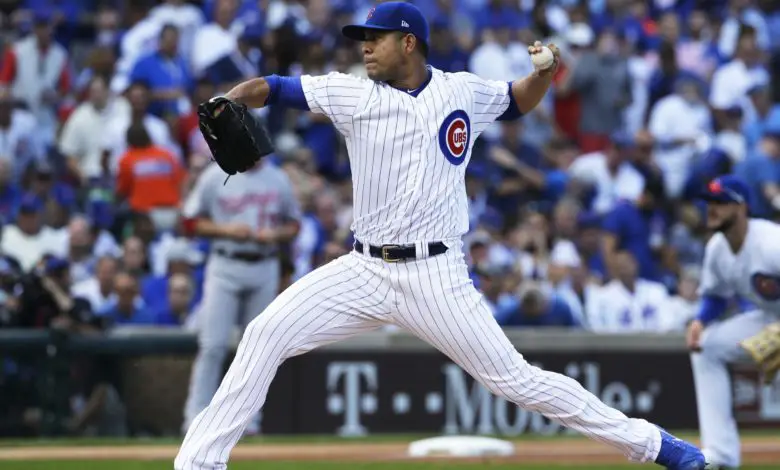 José Quintana Throws Abbreviated Sim Game, Tyler Chatwood Scheduled for Bullpen Session Saturday
The Cubs pitching staff hasn't been at full strength all season, but Friday brought good news on that front as David Ross offered some updates on two of his would-be starters. José Quintana threw what could be his final tune-up before returning to the active roster, though it was a much shorter outing than one might expect and his manager declined to offer anything in the way of a specific timeline.
Quintana tapered off some in sim game today: 2 innings, 28 pitches (40+ with warmups). Ross would not say if Q is in play for Detroit series. Wants to wait to get feedback in wake of outing before making any announcements about the lefty's next step/outing.

— Jordan Bastian (@MLBastian) August 21, 2020
Quintana threw just 28 pitches over two innings, not a great indication that he's ready for anything close to a full workload by the time the Cubs need another starter on Tuesday in Detroit. The bullpen will have enough length to pick up the slack if the starters can go long over the weekend, but having a starter who can only get into the 4th inning might not be a good idea if the relievers are taxed.
Then again, maybe Q has a lot more gas in the tank and was limited for the exact purpose of being able to stretch further on three days' rest.
If a spot is open for him, it's because Tyler Chatwood has been on the IL since being scratched from his scheduled start last Friday against the Brewers. He's eligible to be activated after the weekend and could conceivably be ready against Detroit if everything goes perfectly with his Friday long toss and Saturday bullpen.
Tyler Chatwood did see a specialist for his back, according to David Ross. Says the right-hander has been getting treatment, will play long toss today and is scheduled to throw a bullpen tomorrow if everything goes well. #Cubs

— Russell Dorsey (@Russ_Dorsey1) August 21, 2020
That could be a stretch, though the two could piggyback the game in order to keep their respective pitch counts in check while still eating enough innings to keep the 'pen out of the game. There's no such thing as too much pitching and the Cubs to give Ross some decisions to make with the rotation and bullpen by getting a few more guys healthy.