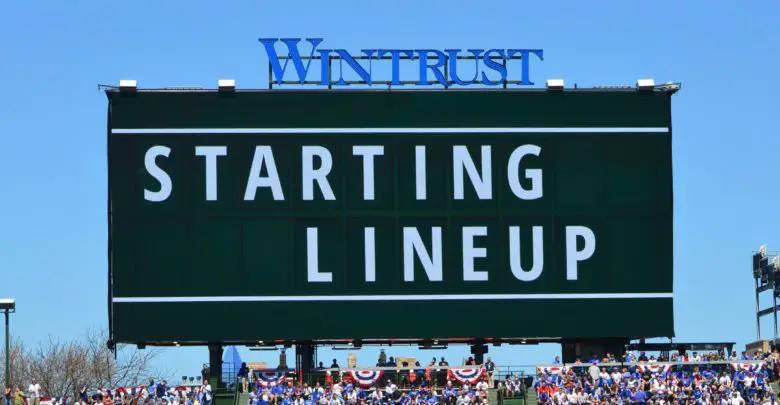 Chicago Cubs Lineup (9/5/20) – Darvish Starting, Hoerner in CF, Powerful Offense Tries to Scratch Bubic
The Cubs head to Kansas City winners of five straight and looking to continue beating up on Central division cellar dwellers. Scoff if you like, but one of the differences between 2016 and those disappointing campaigns that followed is that the Cubs didn't seem to take care of their business against all the teams they should have beaten. It may not always be pretty, but they're getting the job done.
Kris Bryant leads off at third base, followed by Anthony Rizzo across the diamond and Javy Báez at short. Willson Contreras cleans up at DH, Kyle Schwarber is in left, and David Bote is at second. Jason Heyward is in right and then the Cubs have Nico Hoerner starting in center. Caratini handles the catching duties and bats ninth.
We've seen Hoerner in the outfield before and that's something the Cubs' development team had talked about before the season. Keep an eye out for how he handles the new role tonight.
Yu Darvish struggled with location and terrible strike zone in his first start, but he was much more efficient in taking out the Pirates his last time out. This Royals team hasn't shown much in the way of offense yet, so they may look to force the issue and run against the slow-working righty every chance they get. It's imperative that Darvish limits the walks and does't get to cute with stuff in this one.
Opposing the Cubs is a guy who sounds like an uncomfortable bra or Jesse Pinkman's expression of displeasure with a bad call. Rookie lefty Kris Bubic was a teammate of Hoerner's at Stanford and has advanced to the majors almost as quickly after being drafted just 16 picks after the Cubs second baseman in 2018. Like Tuesday's starter, Bubic had a heavy workload in his first professional season and made the jump to MLB without Triple-A experience.
In fact, Bubic didn't even pitch in Double-A last season, logging 149.1 innings at two levels of A-ball. This is his second start with the Royals after giving up three runs (two earned) on three hits and a walk over four innings against the White Sox. He had three strikeouts in that game, which is in keeping with his track record.
In his final two seasons at Stanford (176.1 IP), Bubic struck out 197 with just 63 walks, then he had an MiLB-leading 185 strikeouts with just 42 walks last season. His 92 mph fastball won't overpower hitters, but it sets up the deception of a change that he throws with the same frequency as the heater and about 12 ticks slower. His third pitch is a curveball that has been good so far in limited usage.
Though the numbers tell us Bubic has both control and command, he doesn't figure to come out attacking hitters. He'd rather get them to chase early so he can go to work with the offspeed stuff, a strategy that could play into the Cubs' hands. Given how well they've been taking pitches and working plate appearances, a lefty who tries to fool them and wait them out might be just what they're looking for.
First pitch from Kansas City is at 7:05pm CT on Marquee and 670 The Score.
Here is tonight's #Cubs starting lineup in KC! pic.twitter.com/fHjNtzx98Y

— Chicago Cubs (@Cubs) August 5, 2020