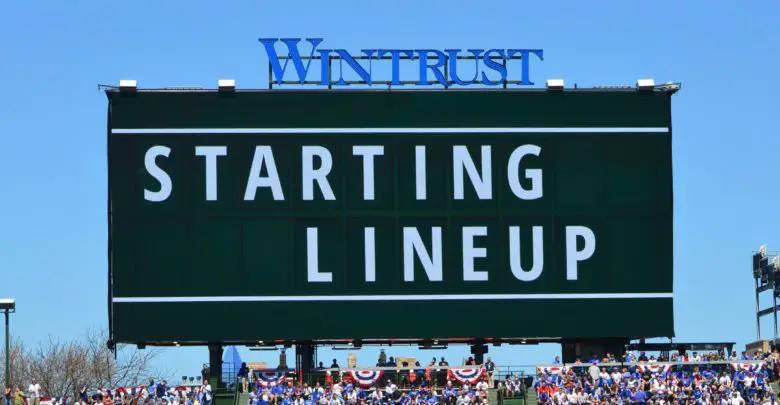 Chicago Cubs Lineup (8/2/20) – Bryant in LF, Heyward Down in Order, Mills Faces Former Team
Fresh off a sweep of the Pirates, the Cubs welcome the last place Royals to Wrigley for the first game of a home-and-home set. KC has lost three in a row and sits at 3-7 overall, largely due to their starters posting an ERA of 5.86 and just 29 strikeouts in 35.1 innings. That bodes well for the Cubs, who've hit 15 home runs and have done a good job taking advantage of mistakes.
Kris Bryant returns to the lineup to lead off and play left field after sitting for two games with gastrointestinal issues that prompted eventual negative COVID tests. Anthony Rizzo bats second, Javy Báez bats third at short, and Willson Contreras cleans up behind the plate.
Kyle Schwarber is the DH, David Bote plays third, and Jason Heyward moves to seventh in the order. Nico Hoerner at second and Ian Happ in center round out the lineup.
Alec Mills takes the bump for the second time this season and for the first time against the team for which he made his MLB debut. Drafted by the Royals back in 2012, Mills made three relief appearances for them in 2016 before being traded to the Cubs for Donnie Dewees. That ended up working out pretty well for the Cubs, who have a starting pitcher and ended up getting Dewees back last season.
Mills worked efficiently in his first start, using 77 pitches to get through six innings and holding the Reds to two runs in his first win as a starter. The slow curveball once again served as his most notable weapon, though he didn't register a strikeout with it. By mixing pitches and speeds, Mills was able to keep the Reds off-balance and keep the Cubs in the game the whole time.
Royals lefty Danny Duffy is already making his third start of the season as the ace of rebuilding staff that doesn't have a great deal of standout talent. The 31-year-old's velocity is down significantly from last season and has trended downward for the last few years, as has his overall performance. The decline hasn't been linear, but health and results have been inconsistent to say the least.
Duffy is throwing his fastball a little less this year while throwing his sinker a little more, and it also appears that he's swapped a lot of his sliders for curves. Some of that could simply be the way his pitches are being tracked or how he was feeling in a particular game. For instance, he threw both breaking pitches less against the Tigers than he had against Cleveland, but he threw nearly three times as many changeups in that second start.
Though he's historically pitched to fairly standard splits, lefties actually fared better against Duffy last year. That might be what prompted the changes to his repertoire, though he faced four times as many righties as lefties last year and has done so over the course of his career as well.
The Cubs have received praise for the way they see a lot of pitches as a team this season, but they might want to get more aggressive early in this one. Duffy throws strikes with 66% of his first pitches, roughly six points above the league average, and he also works in the zone more frequently without getting as many swinging strikes.There's no better way to maintain the momentum from a walk-off than to hang a crooked number right away
First pitch is set for 7:15pm CT on Marquee Sports Network and 670 The Score.