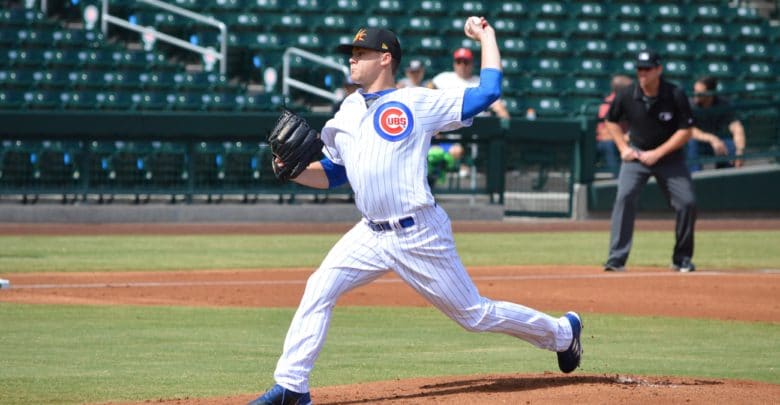 Cubs Reportedly Adding LHP Justin Steele to Active Roster Sunday
The Cubs boast the NL's best record at 6-2, but those wins haven't come thanks to the bullpen. There's already been one change to the roster, swapping out Dillon Maples in favor of Colin Rea, and it appears the team will be making another move prior to Sunday's series finale with Pittsburgh.
According to Patrick Mooney of The Athletic, lefty Justin Steele will be added to the roster to bolster the relief corps. Though he's been a starter to this point in his career, injury issues have limited Steele's experience and could mean he's better suited to a bullpen role moving forward.
The Cubs will be adding lefty Justin Steele to their active roster before today's game against the Pirates at Wrigley Field, sources said. Steele, 25, will be in position to make his big-league debut as the Cubs try to figure out their bullpen.

— Patrick Mooney (@PJ_Mooney) August 2, 2020
It's never been a question of stuff for the 25-year-old, who Cubs farm director Matt Dorey comped to more ballyhooed southpaw Brailyn Marquez this past January at Cubs Convention.
"I'm really excited for Justin," Dorey said. "He's worked his tail off and he's such a competitive kid, and he's a left-hander with that kind of stuff. You talk about Marquez, but Steele's stuff isn't that much different if you look at it.
"So we have a chance for two left-handed starters with that kind of arsenal. It's just a matter of keeping them healthy and just starting and finishing the season."
Steele works with a fastball that touches 95 and might play up in shorter outings, setting it off with a big curveball that has 11-to-5 break. He's been working to develop a changeup as well, but that third pitch might not be as necessary if he's working solely out of the 'pen. However, figuring out the offspeed would make him much more competitive against righties now that there's a three-batter minimum.
Here's Steele discussing how he learned his current changeup grip from Cole Hamels, who Steele grew up idolizing and got to meet when the two were in camp together with the Cubs.
As of post time, there's been no word on whose spot Steele is taking, though lefty Rex Brothers had a very rough outing Wednesday in Cincinnati with two homers allowed.
---
Update: The Cubs have placed James Norwood on the IL with right shoulder inflammation. Steele will wear No. 35, which was last worn by fellow lefty Cole Hamels. Steele actually grew up idolizing the former Phillies great and got to meet him when the two were in camp together with the Cubs. In fact, that changeup mentioned earlier is being thrown with the same grip Hamels uses.
Here's Steele talking about that encounter with his hero:
.@J_Steele21 was a huge fan of #FormerPelican Tom Glavine growing up.

Once he got into the Cubs system, he got to learn how another lefty, @ColeHamels, gripped his changeup.#MBPelicans | #CubsCon pic.twitter.com/9D22VWHUqM

— Myrtle Beach Pelicans are rooting for the Cubs (@Pelicanbaseball) January 21, 2020