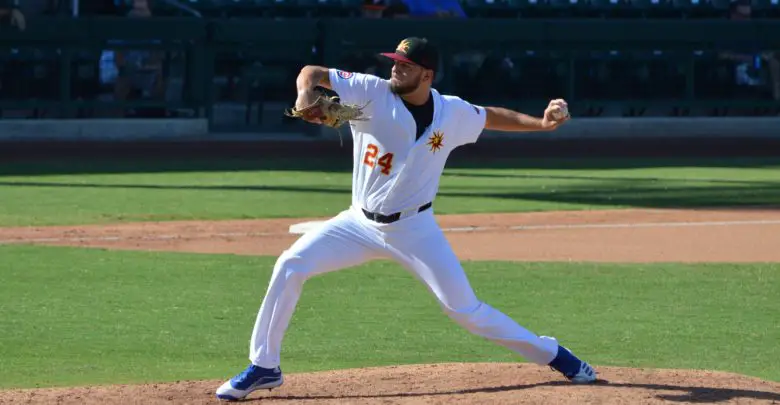 Lefty Pitching Prospect Jordan Minch Goes Public with Story of Perceived Poor Treatment by Cubs
Every professional baseball player grew up dreaming of the chance to play the game at the highest level, but the business of the sport offers most of them a rude awakening. Even the best players can be put off by their organizations' attempts to haggle and manipulate their careers based on loopholes, as we saw with Kris Bryant's protracted service-time grievance.
When it comes to minor league players who aren't even earning living wages in many cases, however, the stakes are decidedly different. Unless we're talking about top draft picks who earn big bonuses to sign, most of the thousands of players on the farm are scraping by on their meager salaries and making ends meet by rooming with several teammates.
Jordan Minch, a lefty out of Purdue who was drafted by the Cubs in the 35th round six years ago, is among the latter group. It took him a while to find his groove, but Minch was promoted to Double-A Tennessee in 2018 after nearly three seasons in Myrtle Beach. He posted 52 strikeouts with 24 walks over 55.2 innings for the Smokies last season, even getting a brief taste of Triple-A before heading to the Arizona Fall League.
In 10 innings for the Mesa Solar Sox, Minch registered 14 strikeouts to just one walk and was named to the Fall Stars Game. It's impossible to say what would have happened this season, his last under the terms of his initial minor league agreement, had the season continued according to plan, but Minch looked to be on an upward trajectory. Just how steep a trend he was following is a matter on which he and the organization apparently disagreed.
That would not be even mildly surprising absent context, since players and teams differ all the time in their assessments of talent and performance. But as Minch shared on Twitter Sunday evening, the Cubs may not have been very forthright when it came to sharing that assessment with the southpaw. In fact, they were downright duplicitous if what Minch said is true.
Imagine being a minor league free agent after this season and not getting released when all the teams decided to release a bunch of minor leaguers and taking the initiative to reach out to someone high up in the front office and asking them straight up if there is an agreement would I be part of the taxi squad because I had two job offers since you know the 400 dollars a week is not cutting it and receiving answers like "we have you penciled in for the taxi squad" "we want to sign you back next year" and "the entire pitching department thinks you are close to being a big leaguer" and then get left off of the taxi squad?? on top of being the hardest throwing lefty reliever we have (besides the new guys we just drafted)  and coming off as a fall league all star and not even receiving a NRI for the first Spring training. Truly has opened my eyes to how messed up the baseball industry is.. I don't know what my future is in this game but I'm looking forward to pursuing other opportunities come the fall
✌?
✌?✌? pic.twitter.com/JeIiMnidsv

— Jordan Minch (@Jordan_Minch) June 28, 2020
If we take Minch's story at face value, this is pretty shitty behavior by the Cubs. More specifically, it's incredibly unscrupulous for the member of the front office in question to flat-out lie to a player and prevent him from an opportunity to make a little more money during a tough time. Beyond that, falsely inflating someone's hopes like this is a sign of either moral bankruptcy or sheer ignorance.
Playing devil's advocate and acknowledging the very subjective nature of this report, Minch's 4.32 ERA and 1.47 WHIP across parts of six seasons didn't necessarily scream that a breakout was imminent. The idea that he was going to be on the taxi squad as a member of the 60-man roster is highly dubious, as I had not seen anyone projecting such a move even before his name was not among the 50 players in summer camp.
At the same time, it's very believable that the Cubs would have interest in seeing a little more of the hard-throwing lefty in the future. Perhaps the person with whom Minch spoke was trying to keep his spirits high and wasn't at liberty to provide more accurate information. Maybe they erred by thinking it was a good idea to tell Minch what he wanted to hear rather than simply shooting him straight, which almost never works out in the end.
It's also possible that Minch either misheard or exaggerated some of what he was told, whether because he was so excited at the time he was told or because he was upset after finding out that he was not on the roster. Of course, he probably wouldn't have been upset if he'd already been told he would not be on the taxi squad.
More important than who said what to whom in this particular case, Minch's story is one that's probably repeated in various iterations several times in each organization every year. Players are commoditized at the highest level, with those on the farm treated even more like livestock than human beings. Just keep the herd moving and pick out the best specimens, all the others head off to be processed.
That's not the view of every member of every front office and it's certainly not true for those folks running individual affiliates, but minor league baseball is a low-wage job with a low success rate. Given how much effort went into getting the MLB season started back up, it's not the least bit surprising that Minch and probably dozens or hundreds more players were hung out to dry.
Here's to hoping Minch gets another shot to prove himself and that the person in the Cubs front office sees fit to improve their communication skills.