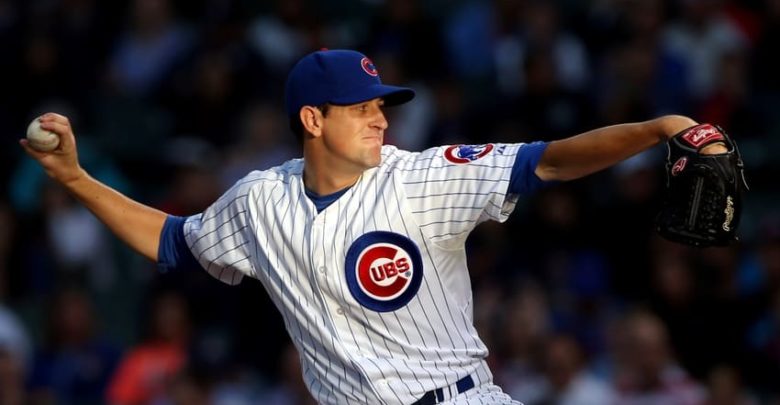 Chicago Cubs Score and Recap (Simulated Game 46): Cubs 2, Padres 6 – Hendricks Worked Over in Another Ugly Loss
Kyle Hendricks is off to a rough start early in 2020, but nobody should worry just yet because the right-hander has a strong history of performing well after the first month of the season. But that didn't stop the Chicago Cubs (29-17) from dropping their second straight game on the road to the San Diego Padres (22-23), losing 6-2 on Friday via MLB The Show 20.
Hendricks was facing left-hander Joey Lucchesi, who was on top of his game against the Cubs. Lucchesi went seven innings and allowed just two earned runs on five hits with one walk, and six strikeouts. Hendricks, meanwhile, gave up five runs in the 1st inning.
Wil Myers greeted Hendricks with a leadoff homer that gave San Diego a lead it would never relinquish. Eric Hosmer singled, Tommy Pham walked, and after Fernando Tatís Jr. grounded into a fielder's choice, Manny Machado smacked an RBI single to right field to put the Padres ahead 2-0. The big swing was still to come, however, as Francisco Mejía crushed a 3-1 pitch from Hendricks to center field for a three-run home run and a 5-0 Padres lead.
Hendricks settled down from there to go six innings with six earned runs on seven hits and two walks, notching four strikeouts on 113 pitches. Cubs manager David Ross explained after the game that he pushed his starter to refocus and eat some innings that normally would've gone to his relief corps. Hendricks' effort saved the 'pen, even if it couldn't save the Cubs on Friday.
Meanwhile, Chicago couldn't muster much on offense. Javier Báez hit a solo homer with two outs in the top of the 6th against Lucchesi, making the score 6-1 in favor of San Diego. In the following inning, David Bote walked with two outs and stole second base ahead of Jason Heyward, who drove a fastball into left field for what appeared to be an RBI double.
But while Bote came around and scored easily, Heyward stumbled between first and second base. His momentum continued to carry him forward, so he attempted to gather himself and go full-force into second base. The throw from Pham in left field was just in time to get Heyward at second, but the score was now 6-2.
Brandon Morrow made an appearance in the 7th, throwing a scoreless inning with a hit and a strikeout to keep his ERA at 0.00 in his brief time with the Cubs so far this season. Dillon Maples pitched a scoreless bottom of the 8th. The Padres went to Craig Stammen in the 9th with a four run lead and he made quick work of the Cubs, going one-two-three and striking out two batters.
Key Players:
Báez – 2-for-4, HR, RBI
Bote – 0-for-2, BB, SB
Heyward – 1-for-4, RBI
Myers – 2-for-4, 3B, HR, 2 RBI
Mejía – 2-for-4, 2B, HR, 3 RBI
Lucchesi – 7 IP, 5 H, 1 BB, 2 ER, 6 K
Winning Pitcher – Lucchesi (5-1)
Losing Pitcher – Hendricks (4-3)
Save – None
Home Runs – Báez (12), Myers (8), Mejía (6)