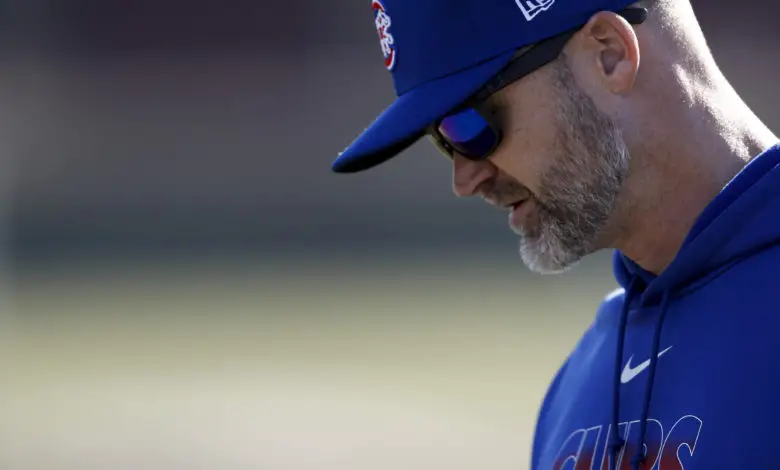 The Rundown: Ross a Breath of Fresh Air, Chatwood in Best Shape of His Career, Arenado Rumors Continue, Kimbrel Eyes Big Season
Once spring training starts, there is an awful lot of chatter from players and coaches alike. You get the obligatory "best shape of my career" comments, motivational quotes, a couple of funny anecdotes, and a number of cryptic statements from front offices that leave reporters and fans tasked with trying to separate the facts from the malarkey.
Yes, I just used the word "malarkey."
But one statement from manager David Ross really made my ears perk up yesterday. Apparently the rookie manager doesn't fancy himself quite the mad scientist that Joe Maddon was. In other words, tinkering with his lineup and playing hunches is not going to be part of his game-to-game strategy (subscription to The Athletic required to access this content).
Ross also said he'd like the team to focus more on fundamentals and the finer points of the game.
https://twitter.com/MLBastian/status/1227325765655678976
The biggest takeaway here is that Ross looks and sounds managerial. He's just about straightforward, grinding baseball; no sleight of hand, no gimmicks, and definitely no need to whip out a motivational idiom or two. Most of all, he wants to put the focus on the team rather than solely on himself. What a refreshing change.
Look, I don't mean to bury Maddon (okay that's not exactly true), but the North Siders seemed more like a traveling circus after winning the World Series in 2016, and their former manager acted as its perfect ringleader. Despite comments to the contrary since Maddon left, I still believe his message got stale and Cubs players completely tuned him out. One look at the team's 2019 road record perfectly exemplifies the lack of team unity, something that squarely falls on a manger's shoulders.
Ross enters his new gig having already commanded the respect of his players. If you think he is unqualified to manage, go back and read some of the Cubs Insider articles from 2016. At the time, the veteran catcher was every bit a second manager to Maddon as he was a likable teammate and kindred spirit, leading by example and unafraid to call his teammates out while helping to keep them intently focused.
Ross may or not be as successful as Maddon was in Chicago, and realistically, that's a big ask anyway. The Cubs went 471-339 (.581) in those five years, playing in the NLCS in three consecutive seasons starting in 2015, with the 2016 title to boot. That's a helluva legacy, and Maddon deserves a great deal of credit. That said, if anyone is capable of continuing that success, it's Ross. Time will tell, but I like the way things have started.
Cubs News & Notes
MLB Spring Training News
Astros starter Justin Verlander offered a half-hearted apology yesterday, saying he knew the Astros were cheating almost immediately after he was traded to Houston. He claims he has talked privately to his teammates about it and wishes he had said more. Then again, (tainted) flags fly forever, right?
Meanwhile, Houston owner Jim Crane continues to laughably deny any inference that he knew his team was cheating, while also refusing to accept accountability or apologize for any wrongdoing.
New Atlanta starter Félix Hernández claims he is as healthy as he's ever been, is excited to be pitching for the Braves, and hopes to pitch in a playoff game this season for the first time in his career.
New Phillies Manager Joe Girardi said he is "having a fabulous time" after the team's first few days of spring training.
Mookie Betts was almost traded to the Dodgers last season, according to former Red Sox GM Dave Dombrowski.
Suddenly, Boston fans no longer care about the Red Sox. That will happen when you trade your best player and give said team $48 million dollars to also take one of your best pitchers.
The Red Sox did make a move yesterday, signing free agent outfielder Kevin Pillar to a one-year deal. Pillar will earn $4 million in 2020.
Dylan Bundy welcomes the fresh start the Angels will provide him and hopes to be the team's ace this season.
Shogo Akiyama had a bit of a rough start to his Reds career. Akiyama will be the organization's first Japanese player once he appears in his first game.
Tommy Hunter is apparently still playing professional baseball. Who knew? Actually, I was shocked that he is only 33, it seems like he has been playing forever.
Extra Innings
I'm just gonna leave this right here.
https://twitter.com/godisgreat122/status/1228063598901157889
They Said It
"Terrible is kind of an understatement for what I felt like I did last year. Going into this year, I'm just going to get back to doing my job, getting on the mound and saving games. Time will tell. A lot of questions will be answered. I have no doubt in my mind that I'm going to get on the field and do my job this year. We're [all] going to put last year behind us." – Craig Kimbrel
"I don't know if you guys know this, but [Ross] took me out of games plenty of times. This won't be anything new. I laughed when I saw it for the first time… Is that weird? Yes. But he's my boss. When he decides the game is over for me, the game is over."  – Jon Lester
"I don't see a whole lot of moving guys around. I'm going to look at all the numbers and have conversations with R&D and get all the information and make my own decision. There will be a little bit of movement, but traditionally I like a standard lineup as much as I possibly can. I think the flow of a normal, consistent lineup is important to some of the players. That's a real thing as much as we don't measure it. Finding the balance there is one of the things I'm focused on." – David Ross
Friday Walk Up Song
Bittersweet Symphony by The Verve.  I was no fan of Maddon toward the end of last season, and I am absolutely disgusted with his recent comments that basically deflect all blame for the team's failures in 2018 and '19. For a guy who protected his players and the organization to a painfully prideful point, that's just weak sauce. It makes him look like a guy who was simply obsessed with his media image during his Cubs tenure.