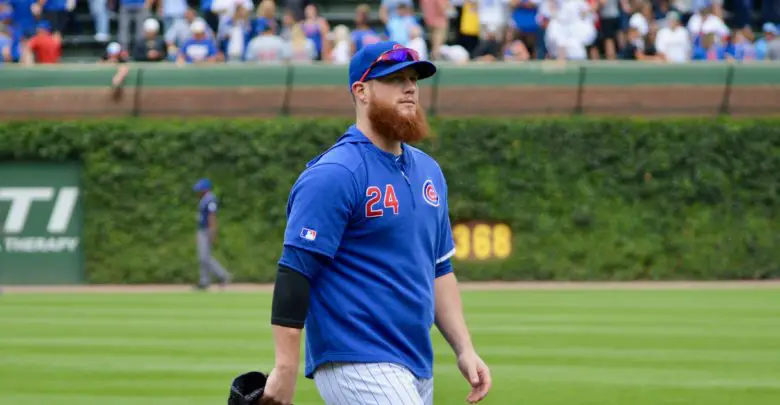 Bulk Approach to Bullpen Construction Has Cubs in Good Spot on Paper
No longer possessed of the kind of wealth that would allow them to peruse the aisles at Whole Foods, Theo Epstein's front office has taken the Costco approach when it comes to shopping for a bullpen. Which is to say they're buying in bulk at really low per-unit costs while holding onto every receipt so they can make sure they get their money back on stuff they find out they don't need.
With apologies for reducing actual people to mass quantities of household goods, the analogy holds pretty well. That's actually how it's been for most of the past several springs, it's just that the overall lack of spending has people paying more attention this time. I mean, yes, the Cubs have invested significant money in the 'pen here and there, but a majority of their winter moves involve stockpiling a bunch of arms on minors deals or really low MLB guarantees and then just seeing what works.
Given how fickle relievers' performances can be from year to year, it's hard to argue with that strategy sans context. However, it's understandable to proceed with caution when you're talking about a team that lost a huge chuck of its high-leverage arms and has a closer who wasn't his usual self after missing the first half of last season. Questions abound with the rag-tag group the Cubs have assembled, but it's starting to look like the relief corps might be a bright spot in 2020.
Now if you'll kindly roll your eyes back into place so you can read the rest of this, I'll tell you why that isn't a completely molten take. The Cubs will need hit big on more than one of the guys they've picked up, but it's a helluva lot easier to catch lightning in a bottle when you build a field of lightning rods.
"You realize to get through a season, it's not a matter of going up on a whiteboard and writing up your eight relievers," Jed Hoyer said at Cubs Convention. "It's a matter of 15, 20, 25 good relievers over the course of the summer to really get through it.
"You've got to take a lot of chances. There's no more volatile aspect of the game than the bullpen, and that's league wide. You've got to constantly take chances on guys and realize that sometimes, what appears to be a guy that's struggling may just be simply a bad seven innings or bad 10 innings."
Believe it or not, signing former Brewer Jeremy Jeffress really helped to bring clarity to what had previously been a pretty murky picture. Only Craig Kimbrel, Kyle Ryan, and Rowan Wick could be written onto the roster card in ink, leaving five spots for something like a bajillion other names. Even though Jeffress is technically among those, the fact that he got a bona fide MLB deal means we can at least pencil him in.
Same goes for Brad Wieck, who looked really good after figuring out the spike curve and getting his command under control. Get it…command under control? Tyler Chatwood is probably in that same boat, assuming the Cubs want to keep him in the role that saw him flourish last year. Adbert Alzolay may also come out of the bullpen, either as a piggyback-type starter or long reliever, something Hoyer indicated could be the case. Really dialing that changeup in with a new four-seam grip would be big for the young righty either way.
That's six of eight spots, so things are really starting to get tight at this point. This is also where the Cubs' efforts shine brightest, since they have myriad possibilities for those spots. And if you're sitting there wondering why it's just two, remember that the new roster rules in place for his season limit staffs to 13 pitchers.
The names we've already mentioned account for the final third of the game, southpaws, and long relief. That's a really good base, assuming the pitchers in question all perform at or near their capabilities. As for those final two spots, it would seem that Casey Sadler and Trevor Megill have the inside track. The former pitched well for the Dodgers and was acquired via trade just before Cubs Convention, while the latter was a Rule 5 Draft pick who'll have to remain on the roster lest he be offered back to the Padres.
And we haven't even mentioned Dan Winkler, CD Pelham, Jharel Cotton, Ryan Tepera, Travis Lakins, Dillon Maples, Duane Underwood Jr., James Norwood, or Brandon Morrow. Nor have we discussed Dakota Mekkes, Tyson Miller, Justin Steele, or any number of other prospects the Cubs have waiting in the wings. It's all going to come down to health, handedness, and performance once the season gets started.
The moral of the story here is that the Cubs have more than enough pitchers to fill various roles. But unlike last season, when the 'pen was stocked with a bunch of guys throwing in the low 90's and trying to get by on weak contact, they've really upped their overall velo game. Even with some serious walk risk to go along with it, the ceiling is far higher for this season and beyond.
Of course, none of this assures that the bullpen will be good and the possibility still exists that it'll all implode in spectacular fashion. But by treating it like a 96-pack of Charmin Ultra Soft, the Cubs have ensured that they'll have plenty left to wipe things up even if the 'pen does crap the bed again.