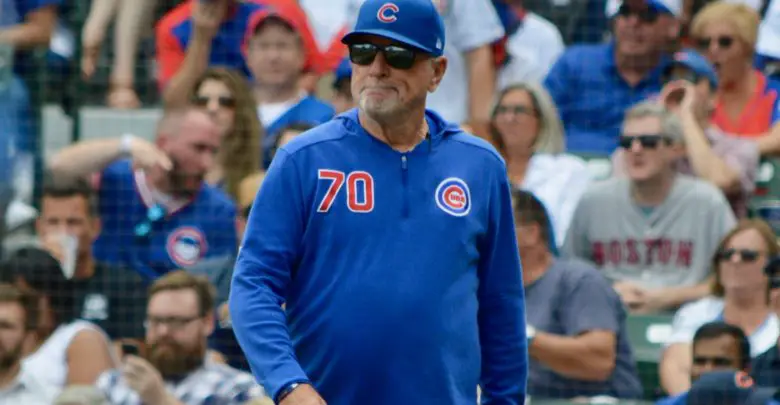 Rosenthal: Cubs Should Have Fired Maddon Last Year, Parting of Ways Now 'Fait Accompli'
I'm making this call out of obligation.
That was how Theo Epstein opened his recent conversation with 670 The Score's McNeil & Parkins, his tone indicative of the the style of baseball his team has played over the last several games. Now riding a nine-game losing streak that has seen them swept by both the Cardinals and Pirates after dropping two of three to the Reds, the Cubs are little more than zombies.
But even that metaphor is too kind, since the undead still possess an insatiable hunger. The Cubs are playing like a group that just gorged themselves at a Brazilian churrascaria and are suffering from a collective meat coma. The injuries have played a role, no doubt, as has the tight budget this winter and the failure to identify the right players to sign with those limited additional funds.
When you get down to it, though, it's been evident for longer than just the last two weeks that this team lacked fire. The offense that "broke somewhere along the lines last season" was helped by the addition of Nicholas Castellanos at the deadline, but that's like pouring a little gasoline on a pile of wet leaves and hoping for an inferno.
In addition to his duties with lineup construction and bullpen management, neither of which Joe Maddon has been lauded for in the past, a manager needs to set the tone for his team. Maddon seemed particularly adept at that skill early on, keeping his young players from being overwhelmed by the pressure that came with experiencing almost instant success in a huge market starved for a title.
As his players aged and became more jaded by experience, Maddon's ability to motivate them appears to have waned. The flame that was clearly guttering last season has now gone out completely, leading Ken Rosenthal to declare definitively in The Athletic that the Cubs should have fired Maddon a year ago ($).
It's easy to say now, but the Cubs waited one year too long on Joe Maddon.

 

They needed to move on at the end of last season rather than retain Maddon without extending his contract. They needed to recognize that a manager with a less-is-more leadership style was not the right person to convey their desired sense of urgency. They needed to understand that Maddon, even as he agreed to become more hands-on, was not going to change the essence of who he was when he soon would be 65.

 

Now, at the end of a season even more disappointing than the last, the Cubs' choice with Maddon will be easier — so much so, in fact, that the entire industry regards it as a fait accompli that the team will not ask him back.
While that's sure to rile up a few die-hard Maddon fans, nothing Rosenthal is saying here is out of line. Maddon was absolutely the right guy at the right time when he was hired ahead of the 2015 season. But it's become clear that his style is no longer the best fit for his club and that he's not going to suddenly change it to better address shifting needs.
Epstein made some very pointed comments in his postseason press conference last October, many of which were directed at Maddon and his management style. Rather than simply sharing his own personal views, Epstein was basing much of what he said on exit interviews conducted with players. Further conversations throughout the winter resulted in a playbook of sorts aimed at helping the team to be more intentional and accountable this season.
That included more mandatory batting practice, having lineups made out further in advance, and a more hands-on approach from Maddon. The players also vowed to cut back on fast food and booze, the latter of which Maddon recently lamented as a potential cause of the team's lack of unity. There were several stories this spring about Maddon implementing old hitting drills and really taking a more active role in coaching, but the results this season speak ill of that impact.
Once a paragon of fundamental baseball, the Cubs lead the National League in both errors and outs made on the bases. That their defense and baserunning have gotten appreciably worse is both inexplicable and incredibly damning of Maddon and his coaching staff. Perhaps they were so busy focusing on "opportunity hitting" that they simply forgot about all the other opportunities the game can provide.
Make no mistake, this isn't a matter of just pinning it all on Maddon and thinking everything will magically be solved by moving in a new direction. There's plenty of blame to spread around in equal parts to ownership, the front office, and the players for the way this season has gone. But Maddon essentially had his neck in the guillotine since last winter and has offered nothing in the way of an argument for pardon.
Of course, putting it that way makes it sound like a firing, which this would not be. Maddon will have played out his contract and will then be a free agent, at which point the Cubs' decision will be whether or not he's the best candidate to carry them forward. Despite his accomplishments, which undeniably make him the most successful Cubs manager anyone alive has ever seen, the very obvious diminishing returns since that World Series title don't say much about his ability to effectively lead this team moving forward.
Again, this isn't an indictment of Maddon's ability as a manager in general, just a realization of the fact that he may no longer be the best fit for Chicago moving forward. He and his agent, Alan Nero, will almost certainly find a destination that allows him to parlay his particular set of skills into a fresh bout of success. Which is the way it should be. Don't forget, Maddon might see things the same way the Cubs do, which means he might see greener grass elsewhere.
Parting ways with Maddon isn't passing the buck or scaping the goat, it's simply recognizing that sometimes change is required to move forward.